Beyoncé Wore a Balenciaga T-Shirt, Hot Pants, and $10,000 Saint Laurent Boots on a Private Plane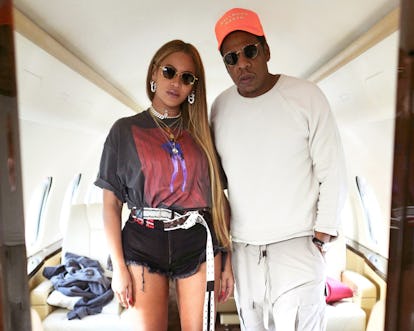 Beyonce.com
Beyoncé's definition of airplane clothes apparently bears no resemblance to that of us mere mortals. On Monday, she and Jay-Z took their private jet on vacation, and while the vast majority of human beings would have opted for, say, slouchy trousers and a cozy scarf, Beyoncé had another idea: Instead, she chose instead a Balenciaga t-shirt, black jorts, an almost-floor length belt, and, yes, those Yves Saint Laurent boots.
According to E! News, this opulent ensemble set Beyoncé back more than $13,000. As E! broke it down, that's $495 for the oversize tee by Balenciaga, a faded gray creation emblazoned with a picture of model Alek Wek from the fashion house's Spring 2017 campaign. Then, there's the $1,495 price tag of her MCM bag, a modern take on a vintage trunk in black, with gold hardware and a removable cross-body strap. Add $153 for the Ray-Bans and $1,020 for the black tulle hoodie by Y/PROJECT, unseen in Beyoncé's Instagram but available over at E!. And, last but not least, we have the crown jewel of Anthony Vaccarello's second collection for Yves Saint Laurent: The infamous $10,000 slouch booties embroidered with 3,000 crystals, as previously seen on Rihanna.
Obviously the look portends outfits to come. Each item on that list can be found on the trends we predicted for next spring: The crystal boots cash in on the popularity of uber-embellishments, the tulle hoodie does the same for the sheer trend, the frayed jorts evoke the punk trend as seen on the runways of Prada, Balenciaga, and Altuzarra, and the Alek Wek tee is a subtle yet meta-take on the logo mania afflicting, well, everyone. As she did with feathers over the weekend, Beyoncé is once again setting a shining example for how to look fashion-forward as opposed to trendy.
Watch: 55 Years of Celebrity Airport Style