Jay-Z's "Family Feud" Video Features Beyoncé, Blue Ivy, and a Literal Stab in the Back
Tidal's 34-second teaser is action-packed, with Bey as high priestess.
---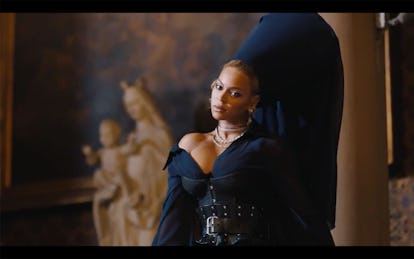 Courtesy of Tidal
The lyrics to Jay-Z's "Family Feud," the ripped-from-the-headlines track featuring Beyoncé from his latest album 4:44, were already explicit enough as is: "Yeah, I'll f— up a good thing if you let me/Let me alone, Becky," a direct reference to Beyoncé's's many allusions to Jay-Z cheating on her on her album Lemonade.
Now that Jay-Z has finally admitted to his infidelity—in the New York Times, no less—the pair seems to be done with dancing around the issue, as further evidenced in a new teaser for the "Family Feud" music video that will be released tomorrow on Tidal. The 34-second clip begins with Jay-Z's lyric "nobody wins when the family feuds," followed by a shot of him walking down the aisle of an ornate church holding hands with his and Beyoncé's oldest daughter, Blue Ivy.
It then cuts to Beyoncé standing intimidatingly high upon an altar, flaunting her authority (and her imperiously tall clerical head-dress) before descending to join Jay-Z as he drops into the confession booth, with Beyoncé of course listening in from the priest's side. She's also decked out in gold jewelry and couture—and further eschewing tradition by peering directly through the screen at her husband.
Meanwhile, there's another couple in the mix: an anonymous man and woman in various states of undress who are pictured passionately making out, at least until the woman literally stabs the man in the back. He then falls to the floor and clutches his chest as the lyric "we all lose when the family feuds" once again repeats, this time seen coming from Jay-Z's mouth through the confessional screen.
Luckily, at least in the teaser, both Jay-Z and Beyoncé—and, thank the heavens, Blue Ivy—stay out of (physical) harm's way. The final outcome will be revealed tomorrow, though it's comforting knowing the lyrics show that even Jay-Z knows that the answer to "What's better than one billionaire?" is "two."
Related: Beyoncé Was Working on a Joint Album with Jay-Z When She Decided to Step Away and Make Lemonade
Go Behind the Scenes of Beyoncé's W Cover Shoot: