The Official Ranking of Kardashian Baby Names, from North West to True Thompson
Some have more branding potential than others.
---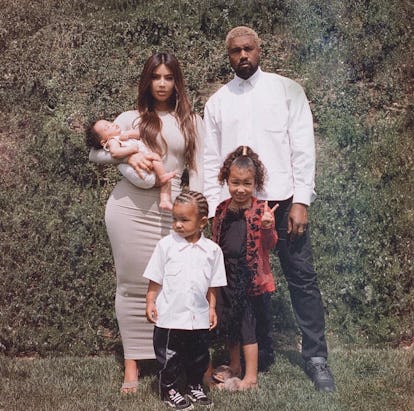 Photo by @kimkardashian.
Everybody knows that for a Kardashian, a name is more than just a name—it's a brand. When Kris Jenner named her daughters, she gave them all names that start with the letter K, most likely because she understands the power of alliteration (as is the case with the full names of her first three daughters) and consistency (as demonstrated by the K-names bestowed upon the Jenner girls). And it worked—every single one of her daughters is at a point where you could say only their first name and the average pop culture–savvy passerby would know exactly whom you are talking about. Every move a Kardashian makes is done with brand strategy in mind. A PR maven like Jenner would never let the future potential for trademarking slip from her grip when it comes to naming her children, and a bit of that masterful future brand name foresight has even extended to her grandchildren. Now that every Kardashian daughter has had a child (except for Kendall Jenner, who has stated that motherhood is far off in the future for her), it's finally time to draw up an official ranking of the most successful-sounding Kardashian baby names. From Mason Disick to North West to the latest member of the family, True Thompson, none of them is particularly common, but some are more powerful than others.
North West, Saint West, and Chicago West
Say what you want about these names, but they are all undeniably strong and clearly the result of Kim Kardashian and Kanye West's brain trust. Not everyone online was thrilled to learn that the couple had named their eldest daughter North, calling it "unusual" in the beginning (the same thing happened when they announced that they had named their son Saint, and youngest daughter Chicago). However, it does seem that most fans have acquiesced to a point where they not only appreciate the names, but respect them. When naming her children, Kim must have known exactly what her mother knew when naming her: The future success of children born into the Kardashian empire could depend on the impact their names would have on consumer ears. Do you really think the Wests would give their kids names that don't have the potential to be front and center on the labels of successful cosmetics, spirits, or airlines? Of course they wouldn't.
Dream Kardashian
None of the Kardashian grandchildren has a name that starts with the letter K, and before Dream Kardashian was born, Blac Chyna made it very clear that she would not be the one to start that trend for the new generation of kids. "The baby won't have a K name. We both agreed," she told ELLE magazine in an interview. Both she and Rob Kardashian decided on Dream Kardashian, which does have a bit of a nice flow when you say it in full. Bonus: Dream is also the only Kardashian of her generation to bear the family's last name, which we can only imagine will bring plenty of opportunities.
Stormi Webster
Kylie Jenner got some flack online for naming her daughter Stormi Webster just as adult film star Stormy Daniels dropped the bombshell that she allegedly had an affair with Donald Trump. Many chastised Jenner, somewhat rudely suggesting that she must not keep up with the news cycle, but little Stormi Webster got both the Stormy Daniels and Stormi Bree seals of approval, so at least she's in good company. Plus, after only a few short months on this planet, the little one has already inspired Kylie Cosmetics' Weather Collection, so this moniker could go a long way in the future, when she eventually follows in her mother's footsteps and creates a cosmetics line of her own.
True Thompson
Khloé Kardashian revealed that she had named her baby daughter True Thompson only a few short days after the birth, and not a full week after inklings of a cheating scandal with Tristan Thompson began to unfold. When Kardashian was pregnant, she did tell Ellen DeGeneres that she wanted to give her daughter a name that started with either a K or a T. Many assumed the baby would have an alliterative K name, but the biggest surprise in the announcement is the last name. For now, it is perplexing that Khloé would give her daughter the last name of Thompson when she and Tristan are not married—but both Kourtney Kardashian and Kylie Jenner also gave their children their respective paternal last names. True may be an ironic name in this instance, but it's actually not so uncommon: The Oscar-winning actor Forest Whitaker has a daughter named True, Keke Palmer played a spunky character named True on Nickelodeon's True Jackson, VP, and the ballad "True" by Spandau Ballet can still be heard floating out of karaoke bars across the nation. And it's an alliterative name, which in this family is a real mark of success. Also, it turns out that it's a family name: Kris Jenner revealed that her paternal grandfather's name was True Otis Houghton, and her father's name was Robert True Houghton. As for branding power? Well, the fact that the family appears to already have the handle @true reserved seems to answer that question.
Mason Disick, Penelope Disick, and Reign Disick
Kourtney Kardashian gave her first two children, Mason Disick and Penelope Disick, perhaps the most conventional names of all the Kardashian grandchildren—they are both, well, traditionally names. Kourtney went a different route with her third child, naming her youngest son Reign. All three names have strong origins: Mason means "one who works with stone," Penelope is the name of Odysseus's wife in Homer's epic The Odyssey, and Reign suggests ruling over a kingdom, if you couldn't figure that out.
Related: Khloé Kardashian Reveals Newborn Daughter's Name in Sweet Instagram Post