Khloé Kardashian Reveals Newborn Daughter's Name in Sweet Instagram Post
"Mommy and Daddy loooooove you!"
---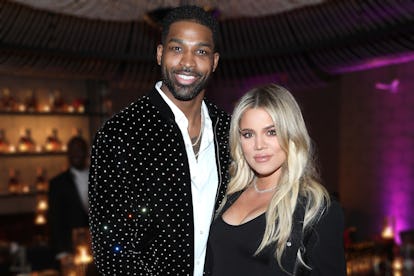 Jerritt Clark/Getty Images
Well, it's True. On Monday, Khloé Kardashian took to Instagram to reveal that she and boyfriend Tristan Thompson have named their newborn daughter True Thompson. "Our little girl, True Thompson, has completely stolen our hearts and we are overwhelmed with LOVE. Such a blessing to welcome this angel into the family! Mommy and Daddy loooooove you True!" Kardashian captioned a rose-tinted photo of a room filled with baby pink balloons.
Back in January, during an appearance on The Ellen DeGeneres Show, Kardashian shared that she and Thompson were having trouble coming up with names for a potential baby girl (they hadn't revealed the sex of the baby at the time). "I think if it's a boy I'll go with Junior, Tristan Jr.," she said, before adding with a sigh that she was less inspired by female names. "For a girl, I don't know where to begin," she said, noting that all she knew for sure was that "I want a K or a T."
The big baby name reveal comes just four days after Kardashian and Thompson welcomed their daughter in a Cleveland-area hospital. Last Thursday, after multiple outlets reported that Kardashian had given birth early that morning, several of Kardashian's family members confirmed the news via social media. Mom Kris Jenner retweeted a video of Kendall Jenner repeating the word "baby," while younger sister Kylie Jenner posted a video on Snapchat with a filter reading "Kongrats, Khloé! It's a girl!" Older sister Kim Kardashian West tweeted her congratulations, writing, "I'm so happy for you! Your baby girl is so beautiful! You are so strong, you made that look so easy! I can't wait for our baby girls to grow up as best friends the way we are! I'm so happy I was able to return the favor of holding your leg while you pushed LOL." In a follow-up tweet, Kim added that True is "so gorgeous!!!!!"
Interestingly, Kardashian is not the first celebrity to name a child True. Oscar winner Forrest Whitaker has a 19-year-old daughter named True.