What Do Kim and Kanye Have Against Middle Names?
Chicago West follows in the suit of big siblings North and Saint, who simply go by one name.
---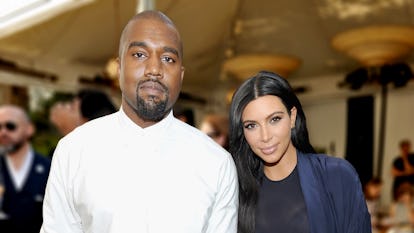 Donato Sardella/Getty Images
Middle names are apparently over. We don't need census data to confirm this. All we need is Chicago West's just released birth certificate. For the third time in a row, Kim and Kanye have opted to forgo the tradition of the middle name, leaving Chicago, like her elder siblings North and Saint, without one.
Of course, if you need more proof than just the preferred Kardashian-West nomenclature, you can also check out the birth certificates of Beyoncé and Jay-Z twins Sir and Rumi where the middle name field is also left blank. (Blue Ivy, of course, does have a middle name, but in a way it feels more like the second part of her first name rather than a true middle name, and if you need proof ask some people what Blue Ivy's middle name is, and at least someone is going to sit there wondering what it is instead of immediately answering "Ivy.")
This means not only have both the Kardashian-Wests and the Knowles-Carters deprived their offspring of getting a traditional three letter monogram on their costume Louis Vuitton luggage set, should any of them grow up to want them, but also of the potential of having that weird three week phase in middle school where one experiments with going by their middle name.
Surprisingly, especially for the Kardashian clan who tends to share everything (well, almost everything), Kim has never revealed the reason why she's decided to opt against middle names. It's not like it's some Kardashian family tradition either. Kim and all of her sisters have middle names (Kim's is Noel), as do all of her various nieces and nephews. Kanye also has a middle name in the form of "Omari."
Though, in the cases of both families, we are dealing with parents who have a strong sense of personal branding. Hence, the unique first names in the first place. So why second guess those statement names with a potentially apologetical middle name? How do you even follow up a first name like "Chicago" anyway?
Related: Khloé Kardashian Is Already Thinking About Baby Names