Khloé Kardashian Is Already Thinking About Baby Names
She knows what it will be for a boy.
---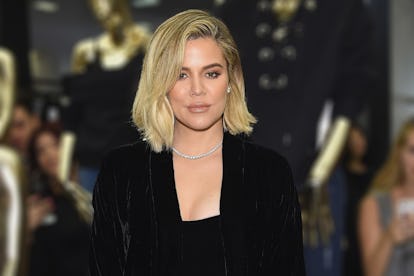 Jamie McCarthy/Getty Images
Keeping up with the Kardashians has never been harder.
The latest news is that Khloé Kardashian, who recently revealed that she's six months pregnant with her first child with NBA player Tristan Thompson, is that she has already has a lot of thoughts about baby names.
In an appearance on Wednesday's Ellen Degeneres Show, Kardashian said, "I think if it's a boy I'll go with Junior, Tristan Jr." A girls' name, however, is proving to be a little more difficult. "For a girl, I don't know where to begin," she sighed. "I want a 'K' or a 'T.'"
Kardashian also spoke freely to Ellen Degeneres, who seems to be able to get anyone to spill anything, about her pregnancy.
"At the beginning, the first trimester is the worst and no one knows you're pregnant yet and you feel the most uncomfortable," Kardashian explained. "I think once people know you're pregnant, you get all the excuses. Hopefully I look pregnant, not just fat. It's hard for me to breathe right now. I'm gonna try to not wear maternity clothes as long as possible."
The reason for ultimately revealing her pregnancy on Instagram, Kardashian explained, was because it just felt right."I just wanted to do something myself and write something that was heartfelt for me," she continued. "I've wanted to have a baby for so long, it's just the perfect timing. God always has a plan, and I just wanted to do it on my time and when I felt comfortable to do so."
And as for whether Kardashian has any ideas on the timing of taking her and Thompson's relationship to the next level, the reality star said that she's happy with how things are right now. When Degeneres asked if she was looking to remarry, Khloe said, "I hope so, but I'm not in a rush for any of that. As you know, I've rushed quite a few things before, so right now I'm so loving the place I am in my life and I'm just happy with how things are going. We talk about it, for sure, but we're both just happy where we are. What's meant to be will be."
The only thing Kardashian wouldn't talk about? Her younger sister Kylie's rumored pregnancy. Gotta keep something sacred for Keeping Up with the Kardashians.