Stormi Webster or Stormy Daniels: Which Name Are You More Sick of Reading About?
Kris Jenner, for one, has had it with the confusion over names.
---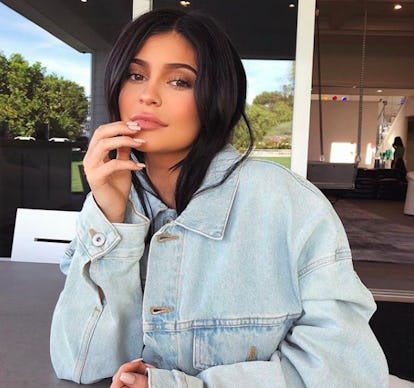 instagram.com/kyliejenner
Keeping up with the incessant politics and and celebrity news cycles can really throw you for a loop—especially these days, when they're covered in pretty much the same way—but you are not the only person who might be irked by the recent uptick in "Stormy/Stormi" content in your feed.
When Kylie Jenner covertly gave birth to Stormi Webster on February 1 (and officially announced it on February 4), the choice of name raised a few eyebrows, considering the fact that adult film actress Stormy Daniels had been making headlines that week with her story of an affair with Donald Trump. Well, it seems now that it's not only fans of the Kardashians who are taking issue with similarities between the names: The Daily Mail reports that Kris Jenner is officially "sick of seeing the name Stormy in headlines" nearly every day for the past two months.
Not even the media-savvy Kardashians—who plot every announcement, appearance, and merchandise launch within an inch of their lives—are immune from occasionally falling victim to "bad timing" when it comes to making a personal announcement for the press.
After Webster's birth, Daniels herself had some positive words of encouragement for her namesake Stormi, stating that she hopes the newborn is "fierce." Of course, there's also another Stormi in headlines to watch out for: Stormi Bree, the model mom married to Lucky Blue Smith, who also gave a statement in approval of the baby's name. Please forgive, but this is a perfect storm of Stormies—and an argument for the use of last names in headlines, really.
What Kris Jenner reportedly originally thought was a "cute" choice of name for her granddaughter has now become an inescapable homophone. But knowing the Jenners, any publicity insofar as it keeps a name in the mouths of the public is good publicity. And it can't be all bad if the name inspires yet another lucrative cosmetics collection.
Related: From Kylie to Kris: A Definitive Ranking of All of the Kardashians' Art Collections