It Was Melania and Donald Trump's Wedding Anniversary Yesterday, But Neither Mentioned It on Social Media
They not only didn't exchange messages, but Melania has also cancelled her upcoming trip with the president to Switzerland.
---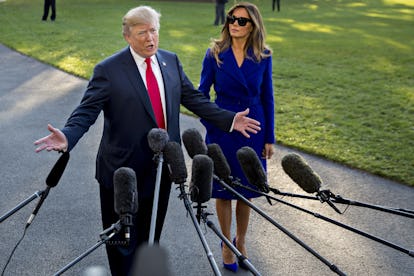 Andrew Harrer/Bloomberg via Getty Images
In the post-Instagram age, it's become a digital tradition for public figures to celebrate their loved ones on social media. However, like with most traditions, Donald Trump breaks precedent. That was the case yesterday when the 45th president was noticeably quiet on Twitter, tweeting about "the Democrats Obstruction!" instead of his 13th wedding anniversary with Melania Trump. In fact, Trump nor the first lady exchanged any public messages to mark the occasion, whether on Twitter or Instagram. Meanwhile, former president Barack Obama and former first lady just sent loving tributes to each other on social media last week, in honor of Michelle's 54th birthday, writing on Instagram, "You're not only my wife and the mother of my children, you're my best friend. I love your strength, your grace, and your determination. And I love you more each day. Happy Birthday, @MichelleObama."
It's noteworthy considering how much Trump jumps at the opportunity to tweet about anything else. It's also curious that the pair's silence on their anniversary falls in the wake of news about Trump's alleged affair with porn star Stormy Daniels, who reportedly received $130,000 from the president one month before the 2016 election, according to Wall Street Journal. According to an InTouch interview in 2011 that never ran, Daniels spoke out about their alleged affair while passing a polygraph test and having her story corroborated by her friend Randy Spears and her ex-husband Mike Moz, as People notes.
While Melania and Donald Trump didn't make note of their anniversary on social media, the pair also reportedly did not go out to celebrate either, according to The Washington Post. Then again, the Trumps don't often dine out in Washington, DC, as TWP points out.
Melania and Donald Trump won't be spending much time together this week either since the president will be traveling alone to the World Economic Forum in Davos, Switzerland. Melania was previously scheduled to accompany him, however, it was announced today that she had changed her mind. Her communications director, Stephanie Grisham, told People that she would not be attending due to "too many scheduling and logistical issues."
Related: Melania Trump's Wish to Retreat to a "Deserted Island" Is Getting Lampooned on Twitter
From Melania Trump to Jacqueline Kennedy, a History of First Ladies' Inauguration Day Style
First Lady Mamie Eisenhower, 1957

Getty Images