Barack Obama's Birthday Tribute to Michelle Will Make You Tear Up
You'll want tissues on hand for this.
---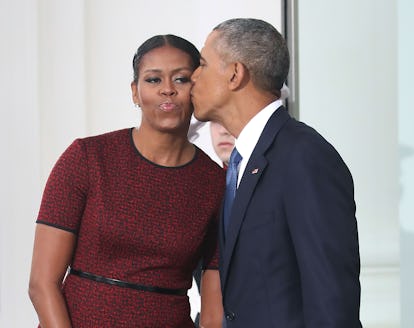 Mark Wilson/Getty Images
Outside of his former presidential obligations, if there is one thing Barack Obama has been a leader in it's in his Instagram husband duties. Last year when the 44th president and Michelle Obama were spotted vacationing on a yacht, Obama was photographed assisting the former FLOTUS with a photo shoot. So when his wife's 54th birthday approached, true to form, Obama had the perfect Instagram tribute for her.
Obama, who has infrequently used his Instagram account since his two presidential terms ended, posted a photo of the couple with the sweet caption, "You're not only my wife and the mother of my children, you're my best friend. I love your strength, your grace, and your determination. And I love you more each day. Happy Birthday, @MichelleObama." The post has since accumulated over 1.5 million likes.
That wasn't Obama's only move to celebrate Michelle's birthday, though. He also made sure that flowers were waiting for her when she started her day, along with a handwritten card. Michelle, who posted a photo of both on her Instagram, showed her appreciation, writing, "Thank you @BarackObama for the beautiful flowers waiting for me in the office this morning. You're my best friend, biggest fan, and getting notes and flowers from you will never get old. And to the many people from around the country who sent cards and posted on social media, you have no idea how much we love hearing from you. I know birthdays can sometimes be bittersweet (54!), but your messages of hope, generosity, and warmth have always reminded me how lucky and blessed we are."
Michelle Obama has talked about her relationship with Barack before, revealing that the magic behind it is due in part to lots of work. "Even the best of marriages require a lot of work—even if you're married to your soulmate who has very few flaws," she told Good Housekeeping in 2010. "Building a life with a person other than yourself, and raising kids and dealing with all of the bumps and the bruises and the joys and the pains that go along with life, that creates the natural state of marriage, and it's a challenge. I say that to people not to discourage them but to say that you will inevitably hit those bumps. Don't view that as a shortcoming of yourself or your spouse or your marriage. Don't give up on it. Just understand that you're going along the path that everybody else goes on. Go in ready for the work."
Clearly, all that work has paid off.