Melania Trump's Wish to Retreat to a "Deserted Island" Is Getting Lampooned on Twitter
"This is her escape plan."
---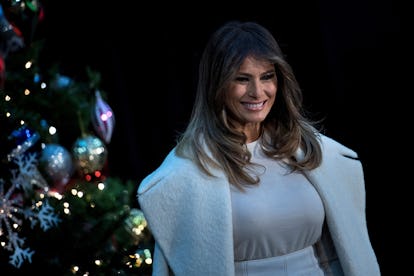 Brendan Smialowski/Getty Images
For each of the president's assertions that Melania Trump is, in fact, perfectly happy to be living in the White House and serving as First Lady, there's a curious interview answer or "accidentally" favorited tweet from the FLOTUS herself that seem to prove otherwise. Most recently, while visiting the Children's National Hospital in Washington, D.C., on Thursday, Melania answered holiday-themed questions from kids, and one of her answers, in particular, has revived the peculiar #FreeMelania movement, leaving many worried about Melania's happiness.
In a video captured by NBC News, 10-year-old Andy asks Trump where in the world she would most like to spend the holidays. "I would spend my holidays on a deserted island, a tropical island, with my family," she replies with a laugh.
Twitter users immediately pounced on the video. Some poked fun at Trump's seemingly only adding the part about her family as an afterthought. "'Mrs. trump what do you want for chris the MOST' 'a coma….…. with uh, my family,'" one person wrote. Others perceived the answer as proof that Trump is extremely unsatisfied with her current situation. "This isn't an answer. This is her escape plan," one such Twitter user wrote. Most Twitter jokers, however, quipped that they, too, would very much like for the Trump family to retreat to a faraway deserted island. "Melania Trump wants to spend the holidays on a deserted island. Can she take her husband with her? And leave him there forever?" one tweeted.
In the eyes of some #FreeMelania truthers, she first seemingly revealed that she was less than pleased with being the FLOTUS to Donald Trump's POTUS earlier this year, when the official @MelaniaTrump Twitter account liked a tweet—her second-ever like—that read "Seems the only #Wall @realDonaldTrump's built is the one between him and @FLOTUS #Melania #Trump" alongside a GIF of Trump frowning as soon as her husband looked away. The tweet has since been unliked, and a day later, Melania's communications director Stephanie Grisham told People that the First Lady was not aware of the fave.
Last month, the president attempted to put the rumors of his wife's unhappiness to rest. "Melania, our great and very hard working First Lady, who truly loves what she is doing, always thought that 'if you run, you will win.' She would tell everyone that, 'no doubt, he will win.' I also felt I would win (or I would not have run) – and Country is doing great!" Donald Trump tweeted on November 28, likely in response to a Vanity Fair article published earlier that week claiming that Melania "didn't want this come hell or high water."
The truth, it seems, is in the tweets—but whose tweets, exactly?
Related: Is Melania Trump Trolling Us By Visiting Texas In High Heels, Again?