Is Melania Trump Trolling Us By Visiting Texas In High Heels, Again?
Melania Trump and Karen Pence traveled to Texas. Trump wore high heels, and both stopped by a Whataburger.
---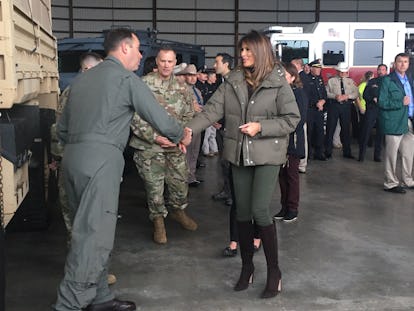 White House
Melania Trump has been known to keep tabs on what the media writes about her, and respond with her wardrobe. For example, after several American designers going on the record that they wouldn't dress her, she decided to co-design her own inauguration gown. So it's curious that months after much was publicly made about the fact that she wore stilettos to fly to Texas following the aftermath of Hurricane Maria that she decided to wear some very high heels again upon her return.
Yesterday, while visiting first responders and victims of the Hurricane with Second Lady Karen Pence, Trump wore a Rag & Bone puffer jacket (an American brand, for those keeping tabs) with a pair of high-heeled knee-high boots. The choice was somewhat more utilitarian, but then again, it is also a bit colder.
After greeting first responders at the Corpus Christi Airport, Trump and Pence also stopped by Manufactured Housing Units provided to displaced victims by FEMA, a food bank and a school. The pair also met up with Texas Land Commissioner George P. Bush, who happens to be the son of fiercely anti-Trump Republican Jeb Bush.
Later, amidst sudden public interest in her husband's favored fast food order (reportedly two Big Macs and two Filet-O-Fishes without buns but accompanied by chocolate milkshake), Trump and Pence decided to get some fast food. The duo stopped by the flagship location of Texas's favorite burger joint Whataburger.
So far, there's no word on what they ordered.
Of course, maybe it's completely wrong to imagine that the First Lady is indeed either trolling us or sending some sort of message with either her footwear or meal of choice. Trump's de factor stylist Hervé Pierre recently told WWD that it's not like that level of thought goes into picking her outfits.
"Sometimes it's not that complicated," he said when asked about whether a particular dress had a particular meaning for a international visit. "This is a quote from Mrs. Herrera–'Fashion is to please your eye.' If you start to intellectualize everything, it's hard."
The attitude expressed in last sentence, in particularly, may be something to keep in mind when judging the actions of the wider Trump White House. "If you start to intellectualize everything, it's hard."
Related: So Much for America First: Melania Trump Wore 11 Expensive, (Mostly) European Outfits During Asia Trip
From Melania Trump to Jacqueline Kennedy, a History of First Ladies' Inauguration Day Style
First Lady Mamie Eisenhower, 1957

Getty Images