Donald Trump, Humanitarian, Plugs $40 Campaign Hats Amid Hurricane Harvey Response
The first lady's choice of footwear also drew criticism, because the Trumps seem constitutionally unable to distinguish right from wrong, decent from indecent.
---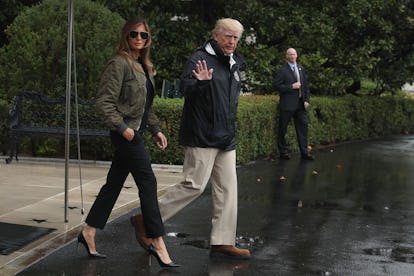 Alex Wong
As President Donald Trump and first lady Melania Trump head to Texas today to tour the flooding and damage caused by Hurricane Harvey, a particular piece of Mrs. Trump's wardrobe caught the attention of the Twitter peanut gallery. While her outfit otherwise seemed sensible enough to at least gesture at something someone about to tour the aftermath of a natural disaster might wear (bomber jacket and aviator glasses included), Mrs. Trump chose to pair the more utilitarian look with sky high black snakeskin stilettos more befitting a charity gala for a disaster rather than touring one.
Mrs. Trump was only seen in the high heels while boarding Marine One, the presidential helicopter, and then, later, at Joint Base Andrews, Maryland while boarding Air Force One. Presumably the first lady will switch out her footwear choice later in the day for something more appropriate for meeting people whose homes were flooded.
Still, the choice in footwear garnered much criticism and head-scratching online.
As per CNN reporter Kate Bennett, Mrs. Trump's East Wing communications director has hit back at the criticism.
"It's sad that we have an active and ongoing natural disaster in Texas, and people are worried about her shoes," said Stephanie Grisham.
Of course, it should be noted that amidst the situation in Texas, President Trump has found time to criticize NAFTA, promote a supporter's book, publicly (and pettily) misgender Chelsea Manning, boast about his electoral vote margin in Missouri, proposing that Mexico pays for the wall through the manner of "reimbursements/other" and pardoned Sheriff Joe Arpaio of charges that he continued to illegally ignore a court order forbidding him from further stomping on civil rights. The president also found time to publicly claim that he thought his announcement of the pardon would get higher ratings.
All things considered, Mrs. Trump's shoe choice is small beans, but, as President Trump proves, people do have the capacity to multitask it seems.
In fact, the President's own recent wardrobe choice have also garnered their own criticism.
After finding such success among his supporters with his trademark red "Make America Great Again" hat, President Trump has chosen the weekend to flaunt the latest piece from his collection: a hat that bares "USA" on the front.
The hat is for sale on Trump's reelection website for $40. All proceeds go to the Trump Make America Great Again Committee.
Trump was also spotted carrying the cap this morning as his boarded Air Force One.
Consider donating $40 to the Red Cross's Hurricane response fund here instead of paying for a poorly crafted hat.
Related: Melania Trump Keeps Wearing Dolce & Gabbana, and Stefano Gabbana Doesn't Mind If You Boycott
See What's Trending in W Video: