So Much for America First: Melania Trump Wore 11 Expensive, (Mostly) European Outfits During Asia Trip
The few American designers featured: a sweater from Mary-Kate and Ashley Olsen's The Row.
---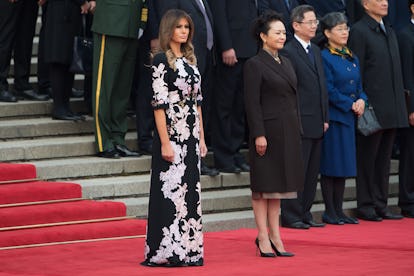 NICOLAS ASFOURI
At this point one shouldn't expect anything about the Trump administration to change very much, so it's of little surprise that Melania Trump continued to prefer European designer clothes during her recent trip through Asia alongside her husband President Donald Trump who rode a populist wave into office on the promise of an "America First" trade policy. The first lady was publicly spotted in eleven different outfits during the six day trip. Her suitcase included pieces by Dior, Gucci, Delpozo, and, of course, Dolce & Gabbana. The few American designers featured: a sweater from Mary-Kate and Ashley Olsen's The Row and an evening gown from J. Mendel (a label originally established in Russia, but now based in New York).
Mrs. Trump kicked off her trip by arriving in Tokyo with a stripped and belted Fendi coat (underneath, according to WWD, was a custom skirt designer by her de facto stylist Hervé Pierre. Later in the day, when the first couple met Prime Minister Shinzo Abe and his wife for dinner at a restaurant, Mrs. Trump had changed into a another custom Pierre coat.
The next day: a Dior navy blue day dress followed up by a red Valentino gown for night. Upon her arrival in South Korea on Tuesday, she opted for a voluminous purple coat from the Spanish label Delpozo. That night she went with the blue and beaded J. Mendel gown. Then it was back to Europe: a black Alexander McQueen coat, a Dolce coat dress, a Dolce evening gown, a dragon-embroidered Gucci gown for a dinner in China, and then, earlier today, she wore The Row sweater with a skirt, coat and Azzedine Alaïa belt. Pierre told WWD that she wore 18 pieces overall for the trip, and that he pulled them together himself (Pierre, who was once the creative director of Carolina Herrera, has previously said he anonymously shops for the first lady himself in New York department stores and boutiques).
"If you find the right dress for the occasion, then 90 percent of your job is done," he told WWD of planning for the trip. "I do little sketches. We put them in front of the dates and say, 'What do you think of this?' 'Oh no, here it would be perfect…Here, it's not going to work.' It's like a puzzle. You have a big grid and you try to make it make sense with a nice harmony."
He also warned that the first lady's fashion choices shouldn't necessarily be overanalyzed. Much was made of the fact that the Gucci dress she wore for the state dinner at the Great Hall of the People in Beijing was obviously referencing traditional Chinese fashion, for example. "Sometimes it's not that complicated," he told the outlet. "This is a quote from Mrs. Herrera–'Fashion is to please your eye.' If you start to intellectualize everything, it's hard."
Intellectualizing aside, Trump does continue to sidestep first lady tradition with her preference for foreign designers. At least since the time Jackie Kennedy was criticized for her own taste for French fashion, first ladies have been expected to champion American designers. Some first ladies, Nancy Reagan and Michelle Obama included, have even taken on an unofficial role as something of an ambassador for the American fashion industry and, in Obama's case, made a point of showcasing up-and-coming designers, many of whom were immigrants or second generation Americans, like Isabel Toledo, Jason Wu and Thakoon. Certainly, some American labels might not have minded the publicity in the highly sought after and growing Asian market that could have come their way if Trump chose to wore their items during the trip.
Trump, however, does have an uneasy relationship with much of the American fashion scene. Many designers, Tom Ford included, said they wouldn't dress Mrs. Trump. Though, she has continued to wear American designers here-and-there, and for a time, seemed to have taken a shine to Raf Simons's new look for American stalwart Calvin Klein. Apparently, though, its European finery that continues to be her favorite.
Related: Raf Simons, Vaquera, and More Turned New York Fashion Week into an American Horror Story
Paris Hilton Breaks Down Her 13 Favorite 2000s Trends, And Why They're Still Hot: