Here's How Melania Trump Actually Gets Her Clothes
Not surprisingly, an immigrant gets the job done.
---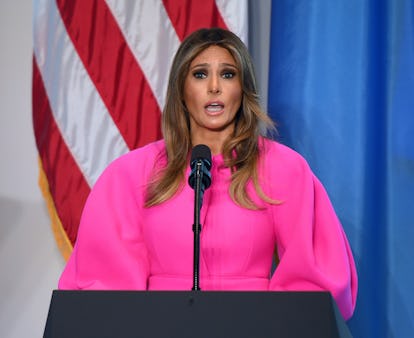 DON EMMERT
At least since Jackie Kennedy was criticized for her preference for pricey European designer duds, the First Lady's wardrobe has been politicized. Yet, Melania Trump's choice in clothing has led to political eyebrow raising of the type we haven't quite seen before. Her husband Donald Trump's "America First" catchphrase and popularity among the whiter subset of the working class, has been at direct odds with Melania's preference for buying out of pocket high-priced, often foreign designed and assembled garments. Meanwhile, many American designers have publicly refused to dress her (leading Donald Trump to lash out at Tom Ford in a strange Fox News interview just days before the inauguration).
One might wonder how Mrs. Trump goes about selecting and securing outfits. The answer, as it turns out, is the same man she turned to co-design her inauguration gown: Hervé Pierre.
The French-born designer had previously worked at Oscar de la Renta and, more recently, at Carolina Herrera (two American labels run by Latin American immigrants with long histories of dressing Washington wives). Now a freelance designer and consultant, Pierre tells the New York Times that he had never met Melania until a January of this year when he was contacted about designing her inauguration gown. Apparently the two hit it off enough to the point that Pierre now acts as Melania's de facto stylist.
As it turns out, Pierre shops for many of Mrs. Trump's outfits anonymously in New York.
"I go to Bergdorf, I go to Saks, Michael Kors, Dior," he told The Times. "What is challenging is when I cannot say what it is for."
He also makes sure that Mrs. Trump doesn't wear anything that other public figures have worn before.
"I always ask: 'Was it already on the red carpet? Did somebody already wear it?' Because I don't want her to be on the 'Who Wore It Better' list."
The fact the clothes are bought off the rack with neither the store nor designer knowing who the purchaser is pretty much checks out with stories we've heard about Mrs. Trump's wardrobe before.
Back in March, Mrs. Trump wore a black Michale Kors skirt suit to her husband's first address to a joint session of congress. Mr. Kors quickly came out to explain that Mrs. Trump was a longtime client, but she had bought the suit off the rack and no special arrangements were made with his label.
This is in stark contrast with how Michelle Obama selected her wardrobe. Mrs. Obama enlisted the help of insiders like Ikram Goldman and, later, Meredith Koop, and her wardrobe selections weren't always conducted in secret. Mrs. Obama had a tendency to highlight the work of young, American designers with diverse backgrounds—Jason Wu, Thakoon Panichgul, Brandon Maxwell.
Mrs. Trump hasn't quite embraced the same "America First" philosophy when it comes to fashion. Yes, she's recently been seen twice in clothing from Raf Simons's first collection for classic American label Calvin Klein, but there's also her noted mutual admiration with Italian's Dolce & Gabbana.
Though, it should be noted that both Trump and Obama were paying for the vast majority of their wardrobes out of pocket. Ethics rules state that first ladies can accept clothing as gifts from designers, but the clothing becomes property of the government and is sent to the National Archives. We should also note that it's likely that Mrs. Trump still relies on pieces from her wardrobe from her pre-political days as well.
As for Pierre, who immigrated to America in his late '20s, he doesn't seem to be bothered by the political ramifications of his latest gig.
"The beauty of this country is it's a democracy, so some people want to dress certain people and some people don't want to," he told the Times. "I choose to. If you forget about the political, or whatever, that's behind it, the needs are so interesting to answer. Even if I'm not creating the clothes, it is very creative to consider how it's going to be perceived. And when you decide, you divide. I'm not always right. I make mistakes, and same for her. There's no 'How to Be the Perfect First Lady' book. You learn on the spot."
Related: Dolce & Gabbana Is Selling #Boycott T-Shirts Amidst Melania Trump Mini-Controversy
From Melania Trump to Jacqueline Kennedy, a History of First Ladies' Inauguration Day Style
First Lady Mamie Eisenhower, 1957

Getty Images
I Am an Immigrant: