Melania Trump Operates Her Own Twitter, In Case You Were Wondering
Melania Trump is often faster to Tweet than her husband Donald Trump following tragedies, but there's no coordination with the West Wing.
---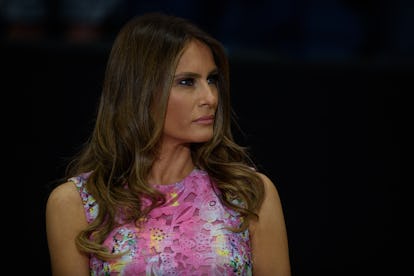 Justin Merriman
Last week, as events unfolded in Charlottesville, First Lady Melania Trump was quicker to offer a public statement via Twitter than her husband Donald Trump by almost an hour. Later in the week, the First Lady was once again quicker to respond to the terror attack on Barcelona than her husband. Both instances were odd for many reasons, the least of which is that President Trump is a frequent Twitter user who fires off messages multiple times a day while Mrs. Trump is a rare presence on the platform.
This led some to wonder if her actions were part of a wider White House communication strategy. It turns out the answer is no. Mrs. Trump has complete control of what she puts on her Twitter and doesn't run it by anyone in the West Wing first.
"A White House official told CNN that when it comes to social media, Twitter in particular, the first lady does not check in with her husband before posting," reports the news network. "She is her own person, the official said, operating the account herself and paying close attention to which events warrant comment and which do not."
The same report says Mrs. Trump largely runs the entire East Wing and its small 10 person staff at her discretion with little input from the president. (Though, it doesn't seem that staff is doing much. Mrs. Trump was the chairwoman of the President's Committee on the Arts and the Humanities, whose members resigned en masse today before the group had even met a single time under the agency of Mrs. Trump).
The only person who helps her with her social media strategy is her communications director Stephanie Grisham, a veteran of a the Trump campaign.
It should't be a surprise, however, that her Twitter account is the work of a single person with some guidance from a staff member. She rarely Tweets from it, after all.
She mostly just uses it to offer sympathies and "thoughts and prayers" after horrible events:
Sometimes she'll use it to commemorate moments from overseas trips or important holidays while usually finding a reason to thank someone.
Mostly, though, she just double posts pictures from her Instagram. She seems to have a favored yellow-tinged filter.
Yes, this definitely seems to be the work of a single person.
Related: Melania Trump Might Actually Wield More Power in the White House Than Anyone Thought
See What's Trending in W Video:
From Melania Trump to Jacqueline Kennedy, a History of First Ladies' Inauguration Day Style
First Lady Mamie Eisenhower, 1957

Getty Images