From Kylie to Kris: A Definitive Ranking of All of the Kardashians' Art Collections
From Kourtney's fake Modigliani to Kendall's lewd Tracey Emin.
---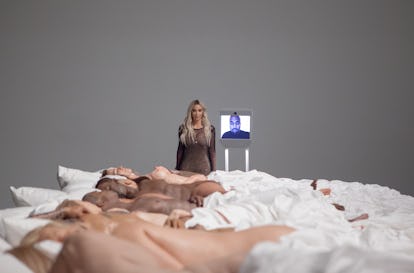 Ron Ben
Perhaps as an apology for how a single one of her tweets caused the company's stocks to plummet a reported $1.5 billion, on Monday, Kylie Jenner stayed true to her newfound mommy blogger form in providing an inside look into her living room and interior decorating style on Snapchat. In any case, the posts certainly helped Jenner on what seems to be her mission to carve a space for herself in the lifestyle beat—one we first got a hint of earlier this month, when Jenner used a selfie as an opportunity to showcase her walk-in handbag closet (which turned out to be organized and opulent enough to rival the everyday one of lifestyle queen Martha Stewart).
Besides her preference for white sofas and marble fireplaces, Jenner's snaps of her living room also importantly offered some insight into her taste in art, as well as the fact that she's starting to have something of a collection, thereby smoothly entering a dignified adulthood at a time when rich people snapping up art is all the rage. Among those rich people are, of course, the rest of the core Kardashians, meaning it's high time to rank all of their art collections, ordered from nonexistent to unmistakably Kanye-cosigned highbrow.
Kourtney Kardashian
Sorry, Kourtney, but you're at the bottom of the barrel when it comes to high-art cred. Back when she was still with Scott Disick, she got word of a painting belonging to his late parents that bore an unmistakable resemblance to that of a Modigliani, and, quite understandably, was thrilled—not because it meant they held a true piece of modernist artistry in their hands, but because selling it might have the capability of making them "ultra-rich." As artnet News recapped in 2014, the saga played out over the course of an episode of Keeping Up which finds Kourtney hiring conservators and art experts who get her hopes up by estimating its worth to be up to $100 million. We finally get the real answer about its authenticity when the painting is chemically analyzed—and revealed to be a fake, containing materials that were only available after Modigliani had died.
Perhaps this is where Scott began his downfall: what a letdown it must have been to make the discovery after publicly proclaiming, "I need to start thinking about what color carpeting I want on my private jet." As Kourtney then put it: "The dream is over. The nightmare begins."
Kylie Jenner
By the sheer fact of having an art collection at just 20 years old, Kylie is already ahead of the art-world game, and thereby shouldn't be judged too harshly. Late last year, she spent $20,000 on so-called "Barbie art" by the artist Beau Dunn, whose work you can also find in, um, Kris Jenner's closet. Her wares showcased on Monday, though, suggest she's been working on an aesthetic upgrade. To start, above her marble fireplace, there's a reportedly signed, limited-edition print of Jean-Michel Basquiat's Hollywood Africans in front of the Chinese Theater with Footprints of Movie Stars, which were only released in 2015, then retailing for $50,000.
Sure, Basquiat is far from obscure, but Kylie upped her art cred by also proving she's into the design game. Her living room is also home to a table apparently dripping in bronze by the sculptor Zhipeng Tan, which the Daily Mail reports retails for $25,000. It's unclear who designed the table at the center of the room, though it's certainly by someone who appreciates opulence, given that its clear frame encases a bed of gold leaves. But perhaps most impressive is the room's centerpiece: a book on the French photographer Bettina Rheims, who's credited Helmut Newton and Diane Arbus with influencing her portraits of women like Catherine Deneuve and Madonna. There's no word on if Kylie is a fan of Rheims, or even if she's actually opened the coffee table book. If so, though, kudos to her for studying up!
Kendall Jenner
As seen at the very beginning of Vogue's "73 Questions" video with Kendall, at least back in 2016, she was keeping a massive coffee table book about Jeff Koons handy on top of the grand piano that's placed immediately in front of the entryway to her home. (Or Kris Jenner's home, since it has the same Tracey Emin? Anyway, Kendall didn't feel compelled to move it.)
Overall, though, Kendall hasn't seemed to display anything remotely near to the passion she has for collection vintage cars (or $52,000 couches) toward art. Some even recently considered her to have disrespected the medium of photography, after she posted a photo of a very cute deer on Instagram without giving the photographer any credit. The same goes for some of the highly detailed fan art she's posted, like this one back in 2016 by an artist whose bio still identifies herself as the one that "Kendall Jenner reposted."
But! Let's not forget that Kris, as detailed below, isn't the only one with a Tracey Emin in the family: Kendall also has one of the artist's signature neons of her own—a much more graphic one from 1999. It reads "glad to hear you're a happy girl" beneath the circumference and dimensions of Emin's ex-boyfriend's penis—a backstory Kendall proved she's familiar with in an episode that aired last year.
Kris Jenner
On Valentine's Day, we got a deep look into Kris Jenner's personal life when she hosted a dinner that turned into what Kim Kardashian referred to as "the Olympics" of drunk karaoke. The night's documentation on Instagram stories showed us a rare glimpse of Kris toppled over on a couch, sticking up her middle finger—antics that were much more elegant against the backdrop of one of Tracey Emin's signature neon signs. Jenner is in fact a well-documented fan of the former Young British Artist and enfant terrible; she's previously posed alongside her work for outlets like Architectural Digest.
What's more, a seen in the background of scenes of Keeping Up with the Kardashians, Jenner also owns a canvas by Yoshitomo Nara, which is prominently displayed on one of her mantelpieces. And, lastly, she's also the proud owner of a custom Parisian sculpture of a polar bear that celebrity florist Jeff Haynes-Leatham had made out of metal and glass, which she pulls out every year around Christmas. (It was in fact the only one in the U.S., until Steve Harvey annoyingly stepped in.)
Khloé Kardashian
Those privy to Khloé Kardashian's app would know that back in 2016, she posted a photo of her favorite "dope piece of feminist art," a photograph by Terry O'Neill of Raquel Welch being crucified. "The picture was shot in 1966 to symbolize how Welch was 'crucified' by the entertainment industry for her sexuality," Khloé quite astutely explained. (She also made it clear that she's not here for any criticism that the work is "sacrilegious": "It's my house, so f— off, LOL.") Though we haven't heard much about her art collection since, she's already proven she has the chops for concepts and curating—and seems to agree with the highbrow winners, Kim and Kanye, that less is more.
Kim Kardashian/Kanye West
From the start, Kanye has made sure that his and Kim's relationship is also open to another partner: art. In 2013, he gifted his then-fiancé a custom painting by the former Andy Warhol cohort George Condo—not on a canvas, but on the surface of a prized Birkin bag. Kanye has also tapped Condo, as well as Takashi Murakami, to design his past album covers—and infamously teamed up with the performance artist Vanessa Beecroft.
Now that they're married, though, the pair have both shifted their passion for and focus on over-the-top art to design, favoring an all-white aesthetic and pretty much anything designed by the minimalist Axel Vervoordt. These days, Kim, who once collaborated with the artist Barbara Kruger for this magazine, now likes to troll 1stdibs, and has shared that she's also a fan of the highly respected architect Le Corbusier. (His highly criticized, bordering-on-fascist approach to public housing, on the other hand, appears to have not yet made it onto Kim's radar.)
Related: Kylie Jenner's Closet Vs. Martha Stewart's: Whose Walk-In Is the Most Opulent?