The Kardashians Keep Throwing Shade at Scott Disick for Relationship with Sofia Richie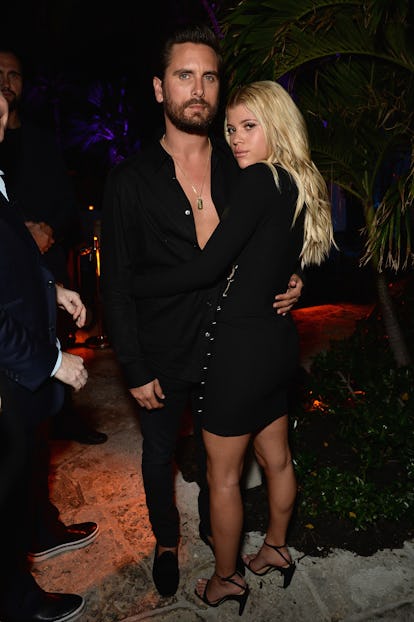 Andrew Toth
The Kardashians are on a shading spree right now. Don't worry, though; they're not after Bette Midler or Taylor Swift. Rather, they have their eyes set on someone within their own inner circle: eldest sister Kourtney's ex Scott Disick.
That's right, the Kardashian sisters keep dissing Scott Disick's relationship with 19-year-old Sofia Richie. Supermodel Kendall kicked things off on Instagram, by cheekily commenting, "Aww, Scott and his kids" on a photo of Disick and Richie together. Then she reached new levels of petty by referring to her horse as "dragon," which is the name of Richie's horse that recently passed away. (Equestrian drama!)
Of course, all the tension bubbles up in the next episode of Keeping Up With the Kardashians. In a preview of this Sunday's episode, matriarch and grand supreme Kris Jenner asks Disick about his relationship with Richie, and her comments are delicious.
"Wait, so how old is she? Because I really don't know! Is she Kylie's age?" Jenner, who no-doubt has access to Google, asks Disick on national television. Disick replies "19," to which Jenner, who, again, knows about the Internet, says, "And you're…32?" Disick is 34.
Jenner acts so surprised when Disick says "34" and then starts reminiscing about meeting her late husband, Robert Kardashian. She was 17, and he was 12 years her senior. "You were underage, and [Richie's] not," Disick says, and Jenner quips back, "Touché."
Watch the exchange for yourself, below:
Now remember that Disick has a history of dating 19-year-olds. Remember when he and Bella Thorne were spotted together in Cannes? Or when he was linked to this Kendall Jenner doppelgänger? These scenarios combined with the fact he flipped out on Kourtney Kardashian for dating a 24-year-old model, means he deserves a little shade.
Related: Untangling the Twisted Web of Scott Disick and Sofia Richie's Relationship