Did Kendall Jenner Just Start Some Vicious Horse Drama with Sofia Richie?
A feud seems to be brewing between these two equestrians.
---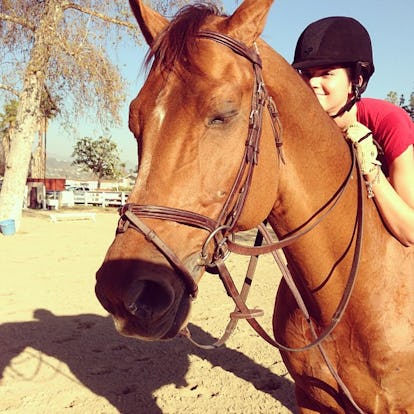 Courtesy of @kendalljenner
At the end of January, Kendall Jenner noticed an Instagram featuring Sofia Richie, Scott Disick, and one of his children posted by a fan account devoted to Disick, her sister Kourtney Kardashian's ex, and decided to leave the comment "awww scott and his kids." Complete with a grinning emoji, that would seem harmless enough, except that it was most definitely calling out the 15-year age difference between Disick, 34, and his new girlfriend Richie, who's just 19.
Keep in mind, Jenner posted that comment on a random fan account with around 15,000 followers. This past weekend, on the other hand, Jenner decided to shade Richie again—only this time it was via her own account, which has 87.1 million followers.
But first, the backstory: One of the last things we heard from Richie before Jenner's latest Instagram dig was that she'd been in mourning after the death of her horse Dragon. She announced his passing on January 10 with a photo of her much younger self with the horse, suggesting they'd had quite a long relationship, and the caption, "Rip to my beautiful dragon. Spent some of my happiest moments with this guy," which ended with a broken heart emoji.
Fast forward a few weeks later, and Richie, at least from her manicured Instagram feed, now seems to be recovering—enough to hang out with Katy Perry, anyway. Meanwhile, in between preparing for the birth of her sister Kylie's daughter, and finding herself in the midst of an unexpected controversy for posting a picture of an adorable fawn on Instagram without the photographer's permission, Jenner appears to have been cooking up yet more animal-related Insta-drama.
Kendall Jenner Gets Real: "I'm Weird, I Love My Tits Being Out":
Like her fellow supermodel best friends, Gigi and Bella Hadid, Jenner is something of a horse girl; she may not have been gunning to compete in the equestrian Olympics like Bella, but she's certainly expressed enough interest in over the years to build up some serious horse cred. (Most memorably, she spent one vacation riding horses in the Atlantic Ocean.)
So it's not suspicious that Jenner would get a new horse, a brown steed she introduced as her "new baby" on Instagram over the weekend. What is more than a little sus, though, is the name she chose for it: Dragon. Yep. (She also posted a heart-eyes emoji that was of course the opposite of the broken heart Richie posted to mourn her late horse.)
Sure, this potential feud is all speculation at this point, and it may seem rather petty. But that might just be because you're not a serious horse girl like Jenner, Richie, or the Hadids: As Bella has said about her old horse, Lego, aka her "ride or die," selling him was "like a breakup" that left her "traumatized." In fact, according to the almost-Olympian, "You can ask any equestrian: You develop a crazy, emotional connection with this animal. When you're riding a horse, they have full control over you, and they can literally kill you in a second, so you build a trust with them."
Considering her family's taste for shade, one can't help but think that Jenner's choice of name was intentional. In any case, at least we finally know one of the names of the new babies in the Kardashian clan.
Related: Kendall Jenner and Bella Hadid Posted a Picture of a Deer on Instagram and It's a Controversy
See How Sofia Richie Has Grown Up on the Red Carpet And Beyond
Sophia Richie makes her first red carpet appearance at the age of 10 with her dad, Lionel Richie, and sister, Nicole Richie at the 2008 ASCAP Pop Awards in Hollywood, California.

WireImage
Richie was already way ahead of her time at age 11.

WireImage
In 2011, she attended the Los Angeles Premiere of "Justin Bieber: Never Say Never" with the model and actress Angie Everhart, and her son Kayden Bobby Everhart. Look how far she's come! Never say never, for real.

FilmMagic
Richie was unchaperoned for Teen Vogue's 10th Anniversary Annual Young Hollywood Party in 2012.

WireImage
Lest we forget that Richie was (and still is) a teenager thrown into the spotlight. The red carpet is a learning experience.

Getty Images
This all-white ensemble is perhaps Richie's most sophisticated look to date. Here she attends Claiborne Swanson Frank's Young Hollywood book launch hosted by Michael Kors in 2014.

WireImage
By age 15, Richie clearly realized she was was most comfortable in all-black.

FilmMagic
Richie looked chic in head-to-toe black and white while attending the Diane von Furstenberg show at New York Fashion Week in 2015.

GC Images
Again with the black-and-white, plus a clear love of oversized coats, at the Alice + Olivia presentation during New York Fashion Week Fall 2015.

WireImage
In the summer months, Richie opts for all-white instead of all-black. Here, she attends a party at Nobu Malibu.

WireImage
Richie's most momentous red carpet moment was when she attended the Met Gala in 2015 with Cara Delevigne, Stella McCartney, and Zhu Zhu.

Getty Images
Getty Images for FENTY PUMA
Richie still loves to mix it up with braids. Here, she attends the Tommy Hilfiger Women's Spring 2016 show during New York Fashion Week.

Getty Images for Tommy Hilfiger
For the "Manus x Machina Met Gala this year, 17-year-old Richie stepped out in a custom Topshop gown, demonstrating that teens can play the game, too.

FilmMagic
Sofia Richie attends the Balmain aftershow party as part of Paris Fashion week at El Pompon Magnifico on January 21, 2017 in Paris, France.

Getty
Sofia Richie attends the Alexander Wang show during New York Fashion Week at RKO Hamilton Theater on February 11, 2017 in New York City.

Getty
Sofia Richie attends the TommyLand Tommy Hilfiger Spring 2017 Fashion Show on February 8, 2017 in Venice, California.

Getty
Sofia Richie attends the Lon Dunn + Missguided launch event hosted by Jourdan Dunn at The London EDITION on February 17, 2017 in London, England.

Getty
Sofia Richie attends the Midnight Garden After Dark at the NYLON Estate on April 14, 2017 in Bermuda Dunes, California.

Getty
Sofia Richie attends the "Rei Kawakubo/Comme des Garcons: Art Of The In-Between" Costume Institute Gala at Metropolitan Museum of Art on May 1, 2017 in New York City.

Getty
Sofia Richie arrives at the amfAR Gala Cannes 2017 at Hotel du Cap-Eden-Roc on May 25, 2017 in Cap d'Antibes, France.

Getty
Sofia Richie attends the TINGS 'Secret Party' launch party held at Nightingale on August 23, 2017 in West Hollywood, California.

Getty