Kendall Jenner and Bella Hadid Posted a Picture of a Deer on Instagram and It's a Controversy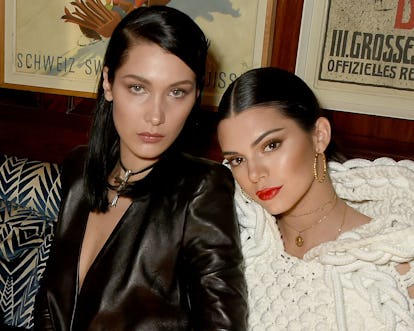 David M. Benett/Getty Images
Oh deer.
So, it looks like Kendall Jenner found a picture of a really cute fawn online and posted it to her Instagram. And Bella Hadid saw that picture and posted it to her Instagram Story. And then the owner of that photo, the woman who runs Fuzzy Fawn Wildlife, said, Wait a minute, that's my photo of a fawn, would have been nice if you'd tagged me so I could get some donations to continue my work treating animals (I'm paraphrasing). TMZ tried to make it a thing, and soon enough it was a thing.
But look, there's no bad blood between Fuzzy Fawn (that's apparently the account owner's nickname) and Kendall Jenner, as she addressed the "controversy" in a lengthy Instagram post. The statement clarifies that she assumes Jenner found the photo, uncredited, floating somewhere on the internet, and that while TMZ sort of hyped up the drama, it would have been nice for the model to give her organization, which reportedly rehabilitates sick deer in Buffalo, New York, and then releases them back to the wild, a shoutout.
"When I see one of my photos/videos reposted I always try and get that account to give credit, Why… because I am a volunteer, any exposure helps my cause that I put my heart and soul into 24/7!!" Fuzzy Fawn writes. "Everything I do is for the fawns in my care! I always appreciate you having my back, helping and supporting my efforts? People can pretend to be whoever they want on social media, post a picture with a caption and boom, you just invented a person that you are not in your everyday life."
Does that settle that?
(Also, take a moment to enjoy these incredibly cute pics, please. You really deserve it today.)
Related: Kendall Jenner and Blake Griffin Reportedly Were "Never Serious"
How Kendall Jenner, Adriana Lima and More Models Are Staying Fit in 2018