Untangling the Twisted Web of Scott Disick and Sofia Richie's Relationship
A timeline of Scott Disick and Sofia Richie's relationship, and their connections to just about everyone important in Hollywood.
---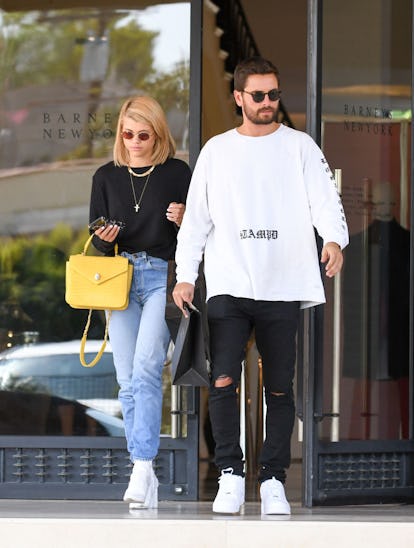 BG002/Bauer-Griffin/Getty Images
If you thought you could ignore the saga that is Scott Disick and Sofia Richie's relationship before, well… you just can't anymore. For months, rumors swirled the web, that the 34-year-old father of three and the 19-year-old daughter of musician Lionel Richie and younger sister of Nicole Richie are dating. If the 15-year age gap between the couple isn't enough cause for general confusion, take a second to imagine the intricate connections that can be drawn between the two of them outside of the fact that they are now romantically linked.
In order to understand the timeline of Disick and Richie's relationship, we have to go all the way back to 2007, when Disick began dating Kourtney Kardashian after the two met through a mutual friend. They now have three children together, 7-year-old Mason, 5-year-old Penelope, and 2-year-old Reign. You've seen them grow up on Keeping Up With The Kardashians, a show which also portrayed their parents' sometimes tenuous relationship.
After nearly a decade of being on-again-off-again, Kardashian officially broke things off with Disick in 2015. She was then rumored to have dated Justin Bieber, who was 22 at the time, for a few months in early 2016. Soon after his alleged romance with Kardashian fizzled, Bieber dated Sofia Richie for about a month in August 2016. When Richie was reportedly with Bieber, he received a lot of disturbing comments on his Instagram posts from fans who were upset about him ending things with his six-year-long on-again-off-again relationship with Selena Gomez. He was so upset he deleted his drama-soaked Instagram account (but don't worry, though, he clearly brought it back to feud some more).
Gomez is now dating The Weeknd, who was formerly with supermodel Bella Hadid, a close friend of Kourtney Kardashian's younger sisters, Kylie and Kendall Jenner. Richie also used to be a close friend of Kylie and Kendall's, and is perhaps still close with Kendall, who was present at Richie's 19th birthday celebration alongside other friends.
After breaking things off with Bieber, Kourtney Kardashian began dating the 24-year-old model Younes Bendjima—a former friend of Richie's—in 2016, just a week after his breakup with fellow model Jourdan Dunn. The two have been together for nearly a year, and have even drummed up pregnancy rumors in the last month, but the drama certainly does not end there.
As of early 2016, it appeared as if Richie and Bendjima were still friends. Fast forward to the Festival de Cannes in May of 2017, and suddenly dating rumors began to circulate about Richie and Disick. No one was more shocked that Richie's famous father, Lionel Richie. Both Sofia Richie and Bella Thorne were caught by paparazzi, flirting with Disick on a yacht. Richie immediately made sure to let the entire world know via Twitter that she and Disick were "just homies."
Richie also Instagrammed a few silly photos featuring Disick shortly after Cannes, but it was not a confirmation that the two were romantic, just that they were hanging out with a large group in the south of France. You know, the way homies do.
It wasn't until later this summer when both Disick and Richie began posting photos of one another on Instagram Stories and Snapchat, suggesting that they are in fact more than "just homies," and ultimately confirming their romance with a video. In the video, the two of them can be seen kissing in Miami, while a dessert plate with the words "Congratulations Scott & Sophia" is presented to them. The dessert misspells Richie's name, but it's clear that it was meant for her and Disick. "Congratulations" for what?! Nobody knows yet, but the congratulatory sentiment of the dessert plate quickly prompted engagement rumors online.
According to sources, Richie and Bendjima no longer speak, and neither do Kardashian and Disick. If you thought you had a headache trying to keep up before, the incessantly tangled connection between Richie and Disck twists even further when you take a step back to consider that lines can be drawn between Nicole Richie—Sofia's older sister—and her former best friend, Paris Hilton. While Paris Hilton and Nicole Richie had a highly publicized falling out, it appears as if Hilton and Sofia Richie get along fine, since she refers to her as "sissy" in this shot from a Moschino show earlier this year. Paris Hilton is also a former friend of Kim Kardashian West, younger sister of Kourtney Kardashian, who is the mother of Disick's children—the oldest of which is barely twelve years younger than his now-girlfriend.
So, in short: there is no denying Sofia Richie and Scott Disick are really dating. They are currently on vacation in Venice, making out like teenagers in public—except for the fact that only one of them is an actual teen—and now that the two are "Instagram Official" it certainly does not seem likely that they'll be putting a lid on their PDA any time soon.
Related: See How Sofia Richie Has Grown Up on the Red Carpet And Beyond