Kim Kardashian Says Unflattering Paparazzi Pictures Have Given Her Body Dysmorphia
"I'm so insecure that I just can't take it."
---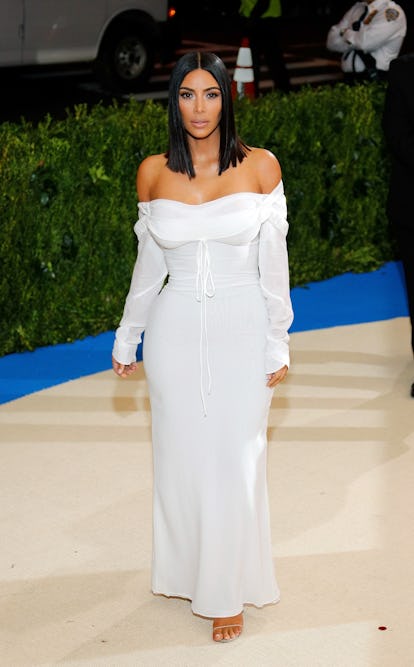 Jackson Lee
Kim Kardashian may be the queen of the selfie, but it doesn't mean she loves every single photo of herself.
Last week on Keeping Up With the Kardashians, the reality star made that very clear after seeing some particularly unflattering bikini pictures of herself that the paparazzi had taken while she was enjoying a Mexico vacation to celebrate sister Kourtney's birthday. "I can't have fun after seeing those pictures," she said while scrolling through her phone. "It's just wild; there are pictures of me where I look so good and it is just from a different angle. It's literally giving me, like, body dysmorphia. I think people think that I'm so confident, and I'm so secure, and I'm so this, but I'm not. I'm so insecure that I just can't take it."
The insecurity continued this week, taking over the main plotline of the episode—the B-plot focused on Kourtney's very under-the-radar new romance with Younes Bendjima; comedic relief was provided by Khloe and Kris Jenner attending a wine-tasting and making prank calls—as she prepared for the Met Gala.
By now, everyone has seen images of Kardashian taking the famous ed carpet in her off-the-shoulder Vivienne Westwood gown, but the Keeping Up With the Kardashians cameras took it behind-the-scenes to show Kardashian in the car getting ready to hit the Metropolitan Museum of Art stairs."I feel like I'm going to throw up," she said. I'm literally going to sh-t my f-cking pants." In fear of having any wrinkles on the carpet, Kardashian had a hairdresser use a blowdryer to steam the dress in the car, resulting in a blown fuse.
Still, images from the Mexico trip persisted, leaving Kardashian in her self-conscious funk. Luckily, leave it to Khloe to put it into perspective. "Kim looked absolutely amazing at the Met Ball, and even though I would hope those pictures would give her another surge of confidence and maybe realize it was just bad photos in Mexico, it seems that the Mexico pictures are never-ending," she said. "I think it is making her think about Paris again and the response to her being robbed. She was mocked and made fun of for this really traumatic thing that happened to her. Now her having these pictures come out, everyone has another reason to ridicule her… It's not fair and it's really cruel."
So, the youngest of the Kardashian sisters put a plan into action: delete all of the news website apps from Kim's phone. Spoiler alert: Kim was not pleased. "You have been letting these things get into your soul," said Khloe. "Kendall even says that when she has a problem, she erases the whole Twitter app from her phone."
Eventually, Kardashian came around to her sister's meddling. "You guys are right, I do need to let this just not bother me and not be a thing," she said. "I don't need this negativity in my life." And once again, all was right in Kardashian-land—until next week, of course, when Scott Disick returns to ruin everything.
Related: Kendall Jenner Finally Speaks Out About Pepsi Commercial Controversy: "I Completely Shut Down"
Kendall Jenner Dramatically Reads Nicki Minaj's "Super Bass"