Kylie Jenner's Closet Vs. Martha Stewart's: Whose Walk-In Is the Most Opulent?
Are you team Supreme and rock crystal chandelier, or team matching wooden floors and hangers?
---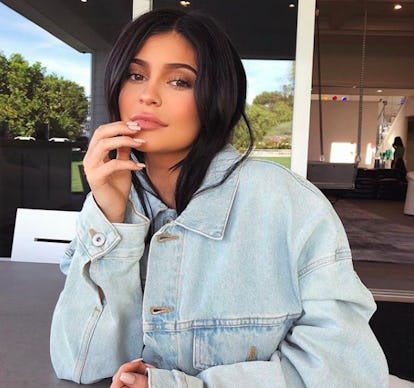 instagram.com/kyliejenner
Since 20-year-old Kylie Jenner is basically a mommy blogger now, having returned from her social media hiatus to post all about her pregnancy cravings and her new daughter Stormi Webster's baby toes, it's only natural that she'd soon run into Martha Stewart—not just because the latter was well ahead of the Kardashians in being any sort of lifestyle guru, but also because Stewart is pretty much the biggest blogger around these days.
But the competition officially began this week, when both Jenner and Stewart shared exclusive looks inside their elaborate walk-in closets. On Sunday, Jenner posted an Instagram of her newly renovated handbag closet, which her interior designer, Martyn Lawrence Bullard, who's something of a Kardashian family favorite, took care to note now features a silver mica ceiling, studded with a rock crystal chandelier. (In addition to, of course, over 100 handbags.)
Outfitted in what appears to be a silky robe and heels, Jenner lets us take it all in by standing about two yards back from a mirrored wall for a selfie that also happens to show off rows and rows of her surrounding wares—all of which happen to be purses. (Especially because of her understated caption, which was simply the word "options," the singularity seems to suggest that Jenner has equally opulent rooms exist for each of her accessories.)
At the level of Jenner's heels are quite a few larger Louis Vuitton bags—an estimated $14,000 worth, to be precise, surrounded by several thousands of dollars more worth of quilted Chanel bags. The real stars of the room can be found much more accessibly, at eye level: at least 10 Hermès Birkins, aka the world's most exclusive handbags. Unlike Paris Hilton, who favors a hot pink, diamond-encrusted Birkin that she claims embodies her, Jenner doesn't seem to play favorites—she's sandwiched hers right near her collection of Gucci purses, as well as enough Supreme that there's already probably a new hypebeast-style Bling Ring in the making.
Jenner's closet my be overtly over-the-top, but her method of publicizing it, via an app that's free and open to the public, is certainly different from Stewart's choice to showcase hers in the print pages of the April issue of her eponymous magazine. (And, naturally, her website—you can see all of the photos here.) The differences do not end there. Before getting into any visuals, let's start with the fact that Stewart has an actual floor plan of her closet, which was until recently an unused bedroom. That may sound a bit excessive, but it's definitely necessary—especially for someone who's just dropping by. There are no less than 13 sections, many of which encompass multiple items; half of the whole marble-topped island centerpiece, a clothing-folding center known as Grand Central Station, for example, contains everything from scarves and shawls to "sparkly evening pants." (There are also cushion-topped window seats to rest on, if all that's already starting to sound a bit exhausting.)
As Stewart recently told W, her hectic schedule means that she often starts each day spending about 30 minutes packing for the three or so outfits she'll need to change into over the course of her agenda. With the help of California Closets' Chris Reynolds, she set about making that more manageable by creating a completely immersive closet that can also easily be removed to turn the space back into a bedroom—though with wooden hangers that match the floors, velvet-lined trays for jewelry, and enough shelves to accommodate grouping each of your different shades of the same Manolos, who would want to do that? (If that question isn't exactly relevant to your lifestyle, Stewart has kindly offered up a bit of her luxury for free by allowing you to download some of her custom laundry hanger tags.)
It's unknown whether Jenner stuffs her soft bags with tissue paper to maintain their structure as Stewart does, though she's certainly unique from Stewart in separating them from the rest of her accessories and attire. It's also quite unclear how many hundreds of thousands of dollars the wares contained in Stewart's space are worth—other than that when they include at least one of her many beloved cats, like Empress Tang, to Stewart, it's no doubt priceless.
Related: Martha Stewart Would Like 400 Roses, Please, Before You Ask Her Out on a Date