New Bling Rings Are Burglarizing Celebrity Homes Around the LA Area
After a string of high-profile burglaries, we have to wonder.
---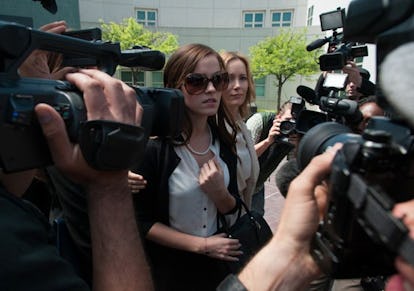 A24
Hide your diamonds, hide your pearls. The bling ring is back. Kinda. The gang of SoCal teens who for one brief shining moment burglarized Hollywood by using gossip to find out when celebrities would be out of town and the Internet to find those celebs' home addresses is all grown up and, far as we can tell, out of the crime game. But after a recent spate of high-profile burglaries, stars are wondering if a new ring is on the rise, this time fueled by social media.
As the Kim Kardashian Paris Incident made us all aware, it's only too easy for a would-be robber to find out where a star, and his or her valuables, is at any given time. By scrolling through geo-tagged Instas, anyone can find out where you are, what you have and maybe even how you're storing it.
But Kim was far from the last or only celebrity to be ripped off by criminals. According to TMZ, the LAPD is currently "investigating 23 celebrity burglary cases" 19 of which occurred in the San Fernando Valley, now a more popular burglary spot than Hollywood. Among the recent victims are "Kyle Richards, Yasiel Puig, Mariah Carey, Jason Derulo and Scott Disick."
Richards, the Real Housewife aunt of original bling ring victim Paris Hilton, in particular, reportedly had somewhere around one million dollars of jewelry, including her wedding ring, stolen from her home. She's since upped security with an armed god and three trained dogs. One of Carey's home was robbed of around $50,000 worth of designer sunglasses and purses back in October. A large amount of cash was swiped from Disick's home in 2016 when he was off partying in Cannes.
The latest rash of robberies is almost definitely not the work of another group of starstruck teens. Per TMZ, "There are various, sophisticated groups of burglars hitting posh areas of L.A. Police say there have also been an incredible number of non-celebrity hits. These burglars are looking for nice houses with nice contents…they're not looking for famous victims." But they've managed to find those famous victims anyway by targeting a home security system's blindspots. TMZ reports that, "most of the celebs have been hit by professional burglars, who know the weak points of a home and how to penetrate them. For example, a number of the break-ins have been through second floor balcony windows, accessed by a ladder…many homeowners don't put alarms on second floor doors and windows."
Still, it couldn't hurt to have Nancy Jo Sales at the ready.
Related: Emma Watson on The Bling Ring
The Best Celebrity Engagement Rings, From Elizabeth Taylor's Massive Sapphire to Meghan Markle's Cluster of Diamonds
Elizabeth Taylor with her wedding ring, a massive sapphire encircled with two rows of diamonds. Photo by New York Daily News Archive via Getty Images.
Jennifer Lopez flashes her engagement ring to Ben Affleck in 2003. Photo by Kevin Winter/Getty Images.
Grace Kelly shows off her engagement ring to Jimmy Stewart on the set of Rear Window. Photo by John Kobal Foundation/Getty Images.
Lady Diana Spencer, pre-Princess Di. Photo by Tim Graham/Getty Images.
Victoria Beckham in 2007. Photo by Tony Barson/WireImage.
Beyoncé reveals her engagement ring at the U.S. Open in 2011. Photo by Getty Images.
Anne Hathaway's ring is on display at the Iron Lady premiere in 2011. Photo by Getty Images.
At the Women in the World Summit in 2013, Angelina Jolie shows off her engagement ring with Brad Pitt. Photo by Getty Images.
Olivia Wilde at the premiere of Drinking Buddies in Hollywood, California, August 2013. Photo by Getty Images.
Scarlett Johansson's high-wattage engagement ring glitters at the Don Jon premiere in 2013. Photo by Taylor Hill/FilmMagic.
Kim Kardashian offers a glimpse of her engagement ring to Kanye West in 2013. Photo by Jason LaVeris/FilmMagic.
Chrissy Teigen got engaged shortly before the Billboard Music Awards in 2015. Photo by Getty Images.
Allison Williams's engagement ring, at a Girls screening in 2014. Photo by Getty Images.
Taylor Kinney proposed to Lady Gaga with a heart-shaped diamond, which she showed off at a screening of American Horror Story: Hotel in Los Angeles, California, October 2015. Photo by Getty Images.
Another royal—here, Catherine, Duchess of Cambridge, in 2015—with another decadent engagement ring. Photo by Max Mumby/Indigo/Getty Images.
Jennifer Connelly boasted an art deco-inspired ring from husband Paul Bettany in 2016. Photo by Getty Images.
Julianne Hough does double duty with an engagement ring and a midi-ring twist at the NHL All-Star Party in Pasadena, California, January 2016. Photo by Getty Images.
Amal Clooney at the premiere of Hail, Caesar! in Los Angeles, California, February 2016. Photo by Getty Images.
Kate Upton made sure her ring got its share of the spotlight at the Met Gala in May 2016. Photo by Getty Images.
Ditto for Ciara, who showed off a ring from Russell Wilson. Photo by Getty Images.
A close up of the engagement ring given to Meghan Markle before she became the Duchess of Sussex. Markle and Prince Harry posed for photos after announcing their engagement at The Sunken Gardens at Kensington Palace on November 27, 2017 in London, England. Find out everything we know about the ring here.

Chris Jackson
Victoria's Secret model Devon Windsor announced her engagement to her boyfriend Johnny Dex via Instagram, and showed off her ring on June 24th, 2018. Photo courtesy of Instagram.
Hailey Baldwin's engagement to Justin Bieber was confirmed on July 9th. Hailey is seen here stepping out wearing her new engagement ring. Photo courtesy of Instagram.