Justin Bieber and Hailey Baldwin Confirm They're Engaged
When confirming the news, Bieber also seemed to suggest that they'll be having children.
---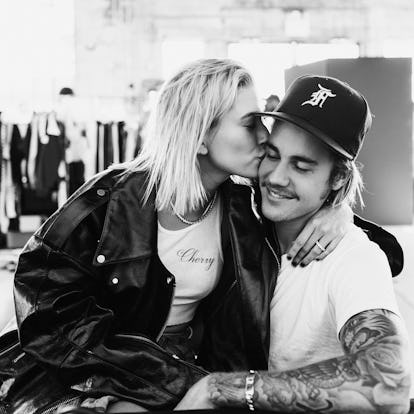 Courtesy of @justinbieber
Move over, Ariana Grande. Justin Bieber and Hailey Baldwin are officially engaged. Following rumors that broke over the weekend, Bieber confirmed the news on Monday night via Instagram, posting a black-and-white photo of Baldwin sitting on his lap and kissing his cheek—even though Bieber is sporting that mustache that she apparently rather hates. Oh, and she also has her arm draped around his neck—all the better to show off a simple band that's presumably her new engagement ring.
Accompanying the photo is, of course, a lengthy caption—one written in Bieber's signature punctuation-averse, typo-friendly style. "Was gonna wait a while to say anything but word travels fast, listen plain and simple Hailey I am soooo in love with everything about you! So committed to spending my life getting to know every single part of you loving you patiently and kindLY," he wrote, perhaps referencing his father's early Instagram post, and continuing on to—gasp—suggest that they may soon be having children. "I promise to lead our family with honor and integrity letting Jesus through his Holy Spirit guide us in everything we do and every decision we make."
From there, Bieber, 24, addresses not his 100 million Instagram followers, but Baldwin, 21, directly: "My heart is COMPLETELY and FULLY YOURS and I will ALWAYS put you first! You are the love of my life Hailey Baldwin and I wouldn't want to spend it with anybody else. You make me so much better and we compliment eachother so well!! Can't wait for the best season of life yet!"
Bieber and Baldwin have known each other since 2009, and dated briefly from 2015 to 2016. Ever since he (now truly officially) broke things off with his longtime girlfriend Selena Gomez, he and Baldwin have become the country's foremost representatives of PDA. As for the future, he seems like he couldn't be more thrilled to spend it with Baldwin, and not just for his own sake: "The thing I am most excited for is that my little brother and sister get to see another healthy stable marriage and look for the same!!!"
In case you weren't aware, Bieber and Baldwin are both prominent figures of Hollywood's ever-growing church set, making it only a matter of time before religion squeezed its way into the news. Baldwin, for her part, soon tweeted that she is "so utterly grateful to God for giving me such an incredible person to share my life with!" God also squeezed his way into Bieber's word count, too: "Gods timing really is literally perfect, we got engaged on the seventh day of the seventh month, the number seven is the number of spiritual perfection, it's true GOOGLE IT! Isn't that nuts? By the way I didn't plan that, anyways My goodness does feel good to have our future secured!"
At long last, Bieber concluded with "WERE GONNA VE BETTER AT 70 BABY HERE WE GO!" and, finally, a proverb from the Bible: "He who finds a wife finds a good thing and obtains FAVOR from the Lord!" (The exclamation point and all-caps are, of course, embellishments of Bieber's own.)
Related: Ariana Grande Addresses Justin Bieber and Hailey Baldwin's Rumored Engagement: "Love Is Lit"
From Justin Bieber and Hailey Baldwin to Britney and K-Fed: 15 Celebrities Who Became Engaged Before Turning 25
Justin Bieber, age 24, became engaged to Hailey Baldwin, age 21, on July 8, 2018. Photo courtesy of Getty Images.

Photo courtesy of Getty Images.
A week before turning 25, Ariana Grande became engaged to Pete Davidson on June 21, 2018. Photo courtesy of Getty Images.

Gotham
Sophie Turner, age 22, became engaged to Joe Jonas on November 4, 2017. Photo courtesy of Getty Images.

Pressphotodirect/Bauer-Griffin
At 20 years old, Zayn Malik became engaged to Perrie Edwards, also 20 years old, in August 2013. Photo courtesy of Getty Images.

Desiree Navarro
At 22 years old, Liam Hemsworth proposed to Miley Cyrus, then just 20 years old, in May 2012. Photo courtesy of Getty Images.

Kevin Winter
Kim Kardashian became engaged and married to music producer Damon Thomas in January 2000 at the age of 19. Photo courtesy of Getty Images.

Ethan Miller
On June 7, 2003, Olivia Wilde, then 19 years old, married Italian filmmaker, Prince Tao Ruspoli. Photo courtesy of Getty Images.

Donato Sardella
Christina Aguilera became engaged to record executive Jordan Bratman at 24 years old in February 2007. Photo courtesy of Getty Images.

John Shearer
In July 2004, Britney Spears was 23 years old when she became engaged to backup dancer Kevin Federline. This was just seven months after her first marriage to Jason Allen Alexander, which lasted 55 hours in January 2004. Photo courtesy of Getty Images.

L. Busacca
In 2002, at the age of 21, Paris Hilton became engaged to fashion model Jason Shaw. Photo courtesy of Getty Images.

Ron Galella, Ltd.
At 21 years old, Kate Hudson married musician Chris Robinson, on December 21, 2000. Photo courtesy of Getty Images.

RJ Capak
Patrick Dempsey, at age 21, married his acting coach, Rocky Parker, age 47, on August 24, 1987. Photo courtesy of Getty Images.

Jim Smeal
At 21 and 24 years old, Reese Witherspoon and Ryan Phillippe became engaged in December of 1998. They later married in 1999. Photo courtesy of Getty Images.

Victor Malafronte
Actress Drew Barrymore, age 19, married Jeremy Thomas, bar owner, on March 20, 1994. Photo courtesy of Getty Images.

Barry King
Angelina Jolie, age 21, and Johnny Lee Miller, age 24, married in March 1996. Photo courtesy of Getty Images.

Gregory Pace