Ariana Grande Addresses Justin Bieber and Hailey Baldwin's Rumored Engagement: "Love Is Lit"
The early engagement expert defended Bieber—who, in fact, raised the possibility of marrying Baldwin two years ago—as well as their shared manager, Scooter Braun.
---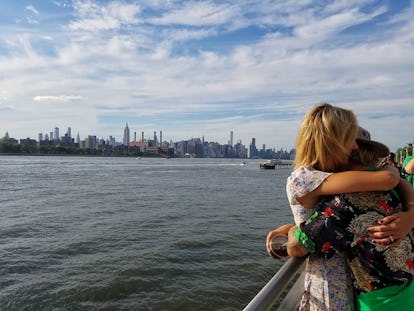 On Sunday, just weeks after Ariana Grande and Pete Davidson announced their engagement, then just weeks into being a couple in the public eye, news broke that Justin Bieber and his former ex Hailey Baldwin, with whom he recently can't seem to stop publicly canoodling, had reportedly followed suit, with Bieber proposing to Baldwin on a getaway in the Bahamas. (There's been no official confirmation yet, but given the Instagram that Bieber's father posted on Sunday, we're going to go ahead and assume that Baldwin and Bieber are indeed engaged.)
An early-20s engagement, though, isn't all that Grande and Bieber have in common. As any Belieber or Arianator would know, they also happen to share the same manager, Scooter Braun, prompting one fan to tweet, "the devil works hard but Scooter Braun works harder," which then prompted Grande to respond. In a retweet of the comment that's since been deleted, she wrote: "….. you do realize we are human beings who love and have lives …… right …. ? and that scooter is a wonderful human being too who care first n foremost ab our health and happiness ?" Adding her signature cloud emoji, she concluded: "love is lit. shit happens. i hope to god it happens to you too. u deserve it."
Grande decided not to delete her response to another fan's tweet clarifying that the comment was "just a stan twitter joke" and that "we stan and love scooter," replying with a monkey-covering-its-eyes emoji and continuing to stick up for Braun, asserting that he "always puts his artists' health and happiness first." If so, it seems like he'd stand by Bieber's relationship with—and perhaps engagement to—Baldwin, given that Bieber even recently, for example, shaved off his mustache at Baldwin's request.
There's also the fact that, as has been unearthed by those still processing the news, Bieber once brought up the very possibility of eventually marrying Baldwin in a 2016 cover story for GQ—which, by the way, was emblazoned with the all-caps coverline "Let us forgive Justin Bieber." (A quick recap of that point in his life: He'd been living in a hotel for almost two years, and was a year deep into a public-apology tour for past actions ranging from abandoning his pet monkey OG Mally in Germany to drunk driving to mooning his friends in the middle of a centuries-old site of Mexican ruins.) In addition to discussing his relationship with God, he also got into his relationship with Baldwin, who happened to be in his hotel room at the same time as GQ's reporter Caity Weaver.
At first, Bieber agreed with Weaver that Baldwin was "just a friend he kisses," but then added that she's also "someone I really love. We spend a lot of time together." He also made it clear that at that stage in his life, he didn't "want to be held down by anything" or feel like the girl he loves "is an added responsibility"—which is why he was "more so looking at the future, making sure I'm not damaging them." By "them," he in fact seemed to mean Baldwin specifically: "What if Hailey ends up being the girl I'm gonna marry, right? If I rush into anything, if I damage her, then it's always gonna be damaged. It's really hard to fix wounds like that. It's so hard.… I just don't want to hurt her."
Baldwin, it turned out, knew those comments were coming; she told E! News so shortly after, adding that she thought they were "awesome" and confirming that she and Bieber were not an "exclusive couple." Fast forward to today, and, according to Us Weekly's anonymous "source close to the model," she's "obsessed with Justin and always has been."
Still, there's been no word from Baldwin or Bieber themselves—not to mention Braun—as of yet. There has, on the other hand, been an influx of fans raising the topic in the comments sections of Braun's Instagrams, which, at this very moment, are being continuously flooded with frantic queries along the lines of "Is Justin engaged!!!!????"
Related: A Quick Timeline of Ariana Grande and Pete Davidson's Relationship
The 9 Most Unexpected Celebrity Couples Who've Survived 2018 So Far