Khloé Kardashian Tweets About Her Decision to Stay With Tristan Thompson After His Cheating Scandal
She also called out the Daily Mail for characterizing a dinner date she had with Thompson as "VERY tense."
---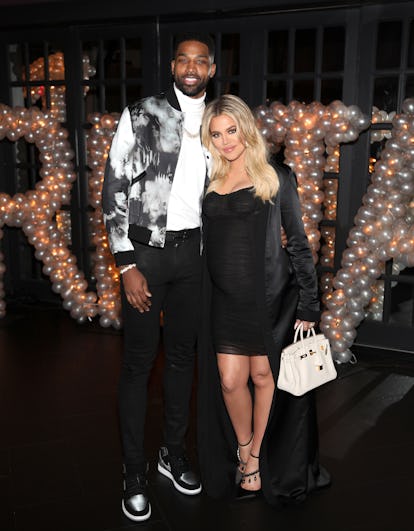 Jerritt Clark/Getty Images
In the wake of Tristan Thompson's alleged cheating scandal, Khloé Kardashian has mostly stayed pretty quiet about their relationship (as is her right). On Monday, however, she penned an unusually candid tweet about her decision to stay with her boyfriend in response to a fan.
The fan in question, who goes by queen persia ? (@ChicBitchxo) on Twitter, wrote, "I love, adore & root for @khloekardashian but I'm so disappointed she stayed with that wasteman Tristan. she preaches about women knowing their self worth and when to walk away but when it's time to walk the walk, she's a hypocrite ?." Ten minutes later, Kardashian sent her reply. "Not exactly Queen Persia, you have no knowledge of what goes on in our household or the enormous rebuilding this takes to even coexist. I'm proud of my strength. I appreciate your opinion and I hope you hold that same opinion to everyone else who has stayed in situations."
The fan later clarified the tweet, writing that they weren't "trying to judge you" and "don't want some lame breaking your heart again," to which Kardashian responded, "I love you for that and girl trust me don't I understand!!! I appreciate you ??? I do!! ??."
This wasn't the only Thompson-related exchange Kardashian engaged in that day. A few minutes before she replied to a fan, she called out the Daily Mail for characterizing a dinner date she had with Thompson as "VERY tense." "You make up anything!! I actually had a great night," she tweeted. "It was a large birthday dinner for friends and as a new mom IM TIRED AF!! Being out past 10pm is not where I'll have the most energy these days."
It's definitely a change from the past few months, during which Kardashian has mostly stayed away from talking about her relationship with Thompson. This didn't stop news outlets from interpreting a series of vague tweets she made as a commentary on their private life.
"People spend too much time finding other people to blame, too much energy finding excuses for not being what they are capable of being," she wrote in May. "People these days are focused so much on someone else's life instead of their own. They love to give advice but are not living the advice that they are offering. Most of the ones giving advice are in no place to give anything at all. Focus on your own world. I'm sure there's cracks there that need your attention. We all got em."
"Wild that people assume you're speaking about something and they run with it," she added. "Anything and everything gets twisted into something it's completely not. Lord, I'm remembering how much I loved my social media break LOL."
According to Us Weekly, Thompson's cheating scandal will finally be addressed on Keeping Up With the Kardashians' upcoming 15th season.