Priyanka Chopra and Nick Jonas Are Instagram Official: Here Is a Complete Timeline of the Couple Checking Off Every Relationship Milestone
There's no turning back now.
---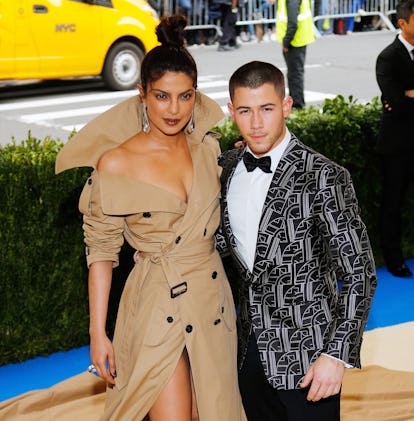 Jackson Lee/Getty Images
Where we once had Facebook official, now, there is Instagram official. And that is what Nick Jonas made his relationship with Priyanka Chopra when he posted a short video to his Instagram stories showing the actress shimmying across a patio, clad in a matching top and skirt set. Jonas captioned the clip "Her," with a heart-eyes emoji.
Since their relationship was first reported last month, the two have been systematically checking off every single generic couple milestone, albeit at a dizzying pace. Here, we look back at the complete history of their relationship, from attending the 2017 Met Gala as "just friends" (looking at you, Hailey Baldwin and Shawn Mendes) to meeting the parents.
Priyanka Chopra and Nick Jonas arrived at the Met Gala together.
In 2017, Chopra and Jonas walked a red carpet that is usually the domain of established couples or big now-we're-dating reveals. But it turned out it was a marriage of convenience: On Jimmy Kimmel Live! that week, Chopra explained that they were both wearing Ralph Lauren and were both seated at the designer's table—thus, they showed up together.
Then, they went to Rihanna's Met Gala after party together.
Priyanka Chopra was very, very excited about Sophie Turner and Joe Jonas's engagement.
Almost like a welcome to the family.
This year, they spent Memorial Day getting cozy on yachts and attending baseball games.
Suspicions were confirmed a year after they first appeared at the Met Gala together when Chopra and Jonas were photographed curled up together on a yacht alongside friends like Chord Overstreet, Wilmer Valderrama, and Glen Powell during Memorial Day weekend. The same weekend, they also attended a Dodgers game in Los Angeles, where they were reportedly "very smiley and very happy." Sounds like a couple.
Jonas and Chopra started dining out in public shortly after.
I believe they call this a "date."
Even before they were Instagram official, they spent a lot of time over the past few weeks liking and commenting on each other's posts.
Chopra liked a photo of Jonas enjoying a slice of pizza pre–Met Gala this year, and more recently, they've taken to commenting on the other's Instagrams. "That smile," Jonas wrote, with a heart emoji, below a photo of Chopra and some friends at In-N-Out; "Who is cuter? Lol" Chopra added to a post picturing Jonas at the Taronga Zoo in Sydney with one of the zoo's resident koalas. (Pete Davidson and Ariana Grande, another couple who are doing everything very fast, also started furiously commenting and liking each other's posts after tabloids caught wind of their relationship.)
Chopra met the family.
Jonas brought Chopra to his cousin's wedding in early June, where she apparently met the whole family. Everyone knows a wedding is a fun date.
Jonas met the family.
After the wedding, it was only right that Chopra take her turn to introduce her new boyfriend to her mom. So they departed for vacation in India, where they had dinner with her mother, Madhu, on Friday night.
Which brings us to the Instagram-official milestone. It's all happened very fast. Jonas's Instagram Stories post also appears to have been taken during their getaway in India—now that they have met each other's parents, they can Instagram freely.