Priyanka Chopra on Reading Comments From Internet Trolls, and the Beauty Myth She'd Like to Debunk
"No one 'woke up like this.'"
---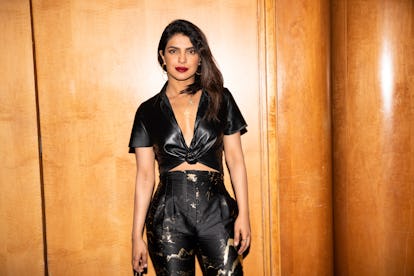 Benjamin Lozovsky/BFA.com
In the age of social media, it can be difficult to ignore the constant stream of opinions and comments that come with every post—even if you are, say, Priyanka Chopra. But in the actress's latest Pantene campaign, she's confronting those comments, good and bad, head on. With its new #GoGentle campaign, Pantene aims to show how the differences a positive voice online can have versus a negative one, with a video showing Chopra's reactions to actual social media comments about her, both glowing and, well, not so glowing. Here, Chopra talks about the new campaign, and breaks down her best beauty secrets.
What was your first reaction when you heard about the idea for the Go Gentle campaign? I was very impressed! I love that Pantene is encouraging women to find their strength and #GoGentle in the face of negative situations and conversations.
What did it feel like to read the comments you receive on social media? I am only human. It is tough but I try not to stress over it because I know this person sitting behind their computer writing mean comments is not a nice or strong person. I'm not going to get affected by people who are so negative.
What's the best and worst comment you've read on your social media accounts? As you'll see me say in the new Pantene #GoGentle campaign, the best was when I read "My daughter says her two heroes are Michelle Obama and Priyanka Chopra."
Your best-kept beauty secret: A great hair wash and conditioning session, like with Pantene's new Micellar Shampoo and Conditioner. It gives my hair the gentle wash it needs to prepare for a day of heat and styling.
Beauty myth you'd like to debunk: No one "woke up like this." It takes an army of people to get us ready for an event or red carpet.
A good hair day starts with: Freshly cleaned hair! There's nothing better than a good hair day. A good hair day makes you feel attractive, which fuels your confidence and sets you up for success.
My hair colorist always says: My hair is so thick and hard to manage, but a stylist I have been using for years once told me to deep condition weekly for softer hair that is easy to style.
Good skin starts with: Hydration! Whether it's with your go-to moisturizer or hydrating your body with water, personally I love coconut water to not only hydrate my skin and body, but it gives me the electrolytes I need to keep moving.
Best advice from your dermatologist: SPF 50 and H2O daily.
Best advice from your facialist: Every once in a while a day of nothing on your face is needed. All the moisturizers, CC creams, BB creams, etc., take a toll on your skin and skin breathing is much needed.
Best advice from mom: My mom showed me what gentle strength is. She was always someone who said whatever she had to without raising her voice, and I think that is the best form of showing strength.
Most underrated product: A red lipstick! It's still a staple in my makeup bag, and a must have for me.
Never leave the house without: Your confidence.
Nails must be: Clean!
Exercise obsession: Swimming and cardio, but I'm so active [that] sometimes the job is enough.
Drink of choice: Vodka, water, and citrus.
TSA-friendly essentials: My cell phone and a face mask for the plane.
Related: Meghan Markle Is a "Princess for the People" According to Priyanka Chopra