Kendall Jenner Is Going to Continue Going Braless on the Red Carpet, Thank You
The supermodel and Keeping Up With the Kardashians star is no stranger to a "good boob day."
---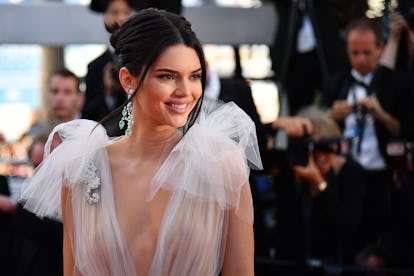 ALBERTO PIZZOLI/Getty Images
While the Cannes Film Festival red carpet became the site of a historic demonstration on Saturday by 82 women filmmakers supporting gender parity, model Kendall Jenner was making a demonstration of her own on the same red carpet: For the second time in as many days, she pulled on a sheer dress and opted out of wearing a bra, walking the red carpet with nipples proudly exposed.
On Friday, Jenner attended the Chopard party in an olive-green chain-mail Alexandre Vauthier minidress, under which she simply wore neutral-toned underwear, sans bra. "Oops," she playfully captioned on Instagram a half-length photo of the look, which has, defying reason, avoided the Instagram censors that are often so eager to remove exposed nipples. (Never mind, of course, that this policy reveals a gendered double standard that disproportionately affects women and women-identifying individuals.)
Not that this was an accident or anything. (Still, some coverage of the look as treated it as such: "Kendall Jenner's Hilarious Response to Accidentally Revealing Her Nipples at Cannes," read one recent headline. Sarcasm, people.) Jenner has been known to opt for sheer looks like these in the past; in a since-deleted Instagram photo of the model and Keeping Up With the Kardashians star wearing a sheer black T-shirt, she captioned: "I don't know if you can relate, but I just felt like I was having a really good boob day," according to People magazine. "I took this photo and just texted it to Hailey and Gigi before I left to meet them and was like, 'Is this too much?'" Indeed, she once famously told W, "I'm weird, I love my tits being out."
The next night, though, there was no "oops": Apparently, she's been having a few consecutive "good boob days." Jenner walked the red carpet at the premiere of Girls of the Sun in a floor-length white confection from Schiaparelli's Fall 2017 couture collection. Constructed of sheer tulle, it featured a tiered skirt, a wide, crystal-embellished waist belt, and a plunging, unlined bodice—under which Jenner, once again, opted out of a bra. "Ready," she captioned a post to her Instagram stories from the event. (Later in the night, she changed into a metallic pink minidress paired with sparkly trompe l'oeil knife boots.) Her nipple piercings, however, have regretfully been nowhere in sight.
Related: Kendall Jenner Talks About Her Relationship, Sibling Rivalry, and (Past) Petty Feuds With Her Sister Kylie
Cannes Film Festival 2018: See the Best Red-Carpet Looks From the World's Most Glamorous Premieres And Parties
Jury president Cate Blanchett arrives at the jury photo-call during the 71st annual Cannes Film Festival on May 8, 2018 in Cannes, France.

Pierre Suu
Jury member Kristen Stewart arrives at the jury photo-call during the 71st annual Cannes Film Festival on May 8, 2018 in Cannes, France.

Pierre Suu
Jury member Lea Seydoux arrives at the jury photo-call during the 71st annual Cannes Film Festival on May 8, 2018 in Cannes, France.

Pierre Suu
Julianne Moore attends the screening of Everybody Knows (Todos Lo Saben) and the opening gala during the 71st annual Cannes Film Festival at Palais des Festivals on May 8, 2018 in Cannes, France.

Vittorio Zunino Celotto
Kristen Stewart is seen at Grand Hyatt Martinez Hotel during the 71st annual Cannes Film Festival at on May 7, 2018 in Cannes, France.

Marc Piasecki
Chantel Jeffries attends the screening of Everybody Knows (Todos Lo Saben) and the opening gala during the 71st annual Cannes Film Festival at Palais des Festivals on May 8, 2018 in Cannes, France.

Dominique Charriau
Ava DuVernay walks onstage at the opening ceremony during the 71st annual Cannes Film Festival at Palais des Festivals on May 8, 2018 in Cannes, France.

Pascal Le Segretain
Chloe Sevigny attends the screening of Everybody Knows (Todos Lo Saben) and the opening gala during the 71st annual Cannes Film Festival at Palais des Festivals on May 8, 2018 in Cannes, France.

Stephane Cardinale – Corbis
Georgia May Jagger attends the screening of Everybody Knows (Todos Lo Saben) and the opening gala during the 71st annual Cannes Film Festival at Palais des Festivals on May 8, 2018 in Cannes, France.

Mike Marsland
Lea Seydoux attends the screening of Everybody Knows (Todos Lo Saben) and the opening gala during the 71st annual Cannes Film Festival at Palais des Festivals on May 8, 2018 in Cannes, France.

Gisela Schober
Penélope Cruz and Javier Bardem attend the screening of Everybody Knows (Todos Lo Saben) and the opening gala during the 71st annual Cannes Film Festival at Palais des Festivals on May 8, 2018 in Cannes, France.

Venturelli
Kristen Stewart and Chang Chen attend the screening of Everybody Knows (Todos Lo Saben) and the opening gala during the 71st annual Cannes Film Festival at Palais des Festivals on May 8, 2018 in Cannes, France.

Venturelli
Penélope Cruz arrives at the gala dinner during the 71st annual Cannes Film Festival at Palais des Festivals on May 8, 2018 in Cannes, France.

Venturelli
Fan Bingbing arrives at the gala dinner during the 71st annual Cannes Film Festival at Palais des Festivals on May 8, 2018 in Cannes, France.

Pascal Le Segretain
Penélope Cruz attends the photo-call for Everybody Knows (Todos Lo Saben) during the 71st annual Cannes Film Festival at Palais des Festivals on May 9, 2018 in Cannes, France.

John Phillips
Lea Seydoux arrives at the gala dinner during the 71st annual Cannes Film Festival at Palais des Festivals on May 8, 2018 in Cannes, France.

Pascal Le Segretain
Cate Blanchett arrives at the gala dinner during the 71st annual Cannes Film Festival at Palais des Festivals on May 8, 2018 in Cannes, France.

Stephane Cardinale – Corbis
Camila Coelho attends the screening of Everybody Knows (Todos Lo Saben) and the opening gala during the 71st annual Cannes Film Festival at Palais des Festivals on May 8, 2018 in Cannes, France.

Tony Barson
Romee Strijd attends the screening of Everybody Knows (Todos Lo Saben) and the opening gala during the 71st annual Cannes Film Festival at Palais des Festivals on May 8, 2018 in Cannes, France.

Tony Barson
Irina Shayk attends the screening of Yomeddine during the 71st annual Cannes Film Festival at Palais des Festivals on May 9, 2018 in Cannes, France.

Venturelli
Leomie Anderson attends the screening of Yomeddine during the 71st annual Cannes Film Festival at Palais des Festivals on May 9, 2018 in Cannes, France.

Venturelli
Julianne Moore attends the screening of Yomeddine during the 71st annual Cannes Film Festival at Palais des Festivals on May 9, 2018 in Cannes, France.

Pascal Le Segretain
Fan Bingbing attends the screening of Everybody Knows (Todos Lo Saben) and the opening gala during the 71st annual Cannes Film Festival at Palais des Festivals on May 8, 2018 in Cannes, France.

Tony Barson
Nieves Alvarez attends the screening of Yomeddine during the 71st annual Cannes Film Festival at Palais des Festivals on May 9, 2018 in Cannes, France.

Pascal Le Segretain
Chantel Jeffries attends the screening of Yomeddine during the 71st annual Cannes Film Festival at Palais des Festivals on May 9, 2018 in Cannes, France.

Gisela Schober
CANNES, FRANCE – MAY 10: Jury President Cate Blanchett attends the screening of "Cold War (Zimna Wojna)" during the 71st annual Cannes Film Festival at Palais des Festivals on May 10, 2018 in Cannes, France. (Photo by Andreas Rentz/Getty Images)

Andreas Rentz
CANNES, FRANCE – MAY 10: Amber Heard attends the screening of "Sorry Angel (Plaire, Aimer Et Courir Vite)" during the 71st annual Cannes Film Festival at Palais des Festivals on May 10, 2018 in Cannes, France. (Photo by Mike Marsland/Mike Marsland/WireImage)

Mike Marsland
CANNES, FRANCE – MAY 10: Lupita Nyong'o attends the screening of "Sorry Angel (Plaire, Aimer Et Courir Vite)" during the 71st annual Cannes Film Festival at Palais des Festivals on May 10, 2018 in Cannes, France. (Photo by Pascal Le Segretain/Getty Images)

Pascal Le Segretain
Model Irina Shayk attends the screening of "Sorry Angel (Plaire, Aimer Et Courir Vite)" during the 71st annual Cannes Film Festival at Palais des Festivals on May 10, 2018 in Cannes, France. Photo courtesy of Getty Images.

Gisela Schober
Bella Hadid attends the screening of "Ash Is The Purest White (Jiang Hu Er Nv)" during the 71st annual Cannes Film Festival at Palais des Festivals on May 11, 2018 in Cannes, France. Photo courtesy of Getty Images.

George Pimentel