Kendall Jenner Talks About Her Relationship, Sibling Rivalry, and (Past) Petty Feuds With Her Sister Kylie
She opened up about how it's "a bit weird" for Kylie to have a baby, plus their past beef over BFFs like Hailey Baldwin, all thanks to expert interviewer Lana Del Rey.
---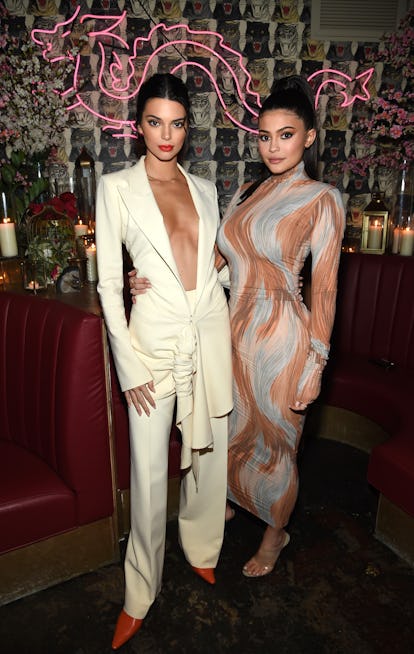 Dimitrios Kambouris/Getty Images for the Business of Fashion
Even though it was her first-ever cover story in Elle, Kendall Jenner got the mag to let her be interviewed in its June issue by none other than Lana Del Rey, whom she's been friends with ever since they met at Versailles, during Kanye West and Kim Kardashian's wedding.
While the pair spent a good deal of their phone call bonding over their anxiety, which Jenner has been particularly open about as of late, as well as their relationships with social media, they also got to talking about someone who's currently grabbing even more attention than Kendall: her sister Kylie Jenner. She has made a striking return to the public eye, even though she just delivered her newborn, Stormi, in February—and has also made a point to show off just how undeniably adorable baby Stormi is ever since.
Aside from having to keep the pregnancy secret for months, the whole experience has been a strange one for Kendall in particular: "It's obviously a bit weird that your little sister is having a baby before you," she told Del Rey. "I didn't expect it to happen like this. But it's beautiful."
The baby has "brought us closer together," Aunt Kendall continued, about her relationship with Kylie. "We've always been very close, but we would butt heads all the time. This has made her a bit more loving toward me."
Perhaps because she was speaking with someone she was so comfortable with, Kendall even went into detail about one of her past spats with Kylie. As it turns out, Kendall's first-ever New York Fashion Week—the model has been seemingly omnipresent forever, though that debut was just four years ago—led to more than just reported repeated bullying from other models. It also made for some drama with Kylie, seeing as how at that time Kendall naturally started hanging out with fellow scion, model, and Instagrammer Hailey Baldwin, who lived in New York, and is also the cousin of Kendall's "good friend" Ireland Baldwin.
The trouble though was that Hailey was "actually best friends with Kylie" at the time. While the sisters started off hanging with her together, by the time it hit Fashion Week, Kendall fessed up that she "stole Hailey from Kylie": "From then on, she was my homie," she told Del Rey. Back in L.A., "Kylie was mad"—at least at first. Thankfully, Kendall then took on the role of diplomat: "I had to bring them back together and be like, 'No, it's okay, guys.' But it's all good; that's our love story."
When it comes to feuds, especially in the Kardashian family, that one's maybe not the juiciest. If it's disappointing, though, keep in mind that at the time, Kendall was just a few months into being 18—and Kylie was just 15, aka a prime age for getting caught up in petty drama. These days, the pair have bigger fish to fry; just take Hailey's 21st birthday party in the Bahamas, where only Kendall, not Kylie, got to join her and Bella Hadid in sunbathing and making friends with some feral pigs. Kylie, we now know, likely was absent not because her invite somehow, um, got lost in the mail, but for a much more adult reason: a burgeoning baby bump.
Related: A Definitive Guide to How Kim Kardashian Really Feels About Each of Her Family Members