Kim Kardashian's Hairstylist on How to Get Beachy Summer Hair Without Sun Damage
Celebrity hairstylist Andrew Fitzsimons shares his seasonal hair-maintenance tips.
---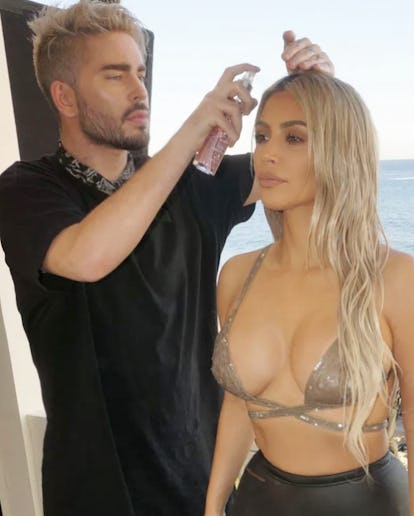 @andrewfitzsimons
When it comes to achieving the ultimate seasonal beauty routine, whether it be skincare, makeup, or hair, celebrity hairstylist Andrew Fitzsimons, who caters to all five Kardashian/Jenner sisters among other Hollywood starlets, assures us that it's all in the prep. And as we begin to transition from spring to summer, Fitzsimons strongly advocates protecting your hair from any heat damage and tips us off to the treatments we can do to maintain year-round nourished hair. Here, he shares everything from favorite spring styles to his best hair-care maintenance tips and more.
As we approach the warmer months how, can we help protect our hair from the effects of the sun? In the summer, you want to put some kind of UV protection on your hair as most people are spending more time in the sun than they do in other months. I'm a brand ambassador for Alterna Haircare, but I'm honestly so obsessed with the Caviar Dry Oil Mist. I use it every day on just about every client. It's a superversatile product, but I love finishing looks with a light spritz for added shine, frizz protection, and UV protection. Anyone at home could finish his or her style with this or spray into damp hair and let air-dry for the sun-protection benefits. For a more cost-conscious budget, Paul Mitchell makes a great Color Care Color Protect Locking Spray (whether you color your hair or not) that gives great protection. I also recommend using a leave-in conditioner before going into a pool or the ocean; it will help keep your hair from absorbing water that's going to be harsh on your hair.
Do you recommend changing hair treatments every season? Hair is absolutely affected by weather conditions, so you want to switch up your care routine a bit as seasons change. Thinking about the more humid months, it would be a good idea to start incorporating an anti-frizz element to your routine, whether it's your shampoo/conditioner, a leave-in treatment, or oil. I'm obsessed with Alterna's Caviar Dry Oil Mist ($34, sephora.com)! In the hotter months, it's also a good idea to incorporate either a moisturizing or reparative treatment once a month—your hair goes through a lot in the summer with more exposure to sun, saltwater, and so on.
Do you encourage DIY hair treatments? Yes! I'm a huge believer in natural beauty products and DIY treatments. My client Kourtney [Kardashian] and I actually came up with an avocado hair smoothie that was inspired by her morning smoothies. It's supernourishing and has absolutely zero harsh additives or questionable ingredients and makes the hair supermoisturized and beautifully glossy.
What are your biggest hair-care concerns in the springtime? We're heading into a time of the year when there's a lot of moisture in the air, which means a lot more frizz. Whether it's humidity or spring showers, keeping your style throughout the day can be really tough, especially if your hair has any kind of natural texture to it and is more prone to frizziness.
What are your favorite spring-season hairstyles that we can transition into the summer? Springtime is a really fun time for longer hair, actually! I think we most often correlate summer months with beachy waves and casual down styles, but the reality is it's often way too hot to have your hair down in the blazing heat of summer. So it's great to take advantage of the summery down styles before the temperature gets so high it becomes unbearable. To transition the beachy waves or model-off-duty styles for summer, you can simply take the hair and pull it back into a high pony. You still get all the movement and texture from the down style but still enjoy the good summer vibes.
Do you care for long hair differently from how you do short hair? It does take more effort to take care of long hair; longer hair has had more time to be exposed to the elements, heat styling, chemical processing, and so on. Therefore you have to treat longer hair with a little extra care. For instance, you should be very gentle with longer hair when you're towel drying. Always, always, always use heat protection before putting any kind of heat onto the hair. I do this with all my clients and make sure to tell everyone who will listen to do the same! It's also good to use a repair treatment, such as a hair mask, from time to time to keep the hair strong. And no matter the length, regular trims prevent split ends and encourage healthy hair growth.
When it comes to seasonal color, what is your best advice for those looking to try a new hair color? Traditionally, most of us like to lighten our hair in the summer. Spring is a good time to start this process with some light balayage or starting subtle highlights. By introducing some warmth to your color in spring, it can transition more into a beachy, sun-kissed look without damaging your hair too much in the summer.
When it comes to seasonal cuts, what is your best advice for those looking to try a new haircut? Right before summer might not be the best time for a big chop just because if you cut your hair shorter than the length needed to tie it back, you're going to be stuck with your hair down all summer, and no one wants a "hair scarf" when it's 90-plus degrees!
What are your ultimate hair-maintenance tips for year-round healthy hair? Healthy hair and skin start from within, so a good diet with good protein, omegas, etc., will be superbeneficial for growing longer, stronger hair. Heat protection before you put heat on your hair, every single time!! Regular trims will keep you from getting split ends and will help encourage new hair growth, and get reparative treatments once every two weeks.
Kim Kardashian and Kendall Jenner at the Met Gala: See the Family's Style Evolution On the Red Carpet
Kim Kardashian and Kanye West, both in Givenchy, arrive to the Metropolitan Museum of Art Costume Institute Gala, Punk: Chaos to Couture, held at the Metropolitan Museum of Art on May 6th, 2013.

Getty
Kim Kardashian arrives to the Metropolitan Museum of Art Costume Institute Gala, Punk: Chaos to Couture, held at the Metropolitan Museum of Art on May 6th, 2013.

Getty
Kim Kardashian, wearing Lanvin, arrives to the Metropolitan Museum of Art Costume Institute Gala, Charles James: Beyond Fashion, held at the Metropolitan Museum of Art on May 5th, 2014.

Getty
Kim Kardashian, wearing Lanvin, arrives to the Metropolitan Museum of Art Costume Institute Gala, Charles James: Beyond Fashion, held at the Metropolitan Museum of Art on May 5th, 2014.

Getty
Kendall Jenner, in Topshop, arrives to the Metropolitan Museum of Art Costume Institute Gala, Charles James: Beyond Fashion, held at the Metropolitan Museum of Art on May 5th, 2014.

Getty
Kendall Jenner, in Topshop, arrives to the Metropolitan Museum of Art Costume Institute Gala, Charles James: Beyond Fashion, held at the Metropolitan Museum of Art on May 5th, 2014.

Getty
Kim Kardashian and Kanye West, both in Roberto Cavalli, arrive to the Metropolitan Museum of Art Costume Institute Gala, China: Through The Looking Glass, held at the Metropolitan Museum of Art on May 4th, 2015.

Getty
Kim Kardashian, in Roberto Cavalli, arrives to the Metropolitan Museum of Art Costume Institute Gala, China: Through The Looking Glass, held at the Metropolitan Museum of Art on May 4th, 2015.

Getty
Kendall Jenner, in Calvin Klein, arrives to the Metropolitan Museum of Art Costume Institute Gala, China: Through The Looking Glass, held at the Metropolitan Museum of Art on May 4th, 2015.

Getty
Kendall Jenner, in Calvin Klein, arrives to the Metropolitan Museum of Art Costume Institute Gala, China: Through The Looking Glass, held at the Metropolitan Museum of Art on May 4th, 2015.

Getty
Kris Jenner, in Balmain, arrives to the Metropolitan Museum of Art Costume Institute Gala, China: Through The Looking Glass, held at the Metropolitan Museum of Art on May 4th, 2015.

Getty
Kris Jenner, in Balmain, arrives to the Metropolitan Museum of Art Costume Institute Gala, China: Through The Looking Glass, held at the Metropolitan Museum of Art on May 4th, 2015.

Getty
Kim Kardashian and Kanye West, both in Balmain, arrive to the Metropolitan Museum of Art Costume Institute Gala, Manus x Machina: Fashion in an Age of Technology, held at the Metropolitan Museum of Art on May 2nd, 2016.

Getty
Kim Kardashian, in Balmain, arrives to the Metropolitan Museum of Art Costume Institute Gala, Manus x Machina: Fashion in an Age of Technology, held at the Metropolitan Museum of Art on May 2nd, 2016.

Getty
Kendall Jenner, in Ateiler Versace, arrives to the Metropolitan Museum of Art Costume Institute Gala, Manus x Machina: Fashion in an Age of Technology, held at the Metropolitan Museum of Art on May 2nd, 2016.

Getty
Kendall Jenner, in Ateiler Versace, arrives to the Metropolitan Museum of Art Costume Institute Gala, Manus x Machina: Fashion in an Age of Technology, held at the Metropolitan Museum of Art on May 2nd, 2016.

Getty
Kris Jenner and Corey Gamble, both in Balmain, arrive to the Metropolitan Museum of Art Costume Institute Gala, Manus x Machina: Fashion in an Age of Technology, held at the Metropolitan Museum of Art on May 2nd, 2016.

Getty
Kris Jenner, in Balmain, arrives to the Metropolitan Museum of Art Costume Institute Gala, Manus x Machina: Fashion in an Age of Technology, held at the Metropolitan Museum of Art on May 2nd, 2016.

Getty
Kylie Jenner, in Balmain, arrives to the Metropolitan Museum of Art Costume Institute Gala, Manus x Machina: Fashion in an Age of Technology, held at the Metropolitan Museum of Art on May 2nd, 2016.

Getty
Kylie Jenner, in Balmain, arrives to the Metropolitan Museum of Art Costume Institute Gala, Manus x Machina: Fashion in an Age of Technology, held at the Metropolitan Museum of Art on May 2nd, 2016.

Getty
Kim Kardashian attends the Rei Kawakubo/Comme des Garcons: Art Of The In-Between Costume Institute Gala at Metropolitan Museum of Art on May 1, 2017 in New York City.

Venturelli
Kim Kardashian is seen at the 'Rei Kawakubo/Comme des Garcons: Art Of The In-Between' Costume Institute Gala at Metropolitan Museum of Art on May 1, 2017 in New York City.

Gilbert Carrasquillo
Kendall Jenner attends the 'Rei Kawakubo/Comme des Garcons: Art Of The In-Between' Costume Institute Gala at Metropolitan Museum of Art on May 1, 2017 in New York City.

George Pimentel
Kendall Jenner attends 'Rei Kawakubo/Comme des Garçons:Art of the In-Between' Costume Institute Gala at Metropolitan Museum of Art on May 1, 2017 in New York City.

Jackson Lee
Kylie Jenner attends the "Rei Kawakubo/Comme des Garcons: Art Of The In-Between" Costume Institute Gala at the Metropolitan Museum of Art on May 1, 2017 in New York City.

Karwai Tang
Kylie Jenner attends the "Rei Kawakubo/Comme des Garcons: Art Of The In-Between" Costume Institute Gala at the Metropolitan Museum of Art on May 1, 2017 in New York City.

Gilbert Carrasquillo