How Younes Bendjima Went From Male Model to Kourtney Kardashian's Man
You've seen the mysterious model arm in arm with Kourtney Kardashian, but how did he get there?
---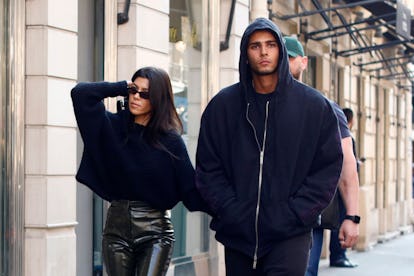 NurPhoto/Getty Images
Younes Bendjima, Kourtney Kardashian's much younger boyfriend, is a name you've probably heard or seen in tandem with the Kardashians, but how did he get here? The 38-year-old mother of Mason, Penelope and Reign Disick has been dating the 24-year-old model and former boxer for well over a year, but he was already Kardashian-adjacent way before that.
The story goes that Younes Bendjima, formerly a good friend of Sofia Richie (when she and the Jenners were tight) and Rita Ora (back when she used to date Rob Kardashian in 2014), officially met Kourtney Kardashian during Paris Fashion Week in 2016, right before the traumatic robbery incident with Kim Kardashian. Allegedly, the Algerian model acted as a translator between the Kardashians and French police, and stuck by Kourtney's side. After nine years of on-again-off-again drama with Scott Disick, meeting Younes was probably a dream scenario for Kourtney.
Looking back at Younes' social media, there's a lot to be discovered about the mysterious model boyfriend of Kourtney Kardashian. No longer just a boy toy for Kourt (she's had a rumored history with dating younger men), it looks like Younes is here for the long haul. Back in 2014, the model could be seen clubbing at Up & Down or dining at Miss Lily's in New York with Rita Ora and friends. Any eagle eyed fan would notice that this was around the time British pop singer Rita Ora was dating Rob Kardashian, so Younes was already a degree away from the Kardashian empire whether he realized it or not.
Before that, he was just your typical, immature 20-year-old dude with an Instagram who posts the type of captions that he clearly finds very deep.
Younes has also been Kardashian-adjacent in another way, too—he used to hang out with Sofia Richie, who now at the age of 19, has been dating Scott Disick for months (and used to date Justin Bieber in 2016, right after Bieber was allegedly with Kourtney). He's also been tight with other Kardashian or Jenner adjacent scions and starlets, like Luka Sabbat and Starino. Apparently, Younes and Justin Bieber were once friends for a hot second, too.
And though Kourtney hasn't been extremely forthcoming with information about her boyfriend, the two have gone public on Instagram more than once in the last few months, which feels like a big step. First, dressed as bank robbing gangsters on Halloween, followed by a trip to Yayoi Kusama's Infinity Mirrors (and posting a photo of that excursion on Instagram is basically a couple's rite of passage at this point), and most recently sharing an admittedly cute snap of the two of them "dancing by the moon." We've all been wondering how Younes got here, but really, he's been there the whole time.
Related: Kourtney Kardashian and Her 24-Year-Old Boyfriend Younes Bendjima Just Made a Couple's Rite of Passage