The Mystery Of How Kourtney Kardashian Met Her 24-Year-Old Boyfriend Has Been Solved—and It Involves Kim's Paris Robbery
A romance blooms out of tragedy in Kardashian-land.
---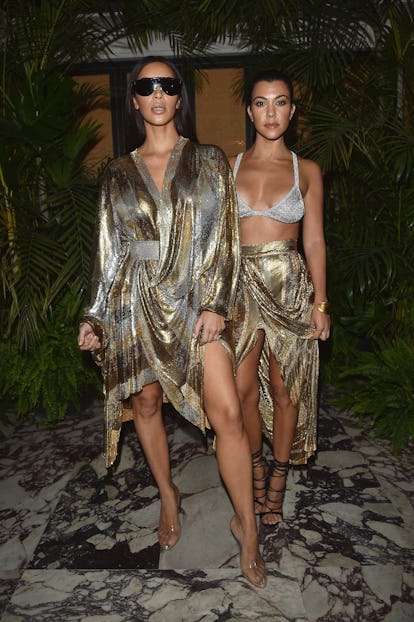 Getty Images
There are plenty of mysteries of the Kardashian universe that the world may never know: What really happened with stylist Monica Rose? Was Kris Humphries all for the ratings? Is Kylie pregnant? (Well, hopefully that last one will be solved in the next three to four months, if the rumors are to be believed.)
Thankfully, on Sunday night's episode of Keeping Up With the Kardashians, one recent, but no less pressing, question was put to bed: How exactly did Kourtney, 38-year-old mother of three, meet boyfriend Younes Bendjima, a 24-year-old model? It turns out the answer is more traumatic than you might expect.
As with so many great love stories, the pair initially met in Paris, during last October's Paris Fashion Week. "We walked into a bar, and Stephanie [Shepard, Kim's assistant] was across from me and she kept going, 'This guy is cute over here.'" Kardashian recalled. That guy was Bendjima, a former boxer who happened to roll in the Kardashian-adjacent crew. "He was friends with our friends. He would like walk in, shake hands with and say hi to our security or whatever, but not say hi to us. And then I was like, 'Why do you hate us?' she recalled to Khloe. "I was just drunk. Once I said that, he literally grabbed my hand and was like, 'It is five in the morning, we're leaving.'"
The burgeoning romance took a turn the following night, however. "The next night, Younes was like, 'Bring your ass here,'" Kourtney said. Then, she received the news that her sister Kim had been robbed at gunpoint at their nearby apartment. "When we walked into that club is when we went to the bathroom and got the phone call about Kim," she said. "So then… the party was over." To say the least.
But rather than flee the dramatic scene, Bendjima stayed with his new romantic interest, and even served as translator between the Kardashians and the Parisian police. Cut to over a year later, and the pair are still together, with the matching Bonnie and Clyde Halloween costumes to match. And they say love is dead.
Related: Untangling the Twisted Web of Scott Disick and Sofia Richie's Relationship
All the Famous Women Justin Bieber Has Been Spotted With Over the Years