Kim Kardashian Speaks Out on the Monica Rose Drama
The reality star spilled tea while sipping on Moscato with Andy Cohen on Watch What Happens: Live.
---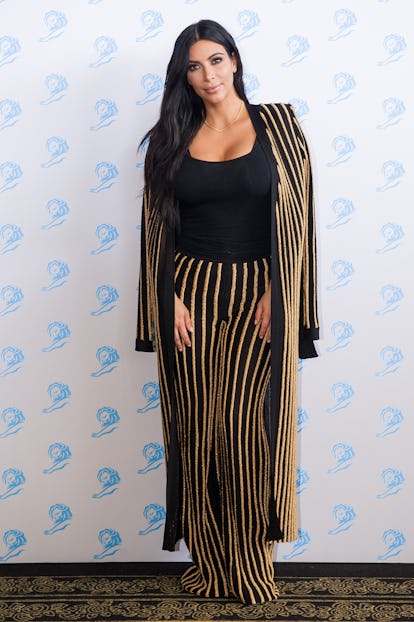 Let it be known: Kim Kardashian suffers no fools. If last year's Snapchat exposé of Taylor Swift—wherein Kardashian revealed several video clips of Swift speaking with Kanye West about his controversial "Famous" lyrics before the song was released, despite the singer's claims that she had been blindsided by the namedrop in the rap—didn't prove it enough, Kardashian is back to exposing the truth about someone else who may have sullied the family name: stylist Monica Rose.
Some backstory: Rose served as the longtime stylist for all of the Kardashian girls at some point, as well as Kardashian-adjacent girls Gigi Hadid, Chrissy Teigen, and Kaia Gerber. Like most of the family's glam squad, Rose was just as visible at the sisters themselves, appearing frequently in their Snapchats and in the background of Keeping Up With the Kardashians. Cut to last month, when the family abruptly stopped working with the stylist (Kendall would soon hire Beyonce's go-to fashion guru, Marni Senofonte) and, perhaps even more damning, all stopped following her on social media. As if making her a social media pariah weren't enough, Page Six shortly after reported that Khloe may be considering legal action.
Through it all, the Kardashians stayed silent (though, arguably, with this family, Instagram actions speak louder than words). Until now.
Over the weekend, Kardashian appeared on Andy Cohen's Watch What Happens: Live, where the host asked her point blank about the situation. "You all recently unfollowed her on social media and are no longer associated with her. Can you give us the real reason she is no longer in your universe?"
The reality star appeared uncharacteristically nervous at first. "Shit," she exclaimed, taking a sip of her Moscato (also uncharacteristic; Kardashian famously does not drink alcohol). "Okay I will say, I haven't worked with her in maybe four years, so my reason is not connected to this. But I will say that I read that is was said that she was the reason for my makeover when I met Kanye, and I will say that Kanye got me a new team and we kind of documented it. I think people think that's the reason, and for me, maybe that is the reason. I just needed a new vibe. Why everyone else, you're going to have to ask them, but for me, I wanted a new vibe. Kanye wanted to give me a makeover."
Cohen prodded more: "So she publicly said, 'I gave her a makeover,' and it was actually Kanye who gave you the makeover."
Kardashian clarified: "But that wasn't the reason my family… that was me years ago. I just wanted the change, but I just recently heard that, so people have been asking me, and that's not the reason, so you'd have to ask Khloe, and Kendall and Kylie, and the girls."
Attention Andy Cohen: book Khloe for an episode ASAP.
Kanye West Just Wants to Bring Joy to the World Like Will Ferrell in 'Elf'