Kourtney Kardashian and Her 24-Year-Old Boyfriend Younes Bendjima Just Made a Couple's Rite of Passage
The pair secured a coveted spot in one of Yayoi Kusama's infinity rooms for a joint selfie.
---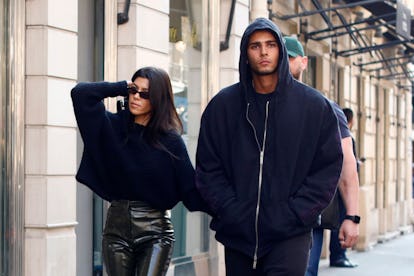 NurPhoto/Getty Images
Up until last month, it remained a total mystery how Kourtney Kardashian, 38, met her new boyfriend Younes Bendjima, a 24-year-old model and former boxer. As it turned out, the pair actually met when the Kardashians were in Paris at the time of Kim's robbery in October of last year—and even though they had just met at a club, Bendjima stayed at Kourtney's side the whole night, helping out with translating between the Kardashians and the French police.
That news isn't the only proof as of late that their relationship is in fact quite serious, despite the jokes about their age difference. Following in the line of couples like Ciara and her husband Russell Wilson—who celebrated their one-year anniversary by shutting down the entire museum to take in the show when it was in Seattle—the couple made a pilgrimage to the Japanese artist Yayoi Kusama's massive survey show "Infinity Mirrors," despite the fact that it's basically impossible to get into now that it's in Los Angeles at the Broad.
Nonetheless, the pair squeezed their way in—and secured one of the exhibition's titular spaces all to themselves, where they used the strict 30-second selfie time limit to pose together for a rare public display of affection on Kourtney's Instagram. (What's more, not only did they maneuver their way past the lines, but they first passed the hurdle of coaxing themselves out of bed on a Sunday morning, where Bendjima was practicing his impressive fidget spinner skills.)
Their determination to see the show and public show of affection isn't all that's significant about their visit: It also seemed to show that Kourtney needed to recover from having to reunite with her ex Scott Disick, which she did earlier in the weekend to celebrate their son Mason's eighth birthday at a bowling alley. Kris Jenner, Corey Gamble, and Kendall Jenner were all there for the festivities, but Bendjima was noticeably missing—as was Disick's own younger beau, 19-year-old Sofia Richie.
Bendjima's handle was also missing from Kourtney's post of the pair, but even though she didn't tag him, it marked a rare—if not the first—appearance of his on her Instagram. Rest assured, though, that it doesn't seem like she was trying to slight Bendjima: He has, after all, made the cut of the just 80 people that she follows.
Related: It's Basically Impossible to Get Into the New Yayoi Kusama Exhibition In L.A.
Go Behind the Polka-Dot Scenes of Yayoi Kusama's Glass House Takeover: