Kim Kardashian West, Social Media Sleuth, Made Tristan Thompson Unblock Her on Instagram
Tristan Thompson learned the hard way at Khloé Kardashian's birthday party on Wednesday night.
---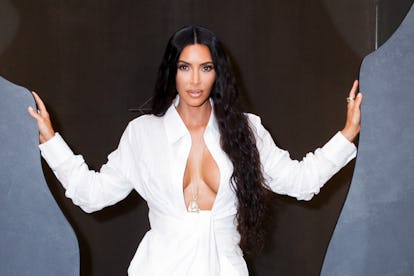 Presley Ann/Getty Images
Kim Kardashian West knows how to properly sleuth on social media, and she's not afraid to employ her skills—even at her sister Khloé Kardashian's birthday party.
As Khloé and her boyfriend Tristan Thompson attempt to salvage their relationship after Thompson's alleged cheating scandal, Thompson had blocked his girlfriend's family members and close friends on Instagram in an ultimate exhibition of pettiness. But what's even pettier is that Kim took her sister's birthday party as an opportunity to get him back.
In the middle of the backyard birthday celebration, Kim took to her Instagram Stories to ask her followers, "It's Khloé's birthday, should I ask this guy to unblock me?" before swiveling the camera to reveal a bashful Thompson sitting with her sister. After asking Thompson for the passcode to his phone (which Khloé says she already knows), Kim filmed the 27-year-old Cleveland Cavaliers player as he obliged and unblocked her from his account.
Both Kendall Jenner and Kylie Jenner bore witness to it all at Khloé's 34th birthday bash (which will henceforth be referred to as the day Tristan Thompson officially unblocked Kim Kardashian West), as did Khloé's best friends Khadija and Malika Haqq (both of whom Thompson also admitted to blocking on social media). Kourtney Kardashian is still on vacation in Italy with her 25-year-old model beau, Younes Bendjima, so she sent her birthday wishes to her sister via Instagram Stories.
According to the Instagram Stories documenting the occasion, the family had plenty of McDonald's hash browns, donuts, flower bouquets, and balloons to celebrate, and the evening was capped off by Kylie giving a toast to Khloé, telling her, "I truly give you all the credit for who I am, who I've become. You give me my crazy—wait, this isn't about me. Happy birthday! I love you!"
Related: Kim Kardashian's Breakup With Selfies Only Lasted a Week