Ariana Grande's Engagement Ring From Pete Davidson Is a $93,000 Teardrop Diamond She's Been Wearing for Days Now
It's a $93,000 teardrop diamond.
---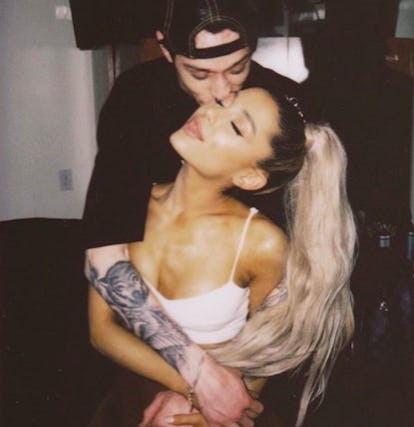 Courtesy of @arianagrande
In a year plagued by marquee celebrity breakups, and wavering reconciliations, at least two people have managed to find love: Ariana Grande and Pete Davidson.
Over the course of the past month, the couple has gone from Instagram official and getting matching tattoos to engaged. (Yesterday, Grande tweeted what some took as official confirmation of the news, writing, "i love u ?????????????? sm ???????????????????????? ok bye." Plus, after a fan tweeted at her, "I hope he knows he is maRRYING US AS WELL," Grande wrote back, "HAHAHAHAHAHH HES BEEN BRIEFED.") Now, it appears that Grande has been wearing what may be her engagement ring for well over a week by now.
A large teardrop diamond appeared on Grande's hand — no less, her left hand ring finger — at a June 2 performance during iHeartRadio's Wango Tango event. Notably, when Grande showed up at the red carpet in an oversized pink sweatshirt, she pulled her sleeves down her hands to her fingertips. At one point, though, she posed with Ryan McKenna — the boy who went viral after snapping a selfie with Justin Timberlake during the pop star's Super Bowl LII halftime show — giving a closer look at the ring.
What's more is yesterday Grande showed off the ring once again in a photo taken of her, her mother, and her brother Frankie, who posted it to his Instagram account.
While neither Grande or Davidson have confirmed that this ring is, in fact, the singer's engagement ring, it does fit the description of the one the comedian reportedly gave to her. "All I know about the ring is that it's big," a source told People.
Big, indeed. Davidson reportedly dropped $93,000 on the 3.03 carat diamond ring by New York City-based jewelry designer Greg Yuna, as TMZ reported. Interestingly, Davidson picked up the ring in May and commissioned it at least two weeks prior to that. Grande was reported to have broken up with her ex Mac Miller on May 9, while Davidson and his ex Cazzie David confirmed their breakup May 16.
Related: Ariana Grande and Pete Davidson: A Quick Timeline of Their Relationship