Grimes and Elon Musk Debut as a Couple at the Met Gala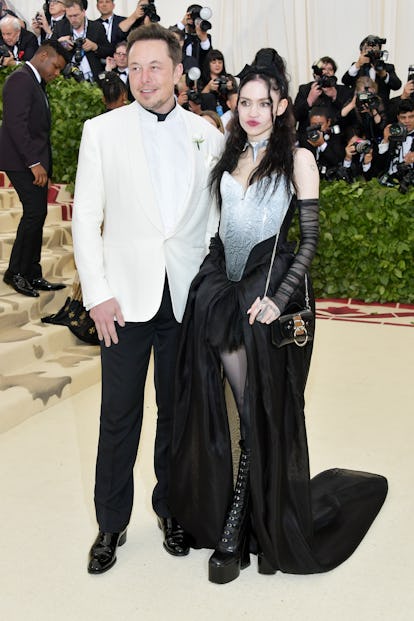 Neilson Barnard/Getty Images
Elon Musk and Grimes walking the Met Gala red carpet hand-in-hand may not have been the most anticipated couple debut of the night (that would be Lili Reinhart and Cole Sprouse), but it certainly was the most surprising. That's because no one in the general public had any inkling they were even dating until just hours before the appearance.
Grimes (known to her native Canadian government as Claire Elise Boucher) is the multitalented musician and artist who is the reigning queen of the indie cool girl. Musk is the Silicon Valley-by-way-of-South Africa billionaire maverick who many compare to a real-life Tony Stark. How does such a couple meet? Twitter, of course.
According to Page Six, Musk was "researching" the idea of a joke (because of course Musk researches his jokes) and realized that Grimes had already made the same joke on Twitter three years before. The joke, by the way, is "Rococo Basilisk," but even if we fully explained it, most people wouldn't find it funny. The short answer is that it's a combination of the French rococo aesthetic and a nerdy ethical riddle involving artificial intelligence. Ha…
Apparently Musk had been a fan of Grimes' work before, but this was the moment that finally brought them together. Page Six says they've been casually dating for around a month. Though it's been a secret, they have been bantering back and forth on Twitter recently. Musk isn't shy about making his relationships social media official. He's even bantered with exes online before.
Musk, of course, recently had an ill-fated relationship with Amber Heard. He has also been married twice to Westworld actress Talulah Riley. Grimes, meanwhile, was in a relationship for a number of years with electronic musician James Brooks, who has recorded under the names Default Genders and Elite Gymnastics.
Related: Elon Musk's Instagram Is More Humble Than You Might Assume of a Billionaire CEO
Met Gala 2018: See What Celebrities Wore on the Red Carpet
Rihanna at the 2018 Met Gala. Photograph by Benedict Evans for W Magazine.

Benedict Evans
Cardi B at the 2018 Met Gala. Photograph by Benedict Evans for W Magazine.

Benedict Evans
Lily Collins at the 2018 Met Gala. Photograph by Benedict Evans for W Magazine.

Benedict Evans
Donald Glover at the 2018 Met Gala. Photograph by Benedict Evans for W Magazine.

Benedict Evans
Selena Gomez at the 2018 Met Gala. Photograph by Benedict Evans for W Magazine.

Benedict Evans
Katherine Langford at the 2018 Met Gala. Photograph by Benedict Evans for W Magazine.

Benedict Evans
Jasmine Sanders at the 2018 Met Gala. Photograph by Benedict Evans for W Magazine.

Benedict Evans
Rosie Huntington Whiteley at the 2018 Met Gala. Photograph by Benedict Evans for W Magazine.

Benedict Evans
Kate Upton at the 2018 Met Gala. Photograph by Benedict Evans for W Magazine.

Benedict Evans
Winnie Harlow at the 2018 Met Gala. Photograph by Benedict Evans for W Magazine.

Benedict Evans
Alek Wek at the 2018 Met Gala. Photograph by Benedict Evans for W Magazine.

Benedict Evans
Zendaya at the 2018 Met Gala. Photograph by Benedict Evans for W Magazine.

Benedict Evans
Priyanka Chopra at the 2018 Met Gala. Photograph by Benedict Evans for W Magazine.

Benedict Evans
Migos at the 2018 Met Gala. Photograph by Benedict Evans for W Magazine.

Benedict Evans
George and Amal Clooney at the 2018 Met Gala. Photograph by Benedict Evans for W Magazine.

Benedict Evans
Lena Waithe at the 2018 Met Gala. Photograph by Benedict Evans for W Magazine.

Benedict Evans
Ariana Grande at the 2018 Met Gala. Photograph by Benedict Evans for W Magazine.

Benedict Evans
Kim Kardashian at the 2018 Met Gala. Photograph by Benedict Evans for W Magazine.

Benedict Evans
Travis Scott and Kylie Jenner at the 2018 Met Gala. Photograph by Benedict Evans for W Magazine.

Benedict Evans
Blake Lively at the 2018 Met Gala. Photograph by Benedict Evans for W Magazine.

Benedict Evans
Bella Hadid at the 2018 Met Gala. Photograph by Benedict Evans for W Magazine.

Benedict Evans
SZA at the 2018 Met Gala. Photograph by Benedict Evans for W Magazine.

Benedict Evans
Kendall Jenner at the 2018 Met Gala. Photograph by Benedict Evans for W Magazine.

Benedict Evans
Janelle Monae at the 2018 Met Gala. Photograph by Benedict Evans for W Magazine.

Benedict Evans
Emily Ratajkowski at the 2018 Met Gala. Photograph by Benedict Evans for W Magazine.

Benedict Evans
Daniel Kaluuya at the 2018 Met Gala. Photograph by Benedict Evans for W Magazine.

Benedict Evans
Gigi Hadid at the 2018 Met Gala. Photograph by Benedict Evans for W Magazine.

Benedict Evans
Katy Perry at the 2018 Met Gala. Photograph by Benedict Evans for W Magazine.

Benedict Evans
Paris Jackson at the 2018 Met Gala. Photograph by Benedict Evans for W Magazine.

Benedict Evans
Madonne and Nicki Minaj at the 2018 Met Gala. Photograph by Benedict Evans for W Magazine.

Benedict Evans