Elon Musk Was in "Severe Emotional Pain" After His Breakup With Amber Heard
"I was really in love, and it hurt bad."
---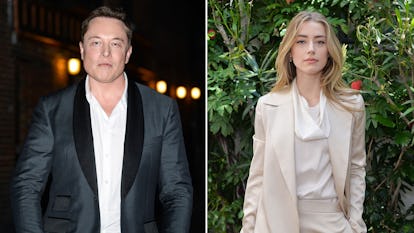 Ray Tamarra/Stefanie Keenan/WireImage/Getty Images
Breakups are never easy — even when you're the billionaire CEO of Tesla and SpaceX. Elon Musk opened up in an emotional new profile in Rolling Stone about his recent heartbreak after ending a relationship with model and actress Amber Heard. The pair called it quits over the summer due to "bad timing," though Musk confirmed that ending things was more Heard's idea than his.
"I was really in love, and it hurt bad," Musk, who was previously married to actress Talulah Riley, told Rolling Stone. "I've been in severe emotional pain for the last few weeks. Severe. It took every ounce of will to be able to do the [Tesla Model 3 launch event in July] and not look like the most depressed guy around. For most of that day, I was morbid. And then I had to psych myself up: drink a couple of Red Bulls, hang out with positive people and then, like, tell myself: 'I have all these people depending on me. All right, do it!'"
Despite the hurt he seems to be experiencing in the wake of his breakup, Musk is, apparently, already eager to get someone new in the passenger seat of his Tesla Model 3. "I'm looking for a long-term relationship. I'm not looking for a one-night stand. I'm looking for a serious companion or soulmate, that kind of thing," he said, after asking his Rolling Stone profiler if he knew of anyone whom he could date.
"I will never be happy without having someone. Going to sleep alone kills me," the 46-year-old father of five said. "It's not like I don't know what that feels like: Being in a big empty house, and the footsteps echoing through the hallway, no one there — and no one on the pillow next to you. F—. How do you make yourself happy in a situation like that?"
Though Musk may seem to have everything in the world — or at least, whatever $19.3 billion and a privately owned space exploration company can afford you — he's living proof that there's so much more to life than financial success: "If I'm not in love, if I'm not with a long-term companion, I cannot be happy," he said.
Meanwhile, Heard is rumored to be dating again.
Related: Amber Heard and Elon Musk Prove How to Breakup on Instagram
See What's Trending in W Video: