Lili Reinhart and Cole Sprouse Just Made Their Debut as a Couple at the Met Gala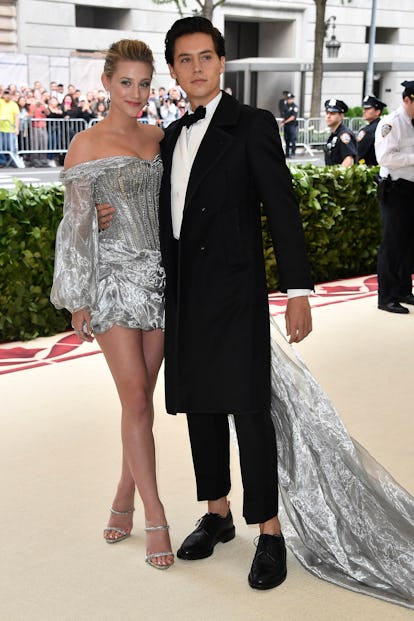 Frazer Harrison/Getty Images
After nearly a year of speculation, Lili Reinhart](https://www.wmagazine.com/topic/lili-reinhart) and Cole Sprouse just made their relationship status official on the red carpet of the 2018 Met Gala.
As many Riverdale fans already know, Reinhart and Sprouse love to tease their "will they, won't they" relationship status every chance they get. While the young actors have vacationed together in Hawaii, and been spotted kissing in Paris, for months they have insisted that their onscreen romance as Riverdale's Betty Cooper and Jughead Jones does not translate into an offscreen relationship. On Monday, the CW co-stars' walked the red carpet at the Met Gala together, essentially confirming their relationship status at last.
Both actors have previously deflected or shrugged off any questions concerning the dating rumors between the two, reminding the press that both of them lean towards keeping their dating lives private and lowkey. "I never talk about it because it's not anyone's right to know," Sprouse once told People when asked if he was dating Reinhart. "Whether you dismiss those [relationship] rumors or whether you encourage those rumors, it's giving people who are, in my opinion, are a bit entitled to your personal life more power, and you have to have spaces for reverence in the industry," he said.
Reinhart, whom Sprouse has been photographing for nearly two years, echoes the sentiment, but has been more vocal about Sprouse and his tendency to help her, alongside the entire cast of Riverdale, navigate fame and celebrity.
After packing on the PDA for this long, it is no surprise that the two finally made their debut at fashion's biggest night of the year; and if the Met Gala selfie ban isn't enforced this year, maybe budding photographer Sprouse will do Riverdale fans a solid and snap a few behind-the-scenes pictures of Reinhart in her gown for Instagram.
Related: For Lili Reinhart, Her First Met Gala Is as Exciting as Her Wedding Day