For Lili Reinhart, Her First Met Gala Is as Exciting as Her Wedding Day
Getting ready with the very excited 'Riverdale' star before the most exclusive party of the year.
---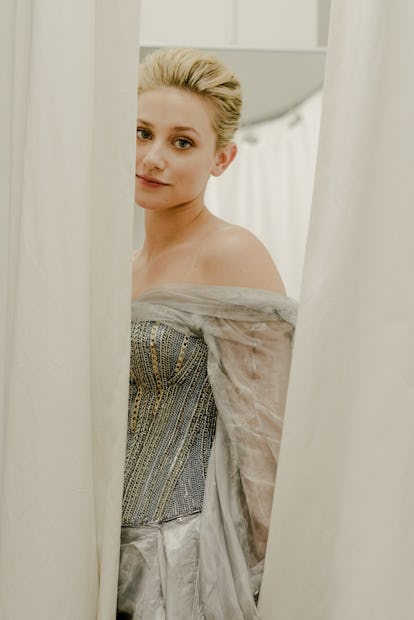 DANIEL DORSA
It was 24 hours before her first Met Gala, and Lili Reinhart was beginning to get pre-party jitters. "The whole experience is a little bit surreal," she said, tucked in the backseat of an SUV on her way to a last-minute fitting in New York. "I think I'm going to be a little bit out of place."
Surely, everyone who attends feels the same way. "Rihanna doesn't!" Reinhart replied. Okay, fair.
But it's no surprise that Reinhart, the star of one of television's most popular TV series (with one of its most devoted fan bases), had been invited to the gala, where she would be attending as a guest of H&M. "I feel very honored to be around so many people that I idolize, who are artists," she said. "I love to be around artists, and to be around the biggest and brightest, it's just…"
It had been a whirlwind two years for the actress, who quickly shot to fame with the success of Riverdale, on which she plays comic book character Betty Cooper. Attending tonight's Met Ball might be the high point of her fast rise so far. "I didn't really know what it was until maybe the past few years. I didn't even know the Met was a museum—this was naive little me," she said. "It was my mom who explained it was the Metropolitan Museum of Art. I was like, 'Interesting—so they just walk on the steps?' I didn't know anything about it. But I remember seeing Rihanna's yellow gown, and Sarah Jessica Parker's headdress, and I was like, 'Holy crap.'"
The call that she'd be on the same red carpet came in just a few weeks ago. "I was in an Uber when I found out, and my team called me and was like, 'I know this is something you've been looking forward to…' And I screamed," she said. "I don't really get excited like that, but this was the thing. It feels almost like my wedding day. People are like, 'It's not, it's the Met.' Cole [Sprouse], who is going to be there as well, was like, 'It's not like your wedding day.' And I said, 'Well, it kind of is!' I have to get my nails done, I have to have multiple fittings. I have no idea how I'm going to answer questions on the red carpet because I'm just going to be so flabbergasted."
An apt comparison, though her dress for the occasion—the theme this year being religion, specifically Catholicism—was more Xena Warrior Princess than Meghan Markle: a billowing silver mini dress made of chrome silk featuring a corset made of many layers of different metallic chains. "They e-mailed me options, and one was sleeveless and strapless and one had very beautiful, long billowing sleeves, and I was immediately drawn to that, because I feel like it really fit the theme," she said. "It's a silver dress and I've never really worn silver. It was something that I never would have picked for myself, and it forced me out of my comfort zone."
A little constructive discomfort seemed to be a personal theme for the 21-year-old, from her plans for a daring metallic eye to the anxiety of the afterparties. "I'm so not a party person, but I'll go out of my comfort zone tomorrow night," she said.
Along with her costar Sprouse, Reinhart planned to seek out pal Katherine Langford inside—as well as hopefully make some new friends. "I love Dakota Johnson, I just want to stare at her from afar," she said. "And Sarah Paulson, I'm such a big fan of hers, I think she's just the best actress. I'm going to just be whipping my head around."
But first, she had a big day of prep ahead of her. "It starts early, a lot earlier than I expected. It is like a wedding day, I swear."
Related: Riverdale's Lili Reinhart Declares "I Am Not Betty Cooper," and Speaks Candidly About Her Struggles with Anxiety