Riverdale's Lili Reinhart Declares "I Am Not Betty Cooper," and Speaks Candidly About Her Struggles with Anxiety
On set with W, the 20-year-old actress opens up about the pressures of fame, season 2 of Riverdale, and her very famous co-stars.
---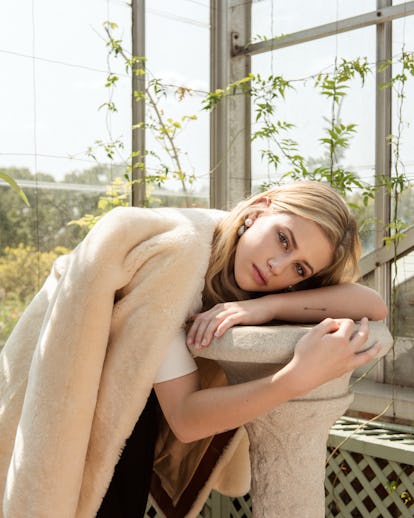 About twelve miles north of midtown Manhattan sits Wave Hill, a sprawling, lush 28-acre public estate complete with panoramic views of the Hudson River, wild English gardens inspired by the nineteenth-century author William Robinson, and an enclosed conservatory housing an impressive cacti collection—basically flora and fauna as far as the eye can see.
On a recent September afternoon, one specific flower stood out from the rest. It was not one of the garden's impressive, expertly curated blooms, but rather a simple, single-needle tattoo of a stemmed-rose that decorates the forearm of Lili Reinhart, the 20-year-old actress best known as Betty Cooper on The CW's hit TV show, Riverdale.
The tattoo was striking not because it is a noticeably eye-catching design, but because, well, TV's beloved girl next door doesn't usually have body art. But, alas, it's easy to forget: Reinhart isn't Cooper.
At that moment, she hardly resembled the character, who favors the conservative combo of a ponytail and a collared shirt: Reinhart was modeling for W's ultimate guide to the season's best coats. "I feel like a badass vampire hunter," she said, slipping into a black leather Alexander McQueen number.
The Ultimate Guide to the Best Fall Coats to Buy Now
Afterall, the actress wasn't in town just to visit New York City's local gardens: she was taking a break from New York Fashion Week. The day before, Reinhart had attended her first fashion show–a presentation for the hip, local brand Simon Miller.
"I was in awe a little bit about the fact that I was there and sitting up front," she said of the experience. "It felt cool to be a part of something like that and to be in a room with so many people in the fashion industry, which I have never really been exposed to. I've only really been in the spotlight for not even a year, so that fact that I'm already doing fashion week is something that I don't take for granted. I feel very honored to be where I am in such a short amount of time."
It's true; this time last year, Riverdale was still a full four months away from its premiere. Since then, the show has received overwhelmingly positive reviews and earned a very devoted fan base (earlier this month, Reinhart and her cast members landed on Entertainment Weekly's fan-voted cover, beating out over 60 other hit shows including Stranger Things, This Is Us, and The Walking Dead). The CW has even green-lit a "companion" show, this time based on Sabrina the Teenage Witch.
"The show took off in such a way that fame followed very quickly after, and it wasn't really a smooth transition," Reinhart said. "It was just kind of like, 'Bam.' It wasn't a bad thing, but all a sudden, I'm doing all these things and a year ago, I was just starting to film season one, and two years ago, I was living in North Carolina with my parents."
Born in Cleveland to what she describes as a middle-class family, Reinhart started acting and modeling at an early age, before quickly realizing it was something she wanted to pursue further. "My mom would drive me from Cleveland to New York City and use my dad's hotel points for auditions," she recalled. "They were the most supportive parents that I could have. Without them, I wouldn't have gotten anywhere. My mom would take off work to take me to auditions, because they believed in me, which is a very big leap of faith. Seeing it from their point of view, they must have been like, 'Is my child even good at this?' But they knew it brought me so much happiness."
At fourteen, Reinhart landed a manager, and, in turn, guest spots on shows like Law & Order: Special Victims Unit and Surviving Jack, as well as roles in a few smaller, under-the-radar movies. In 2015, upon turning 18-years old, she moved, by herself, to Los Angeles, living in shared apartments and auditioning as much as possible.
"I didn't have a car, so I was spending $500 Ubering everywhere," she said. "I remember looking at my bank account and seeing all of this money that I had saved acting over the course of many years just gone. I had so much anxiety booking work, and I spent almost five months holed up in this bedroom in this house just feeling anxious, waiting for my next audition, and not doing anything else. It was the most miserable time of my life."
Driven to get a side job working at a family-style restaurant on Universal City Walk to support her burgeoning career, it was then that Reinhart suffered what she calls "the worst panic attack of my life."
"I had had to quit a few jobs in North Carolina because of how anxious they made me. My anxiety was so bad that I had to keep quitting jobs because I physically could not work," she explained. "But I knew I needed to make money, so I got the job and the women there was like, 'You need to go find a black button-up shirt and slipless shoes.'" Still sans car, Reinhart booked an Uber to purchase them, but turned up empty-handed after visiting shop after shop. "I threw up in my Uber because, one, I was carsick, and two, I was having a panic attack," she said. "I get home, lock the door in my room, immediately Skype my mom and said, 'Mom, I'm not okay.' I had to get a brown paper bag and breathe into it, which felt so dramatic, but I really could not breathe. I felt like my world was crashing. I didn't want to admit defeat, but I was like, 'I need to come home. My mental health is suffering, and it is making me physically ill.'"
Back home, Reinhart began seeing a therapist she had previously visited before moving out West. "She really helped me build myself back up again," she said.
It was during this time that Riverdale entered the picture. "I got my first audition for the show during that period of my life when I was rebuilding myself, and in between meds," she explained. "I went on a medicine that gave me the worst mood swings—I felt like a monster. My mom was like, 'I can't even be in the same room as you.' And this is when I was self-taping for Riverdale. I spent three hours on my first audition tape, and I felt like I could not get it right. I sent it in, and wasn't the girl. It doesn't surprise me, because I was in a sh*t place when I taped that."
But still her passion for acting lingered, and Reinhart returned to Los Angeles with a newly ignited drive. "Somehow, I revved myself up," she said. "I was like, 'I've wanted this for so long, I went out there, failed, and now I'm going to try it again.' I didn't work my ass off for one try."
Back in L.A., Reinhart found herself auditioning once again for Betty Cooper, a role that remained to be filled. ("All of us were turned down multiple times," she noted. "Except for Cole [Sprouse], I think.")
"I auditioned in person with a fresh take, and a fire under my ass that I hadn't had before," she said. "I felt so close, and I had been so close to so many things before, that I didn't want to let this one slip through. And I remember leaving the final audition and calling my manager, as I was driving towards the sunset, and saying, 'I feel proud of myself for what I've done. Regardless of what happens, I feel happy and really at peace.' And I truly felt that."
Later that day, she got an answer. "I was making myself a hotdog and pulling some curly fries out of the oven, and I got the call from manager, and she said, 'You got it. You're Betty Cooper.' It felt so unreal. My friend was standing across from me, and when I put the phone down he said, 'I literally just watched your life change.'"
Filling the role of Betty Cooper (a character Reinhart says she was not familiar with prior to the audition; "It was a blank slate going into it," she noted), the actress became part of the cast of young, widely unknown actors, including KJ Apa as Archie, Camila Mendes as Veronica, and Sprouse, a former child star returning to the limelight, as Jughead.
"I thought KJ was so hot, so charming," she recalled. "I had seen Cole and Camila at the studio test, and thought Cami was so beautiful. It's funny, I don't really remember having an opinion on Cole, to be honest. Of course, I had grown up watching [The Suite Life] but I wasn't really starstruck. He just seemed like this really attractive, normal guy."
The cast relocated to Vancouver to film the pilot, which was picked up by The CW shortly thereafter. "We found out that we got picked up the same day that we got to watch the pilot for the first time," Reinhart said. "We went to the studio to watch it, and we left and an hour later the Deadline article got released that we got picked up. I felt like, 'We did it.' All my money problems went away in that moment, and I just felt like a successful working actress. I was so excited to be working and to wake up and know that I had a job."
The fame quickly followed, with a few warning drops before the eventual thunderstorm. "I remember going to Nordstrom in the grove, and I was getting my parking ticket validated, and this girl was like, 'I love your show.' We were all in L.A. and New York, so we would get recognized here and there, but I could still go to the grocery store and not get bothered. I still felt very anonymous."
Now, just weeks away from the show's season two premiere, and things have certainly changed. "It is crazy," Reinhart said. "I know that I am going to be recognized when I leave the door."
Lately, Reinhart has been easing back into the promotional circuit, ahead of that hotly-anticipated, and much under-wraps second season. When asked about it, Reinhart is an expert teaser. "I'm so excited for season two," she said. And yes, she added, there will be plenty of Bughead, the appointed name for fan favorite couple Betty and Jughead. (The persistent rumors that the pair are dating in real life has only added fuel to the fire.) "People are obsessed," she said of the fictional couple. "They are some really beautiful moments between them, but also really intense. Season two is kind of heart-wrenching. Betty is going through a traumatic situation, and your heart goes out to her, but you also see some new sides to her, which I'm super excited about. Season two definitely opens a door to showing different sides to all of these characters, and it is really beautiful to watch."
And it was in filming the season that Reinhart truly came to terms with just how much people loved season one—and what that means for her own life. "Fans feel like they know who we are," she said. "And they feel entitled to touch us or ask us personal questions, which people have. You would never walk up to a stranger and hug them. You would never walk up to a stranger and ask them who are they dating… But when people come up and ask for pictures, it's like, of course. And sometimes I am in a terrible mood, but I'll still do it, and then I do feel like, 'What if that fan experience was a let down for them and I wasn't as exciting in person?' But I am not Betty Cooper. I'm always going to try to be as happy and grateful to fans, but I'm also just trying to live my life. I don't have an on switch all of the time. It's something that I am getting used to, or trying to. I don't know how anyone can get used to that."
Which is not to say, Reinhart doesn't love the show just as much as you, or appreciate everything that has come her way since it started. Quite the opposite, in fact. "It's weird and it's amazing," she said of her new life. "And it's good to stay grounded. It's good to go back home and be with my family and friends that I've had for years, because they don't give a sh*t about the fact that I'm on a TV show. It's just me."
Related: Cole Sprouse Photographed Game of Thrones Star Sophie Turner for New Shoot
Riverdale's Lili Reinhart Talks Boy Bands, Lizzie McGuire, And Other Pop Culture Obsessions