Cole Sprouse Photographed Game of Thrones Star Sophie Turner for New Shoot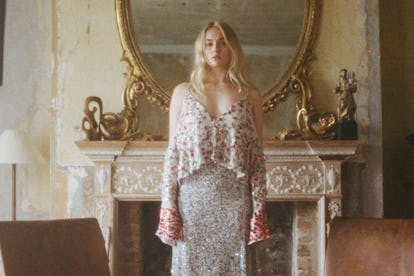 Cole Sprouse/W Magazine
Photography is the hottest side gig for young stars these days (see Kendall, Gigi, and Bella, for example). And the latest to join in on the trend is Cole Sprouse, the 24-year-old actor from the CW smash-hit Riverdale. Sprouse recently stepped behind-the-camera once again to photograph fellow young Hollywood star, Sophie Turner from Game of Thrones. In a shoot for W, Sprouse captured a naturally blonde Turner (sorry Stark stans) in a high-fashion shoot along the River Thames, where Turner dons Peter-pan collared Dior dresses and pink Erdem gowns — think King's Landing fashion, not Winterfell. Whatever dark turns her HBO counterpart Sansa has undergone, here, Sprouse captures a light and ethereal Turner in images that resemble a Renaissance dream.
Sprouse, a child Disney star, has been steadily building his photography career. He's previously captured actress Hermione Corfield as well as photographed Kendall Jenner for The Sunday Times. And one look at Sprouse's Instagram is proof-bar-none that he's not just any millennial with an iPhone.
The actor previously admitted to Teen Vogue that he'd be pursuing photography full-time, if it not for acting:
"Photography is a pursuit that allows you to be very hands-on with what you show people of either yourself or the art you want to make, and acting is kind of the exact opposite. You do have a modicum of creative freedom as an actor, but you're still very much a cipher for other people's art. If you're a photographer, you end up being the raw creative force that allows other people to see what kind of narrative you want to be giving or what kind of art that you want people to see. I had become obsessed with the control-freak aspect of photography, and with the rising importance of the image in our social media age it ended up working. I had a palatable, digestible space, like Instagram or social media, to display and curate the collection I wanted to give to people. People ended up liking it."
Even Turner, who is arguably one of the biggest stars on one of the biggest television shows of all time, was starstruck by Sprouse's talents — be them photography or acting related. Turns out, even Sansa once watched The Suite Life of Zack and Cody.
"I said to him [on set], 'When I was younger, I watched your show religiously.' That was my jam," she said. "I know every single episode. My eight-year-old self was freaking out."
(No word yet if Turner is a Jughead Jones fan, too.)
See images from the shoot, below, and read more about how Turner got her acting start, her fears of dying her hair red, and what it's like to be the face of Louis Vuitton's Fall 2017 campaign, here. The seventh season of Game of Thrones premieres Sunday (July 16) on HBO.
Related: Sophie Turner's Most Daring Beauty Moments, From Fiery Red Curls to Platinum Blonde Waves
How Sophie Turner Has Grown Up on the Red Carpet, From Game of Thrones to X-Men
Sophie Turner attends the DVD premiere of Game of Thrones at Old Vic Tunnels on February 29, 2012, in London. Photo courtesy of Getty Images.

Getty Images
Sophie Turner attends the Elle Style Awards on February 11, 2013, in London. Photo courtesy of Getty Images.

Getty Images
Sophie Turner attends HBO's Game of Thrones season three San Francisco Premiere on March 20, 2013, in San Francisco. Photo courtesy of Getty Images.

Getty Images
Sophie Turner attends the Another Me photo-call during the 8th Rome Film Festival at the Auditorium Parco Della Musica on November 15, 2013, in Rome. Photo courtesy of Getty Images.

Getty Images
Sophie Turner attends the Another Me premiere during the 8th Rome Film Festival at Auditorium Parco Della Musica on November 15, 2013, in Rome. Photo courtesy of Getty Images.

Getty Images
Sophie Turner attends the Game of Thrones season four New York premiere at Avery Fisher Hall, Lincoln Center, on March 18, 2014, in New York City. Photo courtesy of Getty Images.

Getty Images
Sophie Turner attends the Arqiva British Academy Television Awards at Theatre Royal on May 18, 2014, in London. Photo courtesy of Getty Images.

Getty Images
Sophie Turner attends the Glamour Women of the Year Awards at Berkeley Square Gardens on June 3, 2014, in London. Photo courtesy of Getty Images.

Getty Images
Sophie Turner attends Entertainment Weekly's annual Comic-Con celebration at Float at Hard Rock Hotel San Diego on July 26, 2014, in San Diego. Photo courtesy of Getty Images.

Getty Images
Sophie Turner attends the 21st Annual Screen Actors Guild Awards at the Shrine Auditorium on January 25, 2015, in Los Angeles. Photo courtesy of Getty Images.

Getty Images
Sophie Turner attends HBO's Game of Thrones season five premiere and afterparty at the San Francisco Opera House on March 23, 2015, in San Francisco. Photo courtesy of Getty Images.

Getty Images
Sophie Turner attends the 67th Annual Primetime Emmy Awards at Microsoft Theater on September 20, 2015, in Los Angeles. Photo courtesy of Getty Images.

Getty Images
Sophie Turner attends Entertainment Weekly's Celebration Honoring the 2016 SAG Awards Nominees held at Chateau Marmont on January 29, 2016, in Los Angeles. Photo courtesy of Getty Images.

Getty Images
Sophie Turner attends the 88th Annual Academy Awards at Hollywood & Highland Center on February 28, 2016, in Hollywood. Photo courtesy of Getty Images.

Getty Images
Sophie Turner attends the X-Men: Apocalypse Global Fan Screening at BFI IMAX on May 9, 2016, in London. Photo courtesy of Getty Images.

Getty Images
Sophie Turner arrives at the premiere of HBO's Game of Thrones season six at the TCL Chinese Theatre on April 10, 2016, in Hollywood. Photo courtesy of Getty Images.

Getty Images
Sophie Turner attends the Louis Vuitton show as part of the Paris Fashion Week women's wear fall/winter 2016/2017 on March 9, 2016, in Paris. Photo courtesy of Getty Images.

Getty Images
Sophie Turner attends the Kineo Diamanti Award Ceremony during the 73rd Venice Film Festival on September 4, 2016, in Venice, Italy. Photo courtesy of Getty Images.

Getty Images
Sophie Turner arrives at the 68th Annual Primetime Emmy Awards at the Microsoft Theater on September 18, 2016, in Los Angeles. Photo courtesy of Getty Images.

Getty Images
Sophie Turner attends the Louis Vuitton show as part of the Paris Fashion Week women's wear spring/summer 2017 on October 5, 2016, in Paris. Photo courtesy of Getty Images.

Getty Images
Sophie Turner attends the 74th Annual Golden Globe Awards at the Beverly Hilton Hotel on January 8, 2017, in Beverly Hills. Photo courtesy of Getty Images.

Getty Images
Sophie Turner attends the Louis Vuitton show as part of the Paris Fashion Week women's wear fall/winter 2017/2018 on March 7, 2017, in Paris. Photo courtesy of Getty Images.

Getty Images
Sophie Turner attends the 70th EE British Academy Film Awards (BAFTA) at Royal Albert Hall on February 12, 2017, in London. Photo courtesy of Getty Images.

Getty Images
Sophie Turner attends the 23rd Annual Screen Actors Guild Awards at the Shrine Expo Hall on January 29, 2017, in Los Angeles. Photo courtesy of Getty Images.

Getty Images
Sophie Turner attends "Rei Kawakubo/Comme des Garçons: Art of the In-Between" Costume Institute Gala at the Metropolitan Museum of Art on May 1, 2017, in New York City. Photo courtesy of Getty Images.

Getty Images
Sophie Turner attends the Louis Vuitton 2018 resort show at the Miho Museum on May 14, 2017, in Koka, Japan. Photo courtesy of Getty Images.

Getty Images
Sophie Turner attends an event in honor of Louis Vuitton and Nicolas Ghesquière at Lincoln Center in New York City on November 30, 2017. Photo courtesy of Getty Images.

Getty Images
Sophie Turner attends the Louis Vuitton show during Paris Fashion Week fall/winter 2018 on March 6, 2018, in Paris. Photo courtesy of Getty Images.

Getty Images
Sophie Turner attends the 2019 Billboard Music Awards at MGM Grand Garden Arena on May 1, 2019, in Las Vegas. Photo courtesy of Getty Images.

Getty Images
Sophie Turner attends a screening of Game of Thrones season eight at the Waterfront Hall on April 12, 2019, in Belfast, Northern Ireland. Photo courtesy of Getty Images.

Getty Images
Jennifer Connelly, Sophie Turner, and Chloe and Halle Bailey Really Love Louis Vuitton