Fear the Walking Dead's Alycia Debnam-Carey, TV's Nicest Zombie Killer, Prefers Fashion Week to Spring Break
The Aussie actress talks her hit TV series, filming during spring break, and fashion week.
---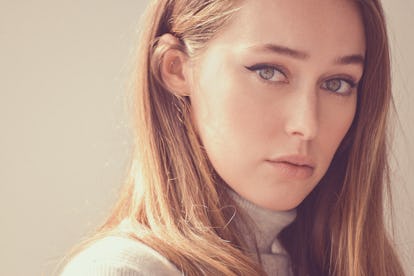 Mid-way mark of fashion week, even the most experience fashionista begins to experience a bit of fatigue. But that was not the case for Australian actress Alycia Debnam-Carey, who just landed in New York following a whirlwind trip to the Venice Film Festival as a guest of Miu Miu. But the 24-year-old doesn't seem any worse for the wear. In fact, she's particularly bright-eyed and animated, as she recounts her Italian getaway and upcoming fashion show plans. Of course, this is an actress who spends her time fighting off zombies while trying to survive post-Apocalyptic America on AMC's hit series, Fear the Walking Dead, the spinoff series of The Walking Dead, which returned for the second half of its third season last week. In the show, Debnam-Carey plays Alicia Clark, a typical teenage girl forced to rise to the occasion when her life gets torn apart by, well, the zombie apocalypse. In town to do promotion for the new series and take in a few fashion shows like Ulla Johnson and Dion Lee, the Sydney, Australia native talked to W about her hit series, failed pilots, and the downfalls of filming in Mexico during spring break.
I saw you were just at the Venice Film Festival. How was that experience?
It is so dreamy. It is so magic that place. The first time I went there I was 15 years old with my parents, so I didn't really get to experience it as an adult. And Miu Miu is amazing. They have such an incredible group of women. It is so fun, and you are in the presence of really thoughtful, committed, smart, and also stylish women. The whole thing seemed almost too good to be true. It was like drinking Aperol Spritzes and wearing Miu Miu. And Laura Harrier, who is a friend of mine, was there, so that was fun, and Rowan Blanchard who is the sweetest. I am in love with her. And I had no idea she was so young. She's, what, 15? I'm 24, and I was like, "I need to age up a bit."
How old were you when you started acting?
I started when I was really young. My mom's a children's television writer, so I was involved and around from a very young age. When I was eight I did my first film with Rachel Ward and Bryan Brown, who are a quite well-respected Australian producer-director duo, and that just changed my whole perspective on what I could do in life and be. From there, I just kept doing it. And during my last year of school, I decided I was going to go overseas to try it.
What was the first job you booked after you moved to Los Angeles?
I booked a horror film called Where the Devil Hides. It's… you know, a horror film. But it was the first full-length movie I'd ever done and it got me my visa and I could start work. My first year was incredible, and I booked a couple of jobs. The second year was just crickets. I didn't book any jobs, which was so disheartening. I was getting close to things, but never actually working. But that's a lot of L.A. and a lot of this job. You can't do it unless you're ready to face a lot of rejection. You just can't.
Did you ever think about heading home?
No. The first year especially, I had such tunnel vision. I was so determined, like "You won't send me home. I'm not going anywhere." Sometimes that headstrong energy helps.
When did it turn around?
It's funny because TV wasn't something that I wanted to do. I wanted to do movies. I'd said a lot of no's to a lot of shows previously, because I couldn't fathom being on a show for such a long time and only doing one thing. But it is interesting how now TV has just exploded; it is chapters in a book rather than one novel. And especially now that studios are either making superhero films or sequels. But I got [CW dystopian show] The 100, when I still had that idea of, "I don't know if I should be doing TV." But I knew it was a cool character.
How was that first television experience?
You learn a lot of technicality. You have to be very aware of everyone else's jobs as much as your own. It's hard because you don't get to spend as much time on your own material, because you get scenes at the last moment. But then you also get an incredible arsenal of knowledge of filming TV. You get to know what is important, and I needed that. I couldn't have done anything bigger than that. I look at these kids who are starring in huge films and am amazed at how well they fare. Of course you have great production behind you, but a lot of it is on you when you have to herald a massive franchise. I think of how much I've learned from doing television, and it is so invaluable.
How did Fear the Walking Dead end up happening?
Actually, Laura Harrier and I did a pilot together called Galentine in Utah. It was a Ridley Scott pilot and we were like, "This is going to be amazing," and it just didn't go anywhere. But it's fine, I got the amazing friendship out of it. We had just got the no, and I didn't have a job again, but they got me in for [Alicia Clark], and it all happened very quickly.
Were you already a fan of The Walking Dead?
I hadn't seen it. I did a quick binge. I watched three seasons in a week. I had to stop because it was getting really intense and I was working on it while watching it. So going in, I had absolutely no idea—I knew it was a thing, but not to what extent. But sometimes it is better to go in like that, or else you will pysch yourself out.
When did you realize it was such a phenomenon?
Probably the first Comic Con that we did. I was up on that panel in front of 6,000 people, and we were all just mute and scared. People had warned us, but that is when it all hit. It was way bigger that we expected. We anticipated enough, but you really see a whole other level of it at Comic Con.
What is it like to be on a sister show of something so intensely popular? Did you feel added pressure?
It was very important for us to distinguish this show was very different. It was hard to make sure people knew that it wasn't the same show. It has it's own style. It's not a comic book. In The Walking Dead, there are these larger-than-life characters, but with our show, it is more of a family drama in many respects. And I think that was hard for people to transition.
What attracted you to the character of Alicia?
It has been nice to have a character that has had a real growth. This is a character who went from being a normal teenage girl before the apocalypse to someone who has been really ravaged by it. And not in necessarily a bad-ass way. Of course she looks amazing doing it, but there has been something very dark, very real, and very traumatic. It is amazing to go through all of those emotions and be able to explore the full journey of one person, and how they get to that place. Often you see someone in the middle of this arc, where it's like, "And now they are this cool, warrior badass." This felt like a lead up, and now I get to give people exactly that.
Where do you film the show?
We were filming in Mexico, which was great. I did have in my mind that it was going to be more, "I'm on the beach drinking a piña colada and getting a tan," and it was not so much like that. But it was still great. But when you say spring break, I want to never be around spring break ever again. There were kids lighting fireworks off the balcony at our hotel at 3 a.m.
Did you at least get to join in on any of the parties?
I wouldn't have wanted to, to be honest. I don't think they are the kind of parties you want to be at.
Related: Alycia Debnam-Carey on Life After "The 100"
Inside Spider-Man: Homecoming Star Laura Harrier's Brooklyn Hideaway from Peter Parker