Pregnant Actress Amanda Seyfried Wishes There Was Less of a Stigma About Mental Health Issues
"I thought I was crazy," says Seyfried, the face of Givenchy's new fragrance and expecting mother, "I really hope the younger generations are hopefully feeling safer in being who they are."
---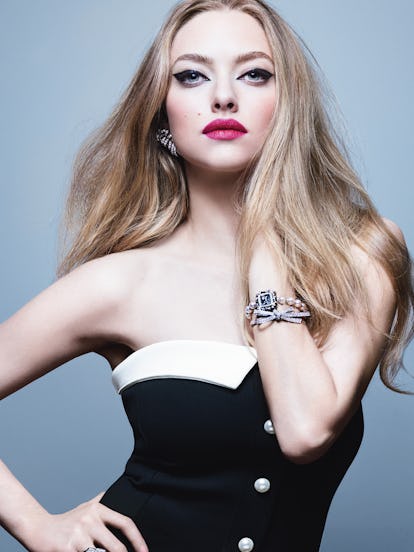 Earlier this week, actress Amanda Seyfried announced that she and fiancé Thomas Sadoski are expecting their first child at a press event for the new Givenchy fragrance Live Irrésistible Délicieuse. The scent is sweet, sophisticated and complicated, much like Seyfried, who is the face of the perfume.
Now that you're pregnant, any cravings? Oh yeah. I crave everything that's made of flour, butter and sugar. Or not even sugar. Just flour and butter. You know what? Not even flour. Just butter. A stick of butter. Butter now. I'm so glad I'm not in Paris right now. It's actually very unhealthy, the amount of butter they consume.
But all their food is unprocessed, so I always feel like it doesn't count while you're there. It's difficult. But then again, I do eat a lot less. I don't eat string cheese while I'm there.
Why would you? Exactly. I got some string cheese in Tokyo once. It tasted really good, but I was like, "There's string cheese here?" I was eating dried shrimp there, like shrimp jerky, which is delicious. But it's jerky, so I imagine there's a lot of preservatives in it.
So, aside from bread and butter, do you have any new cravings? Funny enough, no. I expected more from someone who loves food. The only thing I'd say I crave more is calcium. I eat cottage cheese. It's kind of the best thing. But is there a stigma with cottage cheese?
Yes. Why. Tell me why.
Because in the '70s, cottage cheese was what people who were "on a diet" would eat. You'd have a scoop of it with a slice of pineapple and a can of Tab. We kids thought it was gross. But you don't need to mix it with anything because it is delicious.
What is it even made from? I don't know! Curdled milk and enzymes? But here's what's so great about it. It's the big curds, when they're dry. When it's too wet, the organic stuff is too wet for me. I'd go through the organic stuff, which has a tanginess to it, which is great, but now I'm just going for the Breakstone's. It's thick, the curds are large and dry. I'm a bit of a connoisseur now, I guess. But it's embarrassing when I eat it, which is why I asked about the stigma. I don't know why. I feel that I need to eat it alone. It's a very strange thing. Also, look at what it looks like and how you eat it.
But you could say the same about yogurt! It doesn't have chunks. It's weird. It's like a baby snack. I think it's the texture. The texture is embarrassing. Let's make cottage cheese chic again. Here's another thing that happened. Recently, my in-laws were visiting and I was doing the cottage cheese thing. And the three of them came over and I didn't realize I had a whole chunk of cottage cheese on my cashmere sweater. And I hugged my father-in-law and I got cottage cheese on him.
And that's why they call baby spit-up cottage cheese. So it's just a precursor of what's to come in your life. You broke them in. Yes! Well, whatever happens, he'll hopefully crave cottage cheese his whole life. And there will be no stigma with it for him (points to belly). I also feel like there's so much less stigma about everything, like mental health. If I'd only known when I was obsessive-compulsive about stuff when I was ten, I would have shared it with my parents and not thought that I was crazy. But I thought I was crazy. You can't step on this tile or…all those weird superstitions. You would share it with people and they would help you out and make you feel better about it. They'd say, "That's really normal. Don't worry. That's just your anxiety running high and trying to control it." That could have saved ten years of my life feeling that I wasn't normal. And I really hope the younger generations are hopefully feeling safer in being who they are.
Maybe after this presidency. There's a revolution happening. Sometimes you've just gotta hit rock bottom. I actually tweeted, "This is rock bottom." Maybe there's hope and everyone's just trying to talk themselves into feeling better. A little bit inspired by something. There's a light at the end of the tunnel and you've gotta just keep holding on to it.
Moving on to the topic at hand: Do you find comfort in fragrance? I do! It's very easy to find comfort in scent. It's just instantaneous, visceral reaction to something. Smell means so much to me. I'm so attached to so many different smells. It can take you back, it can reset you.
Do you gravitate towards the sweetness of the fragrance because of home memories? I think because I'm a sugar addict—or was. I worked on it for a couple years, because I know sugar is bad. But I do like the sweetness of that. The first fragrance I ever wore was Clinique Happy. It was on sale and you could get these cute little boxes of samples.
I feel like it was the fragrance for your entire generation. Yeah, it was very similar. Citrusy. There was no floral, so it was VERY youthful. If I smelled it now, I would think about middle school and high school. It's not something I would probably wear but that energy I felt when I put it on, it's the same thing I get from Live Irrésistible, which is really, really good and feminine and mature and classy. Super elegant. And there's a youthfulness to it. And I am only reminded of that feeling when I put Clinique Happy on. Citrusy sweet. There's like almost a caffeine buzz, but there's also an edge, which is like how Riccardo Tisci designs.
Also, you can smell sweetness, I wonder if it takes away the need to eat something sweet. A diet trick! Over the years, I stopped craving dessert quite so much, by eating 80 percent dark chocolate. My chef friend said, this is how you do it. It kind of came back over the holidays because I made three pies and we only had four people at dinner, so after every meal, I would have some. Whatever, I relapse a little bit, but it's going to be ok. I'll just spray this on my face. There's a youthfulness to it that I relate to. I'm kind of a child in a lot of ways. When I turned 30, I thought, "Ah, people are going to take me seriously because I'm 30," because I feel so young sometimes. Not that that's a bad thing, but sometimes I feel like it's in the way, it's in my own way. And as much as I embrace my sense of humor and I feel very outspoken, I don't feel like that can be a bad thing or an irresponsible thing. And I've been made to feel that my sense of humor comes at the wrong time or I'm so eager to express myself and sometimes my authenticity can be a little alarming. Sometimes I'm just unfiltered. And I'm embracing that. It's just a part of who I am and that's what I love about this brand. They completely accept me for that. And also I kind of feel that's what the perfume is all about. You can embrace your wild side. I'm not wild, but I'm absolutely someone who speaks their mind. And I think that's sexy as hell. And I've never felt more irresistible in my life, because I feel that I've finally reached a point where I like myself and I know I have flaws and I'm working on them, but for the most part, I'm totally down with who I am. And I'm ready to help someone else feel the same way. I feel empowered. That's another thing with perfume. You immediately feel empowered in some way. Especially if you smell something that evokes something positive. It's an immediate turn-on. Like a drug. Except the drug takes, like ten minutes? It's an easy fix. And it's an aphrodisiac, too.