The Los Angeles Beauty Guide: 9 Celebrity-Approved Hair, Fitness, and Skincare Experts to Go To Now
From the best colorist to the hottest workout, here's everything you need to know.
---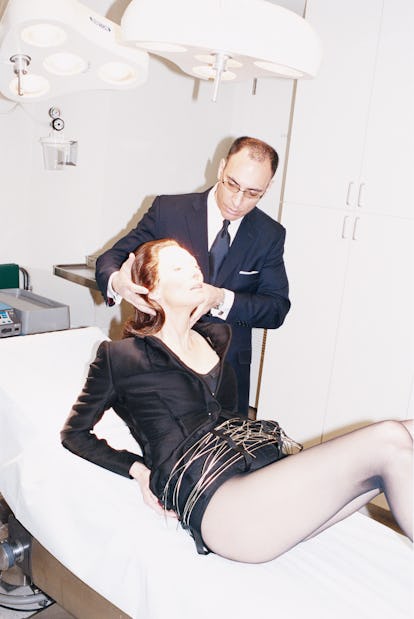 Photo by Juergen Teller
Los Angeles is home to many celebrities. And thus, also home to many beauty professionals who keep them camera ready. Here, a guide to the best, and oftentimes most discreet, hair, fitness, and skincare experts in Hollywood.
For hair color: Negin Zand at Salon Benjamin
Zand has earned the nickname "Hands of Gold" for good reason: Sarah Jessica Parker, Cate Blanchett and Diane Lane are all loyal clients. Famous for her use of balayage technique, the 20-year hair veteran is the best at creating a sun-kissed color, that looks as you've been gallivanting the beaches of Malibu (even if you've been filming in New York all winter).
For a facial: Lena Bratschi at Carasoin Day Spa
Thanks to her Jet Peel Facial, Bratschi is the esthetician of choice for Hollywood stars. The remarkable treatment was originally developed by the Russian Aerospace engineering program. The real selling point: there's no downtime after the treatment. So you're ready for the red carpet right away.
For a private manicure or pedicure: Gina Alcedo
Alcedo is one of Los Angeles' most seasoned manicurists–she's worked with stars such as Catherine Zeta Jones, Donatella Versace, and Faith Hill. But Alcedo's signature is a long-lasting polish–her secret? She applies a topcoat in between layers of polish, and uses a special cream to revitalize dry cuticles.
For botox and fillers: Dr. Ilya Reyter
D. Reyter is a Hollywood staple, thanks to his no-nonsense, no -frills technique. He has a conservative and precise approach to injectables, using small needles all over the face to restore symmetry to aging skin.
For face and neck: Dr. Karyn Grossman
Renowned dermatologist Dr. Grossman is best known for a non-surgical procedure that uses radio frequency to tighten and firm the neck. Results last about seven years after one treatment, and downtime is about a week–a small price to pay to skip the anxiety of going under the knife and still have a swanlike neck.
For dark spots and acne: Dr. Simon Ourian
Dr. Ourian developed the Coolaser specifically to remove stubborn dark spots and acne scars. And now, discernable Angelenos are regular devotees. The procedure only takes 30 minutes, and you're back in action in less than three days.
For a blowout: Maxime Salvadore at Salon by Maxime
Salvadore is a true magician. The French hairstylist can work wonders on any hair type, according to a client's wishes. Also: his smooth, shiny, voluminous blowouts last an entire week. So skip the shampoo and grab an appointment instead.
For a private workout: Dalette and Shanee at Tracy Anderson Method in Studio City
Yes, you will feel like you are going to die in the middle of this workout. But there's a reason several notable actresses–including Jennifer Lopez and Gwyneth Paltrow–are devotees of Anderson's classes. With regular attendance, there's nothing that will make toned arms, a firm butt, and svelte legs appear faster.
The Gigi Hadid Runway Workout!