Riverdale Star KJ Apa Reportedly Involved in Car Crash After a 16 Hour Day on Set
Apa is ok, but the incident has led to a dispute between talent and The CW.
---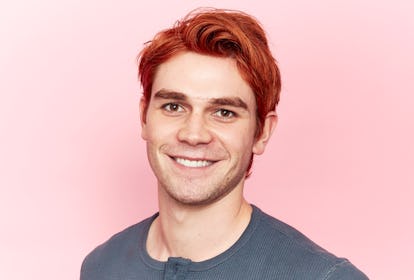 Robby Klein
The scene on set of Riverdale this past week has been just as dramatic as any one of its episodes after KJ Apa, the actor who plays lead character Archie, was reportedly involved in a car crash after driving home late at night from a long 16-hour day on set. Apa escaped the crash relatively unharmed, but the situation could have been much worse. According to The Hollywood Reporter, the close call has lead to the cast, headed by Cole Sprouse, to call for better working conditions, including transportation after long, late night shoots.
The incident happened sometime last week. Apa was apparently driving himself home after midnight when during the 45 minute-trip he fell asleep and lost control of the car. The passenger side struck a light pole, leaving the car ruined and inoperable. Luckily, 20-year-old Apa was unharmed despite being taken to a local hospital, but according to the Reporter, Sprouse was originally supposed to be in the passenger side of the car with Apa.
Now the trade newspaper reports that "the crash has ignited a firestorm of protest on the Riverdale set." Late night shoots on the show are commonplace, and Sprouse, "a leader of sorts of the actors on the show," is asking producers for changes. A call between reps for the young cast and Warner Bros. executives is set for tomorrow.
Apa, Sprouse, and other cast members have continued to post on social media as if nothing happened since the incident. Though, last week Apa did post an Instagram hinting at long hours. "It's gonna be a long one for the boyos tonight," he wrote.
Candice Patton, a star of The Flash (which share both a network with Riverdale in The CW and an executive proudcer in Greg Berlanti) also took to Twitter this afternoon to wish Apa well.
Deadline reports that production on the show has continued. Though, the website also adds that the set has "standard industry options made available to on-location cast and crew include that anyone can request a hotel room, a taxi or a driver if they are feeling tired after a long day."
Long hours on set are not uncommon in film and television production, and the industry has resisted calls to limit shoot days to 14 hours a day.
Related: Sabrina the Teenage Witch is Getting CW's Sexy, Dark Reboot Treatment
See What's Trending in W Video: