Lili Reinhart Says Cole Sprouse Helps the Riverdale Cast Navigate Fame
And has a "calming" energy.
---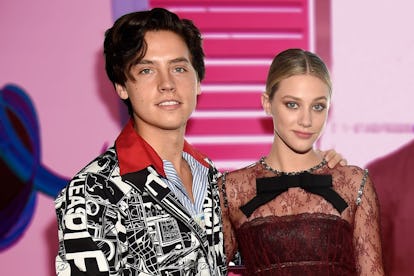 Getty Images
The CW's hit show Riverdale made overnight sensations of its stars, including Lili Reinhart, who plays good girl with a dark side, Betty Cooper. But navigating fame as a young person with an even younger fan base can be tricky. So it helps that co-star Cole Sprouse, who plays artsy Jughead Jones, has been there, done that, and can help captain the rest of the cast through it.
Cole and his twin brother, Dylan, have been acting since they were kids on shows like Friends and The Suite Life of Zack and Cody, which Reinhart says is a huge help to her and the Riverdale gang. "[Cole] really brings us down to earth if we're feeling like something we've said is being taken out of context," she told People of her costar and rumored boyfriend. "He's always the one to be like, 'Just ignore it. It will blow over.' It's a nice, calming energy he has because you know that he's been through it."
He's basically the zen leader of the Riverdale cast it seem. Their in house Buddhist-like monk with the wisdom that one only achieves while growing up in the Mickey Mouse factory and surviving it seems.
Meanwhile, Cole and Lili have yet to confirm or deny any romance speculation; when asked about it directly, they opt for a quick no comment—but they've been spotted vacationing together in Hawaii and have been known to post pics of each other on Instagram. Fans are especially keen on their rumored romance because Betty and Jughead ("Bughead") are together on the show, and the two actors have real chemistry.
Reinhart also opened up to Ocean Drive about using her own struggles to relate to perfectionist Betty. "Betty is the girl next door but there's a dark side…But she's optimistic even when she is going through the hardest things. There's always a light inside her that can't go out, and that's beautiful," she explained, adding, "What I bring to Betty is her real anxiety about things and the stress she's under because I get easily overwhelmed and stressed out. I have anxiety." Her anxiety reached its peak when Reinhart, fresh out of high school, first moved to Los Angeles and had trouble finding consistent acting work. She ended up moving back in with her family for a few months and seeing a therapist, who helped her rebuild her self-image and return to Los Angeles with a renewed sense of purpose.
Still, just because she's now a success doesn't mean her life is perfect. "Even now I'm on this wonderful show. I have money in my bank account. I have my own apartment. I have friends. I still go through and experience depression," says Reinhart. "You don't have to be ashamed of it. You don't need to ever justify the way you feel."
Related: Riverdale's Lili Reinhart Declares "I Am Not Betty Cooper," and Speaks Candidly About Her Struggles with Anxiety
Can Riverdale's Cast Live Up to Gossip Girl's Fashion Legacy?
Lili Reinhart attends Build Series to discuss the new teen drama series "Riverdale" at Build Studio on January 26, 2017 in New York City. (Photo by Gary Gershoff/WireImage)

Gary Gershoff
Madelaine Petsch arrives for the 14th Annual Brass Ring Awards Dinner 2017 SESAC Latina Music Awards at Beverly Hills Hotel on June 7, 2017 in Beverly Hills, California. (Photo by Gabriel Olsen/FilmMagic)

Gabriel Olsen
Camila Mendes attends Entertainment Weekly's Annual Comic-Con Party 2016 at Float at Hard Rock Hotel San Diego on July 23, 2016 in San Diego, California. (Photo by Phillip Faraone/FilmMagic)

Phillip Faraone
Lili Reinhart attends ELLE's Annual Women In Television Celebration 2017 at Chateau Marmont on January 14, 2017 in Los Angeles, California. (Photo by Stefanie Keenan/Getty Images for ELLE)

Stefanie Keenan
Madelaine Petsch arrives to the House of CB Flagship Store Launch on June 14, 2016 in West Hollywood, California. (Photo by Jesse Grant/Getty Images)

Jesse Grant
Camila Mendes attends the ELLE's Annual Women In Television Celebration 2017 – Red Carpet at Chateau Marmont on January 14, 2017 in Los Angeles, California. (Photo by Jonathan Leibson/Getty Images for ELLE)

Jonathan Leibson
Lili Reinhart attends Entertainment Weekly's Comic-Con Bash held at Float, Hard Rock Hotel San Diego on July 23, 2016 in San Diego, California sponsored by HBO. (Photo by Frazer Harrison/Getty Images for Entertainment Weekly)

Frazer Harrison
Madelaine Petsch attends the Gen Art Fresh Faces in Fashion Los Angeles fashion show at Willow Studios on August 4, 2016 in Los Angeles, California. (Photo by Michael Tullberg/Getty Images)

Michael Tullberg
Camila Mendes arrives at the 2017 PaleyLive LA Spring Season "Riverdale" Screening And Conversation at The Paley Center for Media on April 27, 2017 in Beverly Hills, California. (Photo by Jon Kopaloff/FilmMagic)

Jon Kopaloff
Lili Reinhart attends Marie Claire's Fresh Faces event at Doheny Room on April 21, 2017 in West Hollywood, California. (Photo by Jason LaVeris/FilmMagic)

Jason LaVeris
Camila Mendes attends the Entertainment Weekly and PEOPLE Upfronts party presented by Netflix and Terra Chips at Second Floor on May 15, 2017 in New York City. (Photo by Bryan Bedder/Getty Images for Entertainment Weekly and PEOPLE )

Bryan Bedder
Madelaine Petsch attends the 14th Annual Global Green Pre-Oscar Gala at TAO Hollywood on February 22, 2017 in Los Angeles, California. (Photo by Allen Berezovsky/Getty Images for Fashion Media)

Allen Berezovsky
Lili Reinhart attends the Teen Choice Awards 2017 at Galen Center on August 13, 2017 in Los Angeles, California. (Photo by Frazer Harrison/Getty Images)

Frazer Harrison
Camila Mendes attends the Vulture Festival at The Standard High Line on May 20, 2017 in New York City. (Photo by Andrew Toth/Getty Images for Vulture Festival)

Andrew Toth
Madelaine Petsch attends the 2017 MTV Movie And TV Awards at The Shrine Auditorium on May 7, 2017 in Los Angeles, California. (Photo by Alberto E. Rodriguez/Getty Images)

Alberto E. Rodriguez
Lili Reinhart attends the Vulture Festival at The Standard High Line on May 20, 2017 in New York City. (Photo by Andrew Toth/Getty Images for Vulture Festival)

Andrew Toth
Camila Mendes attends the Teen Choice Awards 2017 at Galen Center on August 13, 2017 in Los Angeles, California. (Photo by Kevin Mazur/Getty Images)

Kevin Mazur
Madelaine Petsch attends the 27th Annual EMA Awards at Barker Hangar on September 23, 2017 in Santa Monica, California. (Photo by David Livingston/Getty Images)

David Livingston