A Definitive Guide to Dylan and Cole Sprouse's Best Twitter Roasts
When it comes to Internet burns, only one Sprouse can reign supreme.
---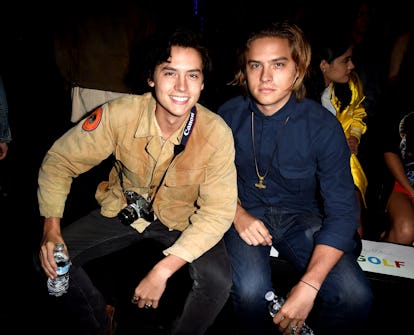 Kevin Winter/Getty Images
Eavesdropping on conversations is a great pastime of Twitter, but few happen to be as entertaining as the exchanges between Dylan and Cole Sprouse, the twin Disney alums turned stars of Dismissed and Riverdale, respectively. Across their combined following of over 10 million followers, the two brothers have made their witty rapport their signature online move. Often times that's manifested in either Dylan or Cole poking fun at each other via old photos or distancing themselves from their twin genetics. Most recently, the pair took playful jabs at each other after W shared a photo of Dylan, in all his long-haired glory, who has become a party fixture in New York City as of late, popping up everywhere from Natalia Vodianova's Fabulous Fair Fund to the after-party for Thor: Ragnarok. After Cole caught wind of his brothers newfound social status, he tweeted back, "Should I hold your hair when you barf #lightweight ??"
Of course, Dylan wasted no time with his retort: "You don't really want to have that drinking contest again do you?," he wrote. To be fair, Dylan possesses somewhat of an advantage: In addition to acting, he currently runs a craft Meadery inside Williamsburg's William Vale hotel called All-Wise. As the website touts, he's allegedly the youngest Master Brewer in the United States. That's not to say that Cole couldn't keep up—though he has yet to respond.
It is hardly the first time the two have gone at it—and they play dirty. The last time the Sprouse brothers sparred over drinking on Twitter, Cole dredged up an old photo of the pair from their The Suite Life of Zack & Cody days. "Bro you look like a drunk older man on vacation trying to pick up young chicks at the bar," he tweeted.
"You look like the young chick at the bar," Dylan replied.
Digging through their archives of old photos happens to be a hobby for the pair. This summer, Dylan did the same when he dissed Cole. "IN THEIR MINDS: @colesprouse is a very talented artist, not only can he act but he really captures human beauty in his imagery," he tweeted. "IN MY MIND…"
Their roasts don't always stem from old pictures, though. This past August, Cole aired his grievances with Dylan over their "shared" clothing. "Hey can you return my f-cking t-shirts too?," he tweeted at Dylan, posting a screenshot of a recent photo of the actor.
"I don't wear them, I use them as toilet paper," Dylan replied.
But Cole's most effective diss—outside of his most recent one—may have been one that didn't feature a photo of Dylan at all.
It is clear they are a family of many talents, all involving the perfectly crafted burn. But which Sprouse will ultimately rule supreme? Only time and Twitter will tell.
Related: Dylan Sprouse Is New York's Newest Party Boy, and Gigi Hadid Showed Off a New Model BFF
Riverdale's Lili Reinhart Talks Boy Bands, Lizzie McGuire, And Other Pop Culture Obsessions