Chris Hemsworth Is Totally Fine With His Thor: Ragnarok Director Trolling Him On Instagram
"It is much deserved, I'm sure."
---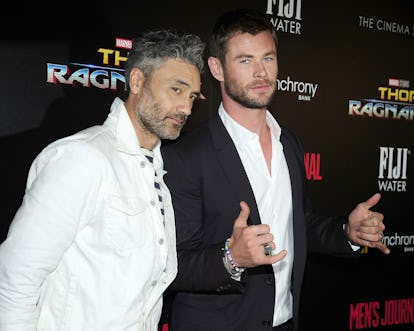 Paul Bruinooge
The new Thor: Ragnarok is being heralded as the funniest Marvel movie to date, but ahead of its theatrical release on Friday, the superhero flick may already be shown up, comedy-wise—and at the hands of its own director's Instagram, no less. Taika Waititi, the New Zealand comedian who has taken over directorial reigns for the God of Thunder's latest installment, is using the film's promotional tour to mercilessly tease his actors, primarily Thor himself, Chris Hemsworth. (A recent example includes a picture of Hemsworth barefoot at a restaurant, martini in hand, with the caption, "Even in the $$$$ restaurants, this OG keeps it rizzle.")
So, what does Hemsworth think of the very public taunting? "I troll him back," the actor told W on Monday night. "I welcome it. It is much deserved, I'm sure."
Hemsworth was in New York for a special screening of the film hosted by The Cinema Society with Fiji Water, Men's Journal and Synchrony, where he was joined by Waititi, who reveled in the mention of his social media jabs. "Oh, yeah. That's my thing," Waititi said. "It's great. I feel like he is very supportive of it."
The pair hammed it up for the cameras, with Waititi jumping in every so often to photobomb Hemsworth. "Get out of my pictures," the actor deadpanned before introducing the film, which is indeed very funny.
"It is a big amount of risk, especially if it is improvised," Hemsworth said of delving into comedy." I think I've spent a lot of my time trying to control the outcome and aim for a target of, 'This is how it has to be,' but then it becomes too predictable. It becomes too familiar. When you are doing comedy, and especially improvised comedy, you just have to take risks. And you have to be willing to say, 'It is okay to keep firing away and keep trying.' Somewhere in there, something special will happen, hopefully."
Waititi had some fears of his own going into the movie."I was most scared about destroying Marvel's track record of making amazing hits and having success after success," he said. "I didn't want to be embarrassed by being the one who topples the tower. I had to get over that very early on and remind myself that they've asked me to come in to do this thing because of my voice and whatever unique storytelling qualities that they've seen. I had to run towards that."
It certainly helped that he was already friends with Hemsworth—although, that fact was kept under wraps to the Marvel team. "I actually met Chris about five years ago," he said. "I had seen another one of his films and loved it, and we met at a cafe and started getting on. When I came into the picture for this, we had actually talked to each other and said, 'Let's not tell Marvel we know each other.' I didn't want to get the job based on his recommendation, and he would have felt awkward doing that.' I felt a lot better getting the job based on my merits."
And now that he is very much acquainted with the rest of the impressive cast—Mark Ruffalo, Tessa Thompson, Jeff Goldblum, Tom Hiddleston, and Idris Elba among them—is anyone else in the line of future Instagram burns?
"No one is off limits," he said.
Not even Cate Blanchett? "Oh no. Did you see the one where I called her Naomi Watts?"
Related: Chris Hemsworth Admits He Almost Lost Out Thor to His Younger Brother Liam Hemsworth
Chris Hemsworth Thinks Charlize Theron Should Be the New James Bond